A trip to the mesmerising Spiti Valley of Himachal Pradesh is worth it in every possible way. Spiti Valley reflects a mixture of cultures together as it lies on the Tibetan plateau between Tibet and India. If you are planning to go and spend a week here, we have got your back as this is an itinerary for spending a week in the Spiti valley.
What Are The Things To Explore Here?
This Indian old desert mountain has a lot to offer to visitors. Surrounded by monasteries and small villages, green meadows, stunning landscapes, pristine water bodies, and snow-capped mountains are the highlights here. Reaching this stunning destination can be a bit harsh due to the rocky terrains and snow-covered routes but it is definitely an adventure in itself.
Also read: 6 Stunning Places To Explore In Spiti Valley That Will Blow Your Mind
The Guide For A Week In Spiti Valley:
People from all around the world can reach Spiti Valley using different routes and transport. The most common starting points to reach this destination are Shimla and Manali. The journey of this guide commences from Shimla and then moves forward to the destination.
Day1: On the first day you can reach Shimla and enjoy the spectacular views there. Shimla has so much to offer you can't even imagine of. You can explore as much as possible on the first day.
Day: The second day will begin with moving towards Chitkul. It will be a long drive of about 8 hours. Chitkul is India's last village located at an altitude of 11320 feet. In between the route lies Narkanda, and you can even explore that place as well.
Day3: The third day will begin with a journey towards Tabo. In between, you will be travelling through Nako. So you can even go and watch the 500-year-old prayer wheel there. The most interesting part is that the wheel is made from the skin of a yak. Nestled in Gompa, this wheel is about 11 feet in diameter and is one of the biggest highlights of the Chango village.
Also read: 5 Best Mountain Routes For Biking In India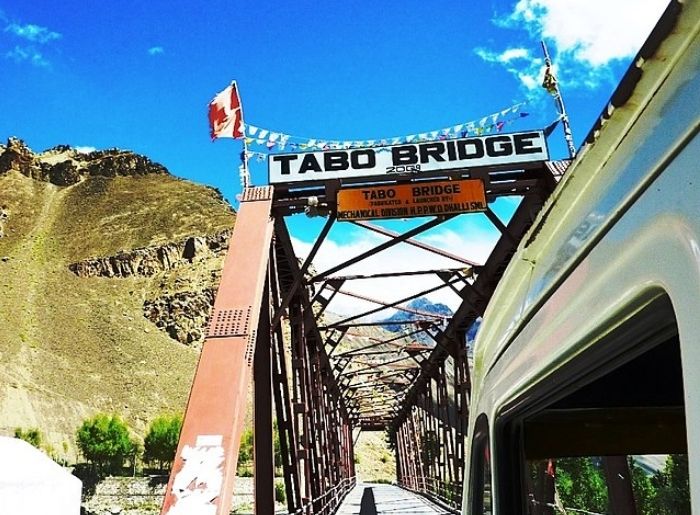 Day4: A trip from Tabo to Kaza will cover the entire fourth day. The drive is about one and a half hours so you will get a lot of time on your hand to explore the places. On this day you can explore the Langza Buddha statue, old monasteries, local villages, and much more.
Day5: The fifth day is going to be an absolute memorable part of the trip as you will be exploring Chicham Bridge. This bridge is the highest suspension bridge in the entire Asia continent and is located at almost 1000 feet in height above the tributary of River Spiti. There are monasteries, stunning landscapes, marine fossils, and so much more to explore.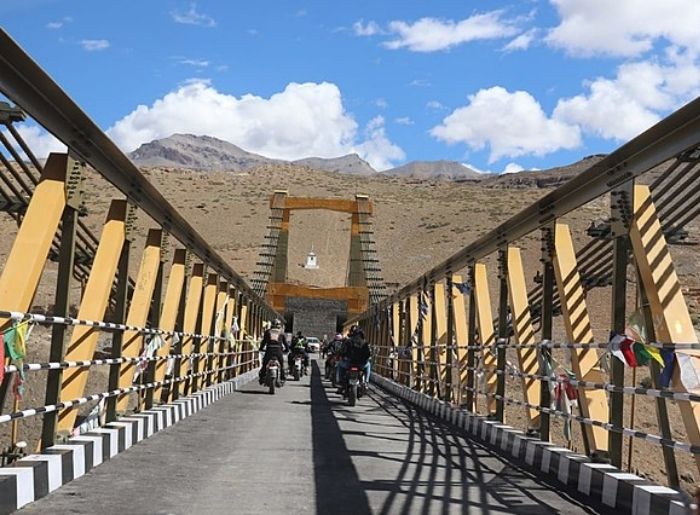 Day6: The sixth day will begin with a trip towards Kalpa from Chicham. After touring for the past few days you can relax and spend the day here by the Kinnaur Kailash mountains. You can even explore the small villages in Kalpa. The fun of meeting the locals and learning from them is unbelievable.
View this post on Instagram
Day7: The last day of the journey is all about returning back to home as you will leave Kalpa and move towards Shimla. And then from Shimla, you can return back to your home by your preferred modes of transport.
A trip to Spiti Valley is indeed a marvellous experience. Tag along with your family, friends, and loved ones and go on a quick trip to the land of mountains and meadows.