With the pandemic upon us, travelling sounds indulgent. But if I could travel anywhere right now, I would go to Goa, and that's what I did (of course taking all the safety precautions). I drove from Mumbai to Goa all by myself, and I can tell you that it was one of the most enriching and rewarding experiences I have ever had. When I started planning this trip, I did a lot of research online to understand if there is anything in particular that I need to know. Unfortunately, I did not find enough information, so consider my experience as your guide to your next Mumbai to Goa road trip. Read on for all the details.
Also read: I Travelled To Goa During The Pandemic & Here's Everything That Has Changed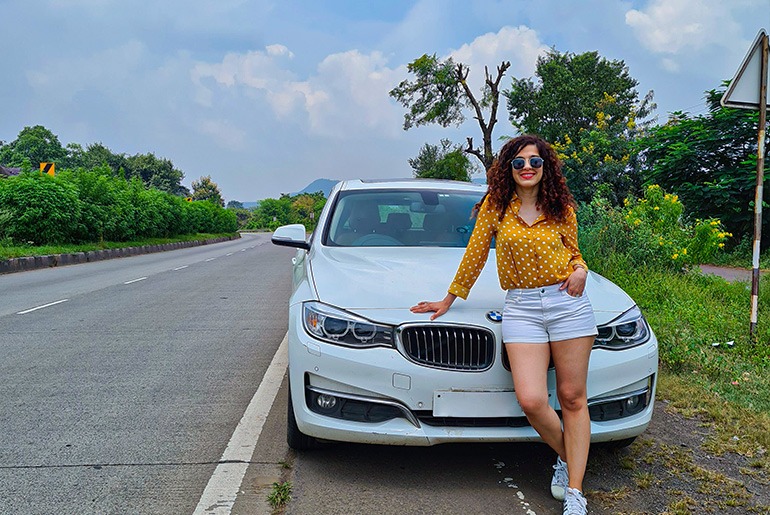 The Route I Took To Goa 
Driving in your car is the safest thing to do right now, not just for yourself but also for others. Perhaps, that's the only way to avoid human interaction and crowded flights. If you did not already know, there are two routes from Mumbai which will take you to Goa. One is the 14-hour coastal road which probably is more scenic and has fewer tolls. The other is the highway which has multiple tolls, but the roads are excellent, and navigation through Google maps is easy. I chose to take the highway as it was a shorter route. Although Google Maps showed 11 hours, it took me 13-14 hours as I took multiple stops. I made a break journey in four parts – Mumbai to Pune, Pune to Satara, Satara to Kolhapur and Kolhapur to Goa. 
View this post on Instagram
I fueled up my car so that I did not need to make a stop at a gas station. To enter Goa before it is dark, it is best to start at the crack of dawn. Try to start as early as 5 am in the morning.
Also, never rely on your YouTube for music. Have your playlist ready before your trip as the network is very poor on the way.  Here are 10 Best Spots You Will Find On A Road Trip From Mumbai To Goa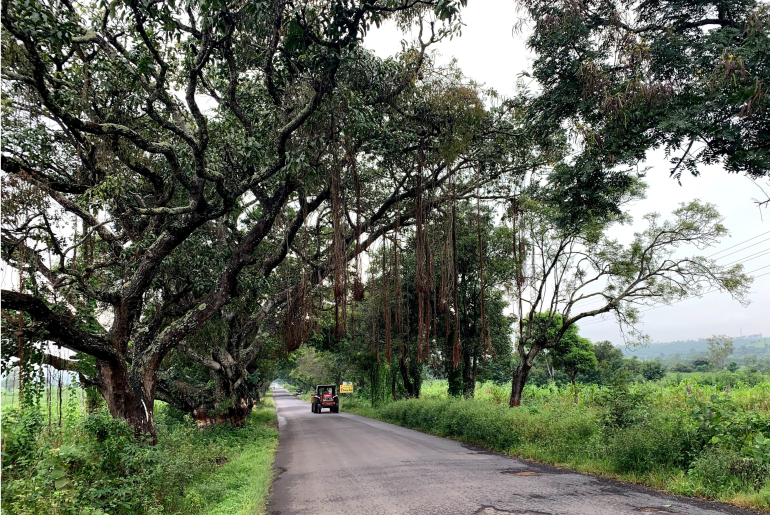 Pit-Stops I Made On The Way
I took four stops of half an hour each on the way. 
Mumbai to Pune
I took the Mumbai Pune Expressway, which is a six-lane concrete, high-speed road. The distance spans around 110 km connecting Mumbai. It took around two and half hours to cover the distance. The expressway begins at Kalamboli and and ends at Dehu Road outskirts of Pune.
Pune to Satara 
It took around 2 and half hours to cover a distance of 114km from Pune to Satara. The weather was amazing and the roads were even better. I also stopped here to eat my first meal after leaving Mumbai.
Satara to Kolhapur
Satara to Kolhapur by road is roughly 123 km in distance and took us around two hours. The drive was a breeze.
View this post on Instagram
Kolhapur to Goa
Kolhapur to Goa took as six and half hours to cover a distance of around 350km. We crossed the Nipani Ajra and the Amboli Ajra road. Roads are excellent, but it gets even better as soon as you enter Belgaum. The entire landscape changes. The Nipani ajar road is dreamy. I set my tripod and clicked hundreds of pics there. The drive through Amboli Ghat can be scary so be sure you cross the area before it gets dark. Besides, there are no street lights, and so, driving in the night can be challenging.
But to sum it up, it was the most scenic, stunning journey for me. The entire stretch is not a four-lane highway, but green, with zero bumps in the road—a beautiful drive. I would totally recommend it.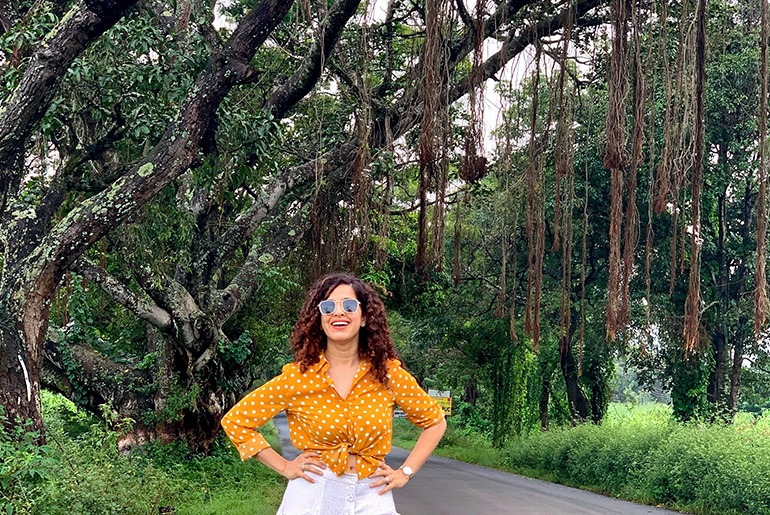 What I Ate On The Road
All the packets of chips and crisps have their place in a road trip meal plan, but nothing beats parcels of home-cooked food to keep you company on the road. And at a time where eating at a restaurant or a roadside dhaba is not the best option, it is best to stay loaded with home-made snacks on a long road trip. I took my first food break only after I crossed the Pune city. I parked my car under a tree and devoured into some fantastic home-made food. Oh! that was some moment.
Tip: be sure to carry an extra bag to throw all your rubbish.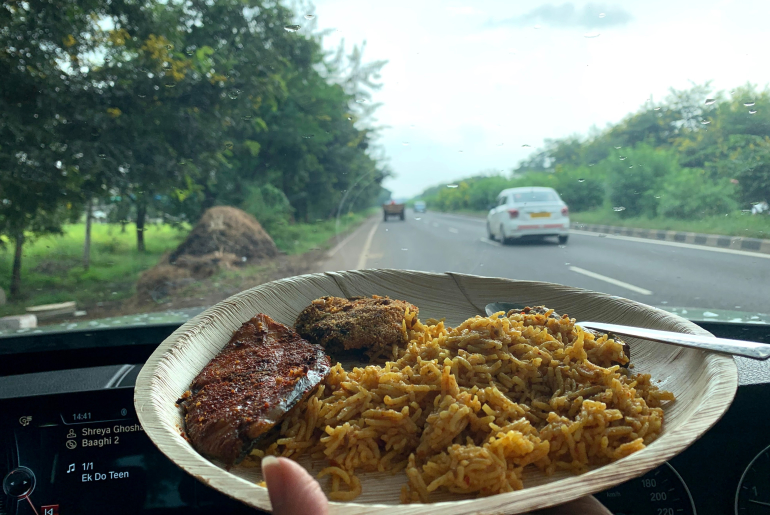 Fuel & Toll Charges
I drove my BMW GT, and the diesel cost was ₹2000. However, the fuel cost can vary based on the mileage and the car you are driving. I crossed seven toll gates and the toll charges summed up to ₹685 (I know, that's quite a lot but hey, I did not mind paying for the smooth roads I glided my car on). You can go cashless and avoid human interaction if you pay via Qr code (Paytm). However, some tolls don't have this facility, so it is always better to carry some cash.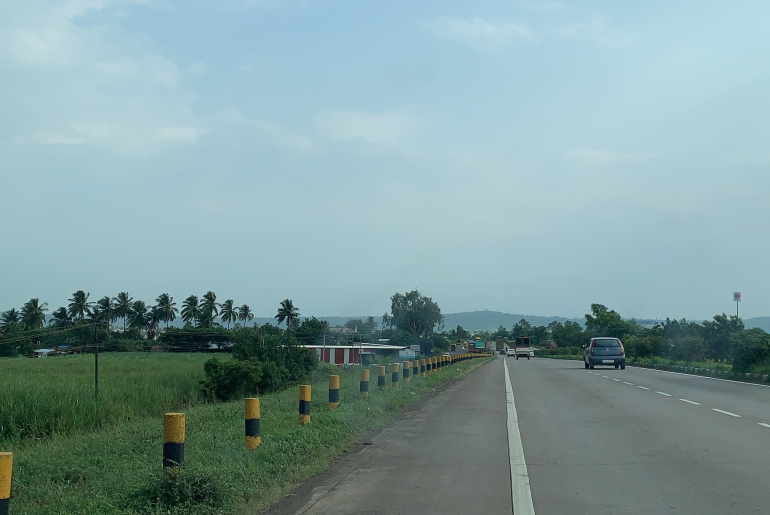 Other Tips & Tricks
Wear a mask every time you make pit-stops and step out of the car. Also, keep a sanitiser bottle handy. I must have used a litre of sanitiser on the way (overdone it a bit), but did not want to take chances with my safety.  Here are 8 Emergency Road Trip Essentials You Need To Have In Your Car
A quip tip: Avoid drinking too much water on the road so that you do not have to take too many toilet breaks. The toilet facilities are not great. I stopped at two petrol pumps but did not find a decent toilet. I took my first toilet break near the food court near Lonavala. It was clean. The second toilet spot was at a fuel station near Satara. However, be sure to carry toilet paper and disinfectants and use Indian toilets only.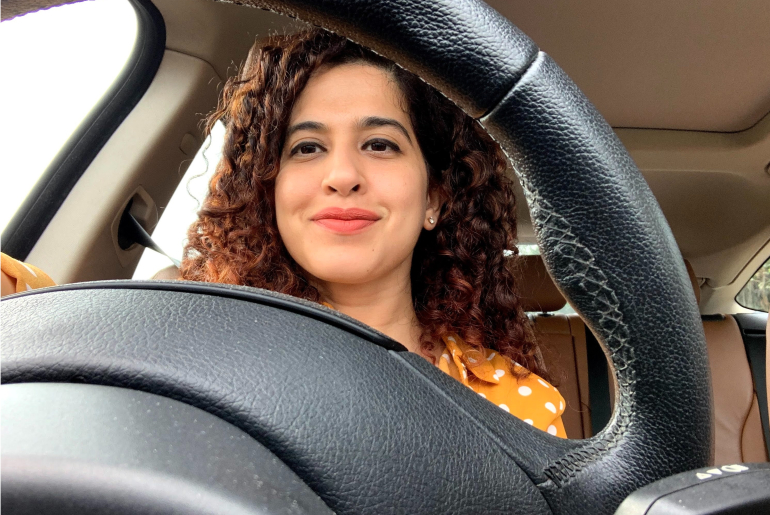 The road trip to Goa is so beautiful, that I am sure that I am going to question myself every time I take a flight to Goa. The farthest I had ever driven before this was Pune, and now, I can confidently say that Goa by the road is easily worth it.