Hi guys, I'm Vaishnavi Venkataraman, a moody writer by profession, a chai addict, mom to a 5-year old and a HARDCORE foodie. Now, that I've mentioned 'hardcore' in capitals, you sure would have understood my passion for food. In short- I live to eat! Well, all was well until the pandemic broke open. Weekends meant family brunches, dinners and trying out new restaurants. However, in March when the UAE announced the first lockdown, hell broke loose. Restaurants were shut and dining outside wasn't an option. I was quite clueless how to get over with it, but the food gods smiled on me and I found a new way.
From Dalgona Coffee, Scones, Khao Suey, to even Sangria we whipped up restaurant-style drinks and dishes that would probably leave even restaurants behind- we resorted to trying restaurant-style dishes at home. However, nothing beats the joy of getting dressed and stepping out to dine. So when restaurants first opened their doors for Dubai foodies, guess who stood right outside? Me! So, here is my personal list of 5 restaurants in Dubai that I visited. And I can vouch for a fact that they follow strict social distancing rules and moreover, serve delicious food. So, let's get started!
1. Bombay Borough
A relatively new Indian restaurant in town, Bombay Borough, offers a wide selection of unique and flavourful dishes. The restaurant prides itself on the reinvention of classical Indian foods, and has some rather unique serving styles. The restaurant has a fine dining section as well as a tiny street food version called 'The Gully kitchen'. The street-food area serves Indian fast food, like the grab and go fresh biryani, sandwiches, and even gluten free Dosa. Well, we headed here for lunch and so we skipped street-food and headed straight to fine dining.
The minute we entered the place, we noticed most of the tables were empty and the restaurant wasn't crowded, thankfully. We were welcomed with hand sanitizers and thermal checking, which made us even more comfortable and feel safe. All the staff had their facemasks on at all times. The tables were placed at a proper distance from each other. When it comes to food, we warmed our appetite with a crackling tamatar soup, and graduated to Okra fries and gun powder potatoes.
For the mains, we opted to have roti and Canteen vegetables- a medley of veggies in a caramelized onion sauce. The Irani cafe style Bombay Berry biryani is another must try in case you head here. We washed it all down with a unique selection of cocktails. The vegetarian food was so good, we never really cared to order non-veg. At the end of our meal, we were provided anti-bacterial wipes and a sanitizer.
2. Asha's
It was my birthday and after a fun day packed with surprises, we headed out for dinner. Asha's was my first choice because I've heard a lot about the food here and of course, who doesn't love the evergreen singer itself! And so we headed to Asha's -a table booked for 3 at 7 pm. Upon arrival, out temperatures were checked and we were given hand sanitizers. The staff here had their facemasks and hand gloves on at all times. I must say this did give me the much needed assurance.
The food here is the wholesome delicious, great quantity at reasonable pricing. Whether it's rich creamy, buttery chicken to spicy Kadai Paneer, Asha's is your abode if you're craving authentic Indian food. We thoroughly enjoyed their Aloo Matar ki tiki, Gosht seekh kebab, and the subs biryani. There were around 10 customers apart from the 3 of us and our tables were placed well apart.
The icing on the cake at this restaurant is the decor. Dim-lit lighting perfectly complimented the black and white frames which spoke of Asha Bhosle's epic journey. We enjoyed the ambiance, and binged on great food while humming to some evergreen classics by the legend herself. Need I ask for a better way to end my birthday!
3. Bombay Bungalow
Coming from a family that always loved to discover new places, shop and eat, it is no surprise that our hands and legs start itching for both food and shopping. Well, that's a condition that can be easily fulfilled in Dubai. Malls could be the best option to shop and eat, but we decided to skip malls for two reasons. One- we weren't aware about the safety precautions and two- we wanted to dine in an open space. So, Bombay Bungalow it was!
The restaurant's quirky decor catches every art-lover's eye. As we walked in, we realized the restaurant was pretty crowded. However, with temperature checks, distanced tables and staff wearing gloves and facemask- we were assured it was all under control. Well, the crowd didn't surprise us at all. After all, the food was lip-smacking. Whether it was the seafood starters, kebabs or the Bungalow signatures, it was all bang on. But, the bournvita chocolate hot cake was the star of the evening!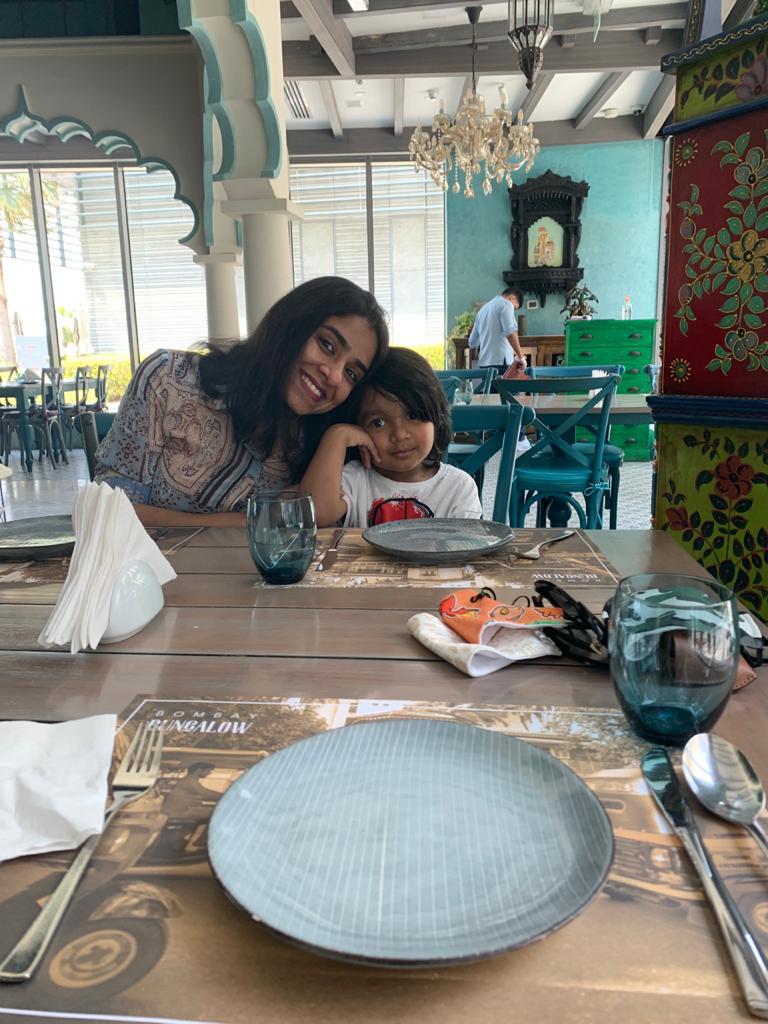 4. Chaat Bazaar
Dining in a restaurant and stepping out to have chaat on the streets during a pandemic can be very different. While fine restaurants follow all the rules, street food eateries are a tad bit different. However, after much discussion and negotiation we decided to give in to our chaat craving and what better place to binge on chaat than Dubai's favorite Chaat Bazaar. After a 45-minute drive we reached the streets of Chaat Bazaar. To our surprise, the street was packed with foodies binging on their favourite dishes. We found a quiet parking spot and decided to eat inside our car.
I was quite surprised to see the order and discipline the small eatery had managed to follow. All guests had to queue up with 2 -meter distance and this was followed by all customers- especially those who queued up for paani puri. As for the seating, there were customers who opted to dine-in and the whole scene looked pretty safe. Disposable cutlery, distanced tables and staff wearing hand gloves and masks was a big re-assurance for all diners. On that note, here are the best chaat places in Dubai.
What Did We Eat?
Chaat Bazaar in Karama is not your quintessential chaat place. They bring the best of the famous chaat dishes complemented by incredibly well-crafted fusions. This chaat place microcosms Dubai's evolution of the traditional culture of Dubai with International flavors like Italy and Mexico. We binged on Batata Vada Pizza (AED 25) and our all-time favourite Pav Bhaji Cheese Tawa Pizza (AED18). It was a task getting the food from the stall to the car, but let me swear by the food and tell you that the long drive here was totally worth it.
5. Pinkberry, La Mer
Well, you'd wonder how a dessert cafe made it to this list! Well, that's what happens when you have a terribly sweet tooth. Pinkberry has to be my all-time favourite in town and we decided to head to the one in La Mer just to get a pretty view. La Mer as such was not the same. The energy, the vibe and the buzz in the beach area was different. It was more calm, fewer people and cars – the scene did look very subdued and toned-down.
We parked and headed straight to Pinkberry. The restaurant welcomed us and performed the same rituals- thermal checks and sanitizer. The staff wore gloves and fascemask too. This place serves some of the best yogurt ice creams in town. Earlier,  getting a seat at their La Mer branch meant waiting for hours. However, it wasn't the same now and in a way I was happy we were the only ones in the cafe. Meanwhile, here are 5 extravagant desserts you must try in Dubai. 
Pinkberry  is known for all things Yogurt. But, that's not all! Their toppings all delicious and the king of them all of course is our very own Lotus. The eatery serves a whole lot of flavored yoghurt ice cream. In case you don't wish a lotus flavored yogurt , go for a lotus topping. Apart from lotus cookies, you can also garnish your sinful tub with cut fruits, peanut butter, all things chocolate, nuts and cereals. You also get smoothies whipped with yogurt ice creams. Isn't that yummylicious?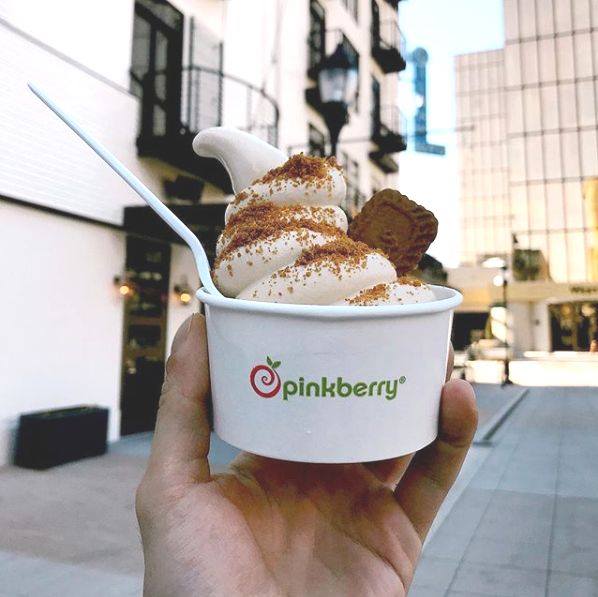 So these are some of my favourite restaurants in Dubai and I was super glad to see them follow all the guidelines. At the same time, I would recommend you all to wear masks, use hand sanitisers and opt for online payments to make sure you have a safe dining experience. Bon Appetit!