Shri Joraver Vilas in Santrampur, Gujarat is a palace turned homestay belonging to the Maharana Santrampur and his royal family. This hidden gem in Gujarat offers travellers a slice of luxury and reality. Built with modern amenities, and exquisite decor at the behest of the Maharani, this 1926 palace is adorned with antiques. Well, our contributor Heta Shah, an HR professional from Baroda had a first-hand experience at this magnificent palace. So here's her experience in her own words.
Experience Of Staying In A Palatial Hotel Of Shri Joraver Vilas, Santrampur In Gujarat
Since last few years, I have always enjoyed travelling during Diwali to new cities or countries.  I would plan well, book tickets and shop on point. This year Diwali was different.  My family and I explored out travel options depending on its convenience, location and safety. And that's when we came across an amazing heritage homestay- Shri Joraver Vilas, Santrampur. It's a perfect rejuvenation destination especially for Barodians and Amdavadis (Gujarat).  Santrampur, is a town located in Mehsana district, Gujarat India. It is located on the Suki river, in the lap of Aravalli Hills, nestled 55km from the state capital of Gandhinagar.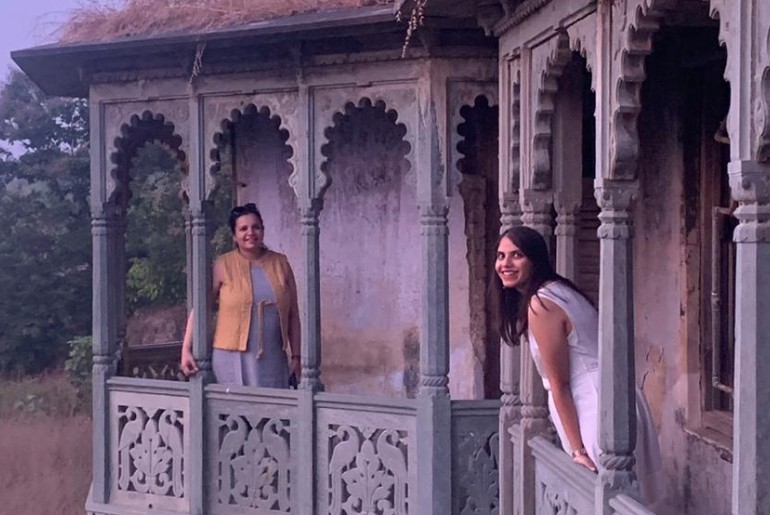 Also Read: 6 Opulent Suites You Can Book In The Palaces Of Rajasthan & Live Like The Maharajas
Hunted Tiger, Photos Of Royal Family & Exquisite Suites Welcomed Us
This property is owned by the royal family of Santrampar and is looked after Maharaja Paranjayaditya and Maharani Mandakini.  It was always in my bucket list to have this amazing experience of staying in a palace. Antique trappings, ancestral photos and interesting stories about their rich past, enthralled me. So, my family and my uncle's family drove here to the heritage palace this November. The palatial heritage homestay cost us ₹11,000 for a double room per night including food. Upon arrival, we were greeted with a refreshing home-grown hibiscus sherbet. I am sure you would have never had such natural hibiscus sherbet anywhere in India.
The swords, a hunted tiger, photo frames of their royal clan greeted us. That feeling of staying in a suite named "Maharaja Suite", itself gave me a majestic feeling. They have 5 different suites, styled with colonial antique furniture. The interior of the rooms is illustrious and gives a confluence of royal aesthetics.
Exquisite antiques adorns the walls, the bathrooms, the tables, the doors and even the dressing area. Even as you step outside the room, there is this "Laal Chowk", which has mirrors and is surrounded by trees and works as a pathway that connects the main reception area and the dining area.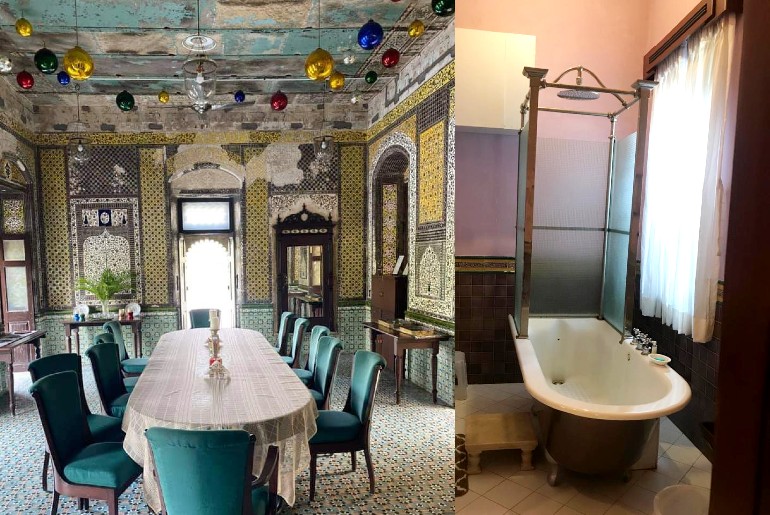 Also Read: Ditch Goa And Explore These 7 White Sand Beaches Of Gujarat
Authentic & Royal Rajasthani & Gujarati Meals Monitored By The Maharani
The current maharani makes sure that no guests go unattended with her warm hospitality. Right from the essence of rich flavours of the Rajasthani food to the Gujarati food to the tempting shahi sweets like the rice kheer, Churma, Gulab Rabdi, and the spicy garlic chutney, just made the flavours appetizing. If you are a non-vegetarian, you will be served with incredible varieties that include dishes right from fish, chicken to mutton, making your taste buds definitely crave for more.
All the authentic cuisines are prepared fresh and the maharani especially monitors the food and the menu, so you don't have to worry about the hygiene, especially with the new normal situation. If you are accompanied by kids, then they will also serve you on the basis of your choice and taste. Interestingly, if you'd like to skip the option of having a snack at the dining hall, you can also experience eating it on a hammock? How's that for a fun yet regal getaway?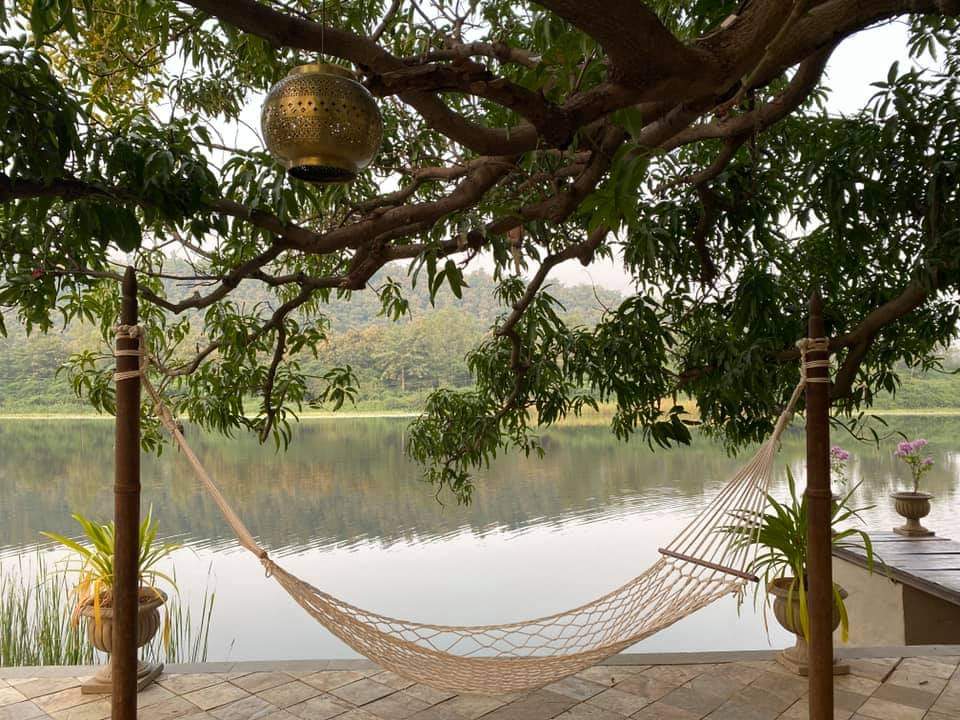 Also Read: 7 Best Apps To Score Free Hotel Stays, Food, Cashbacks & More
Campfire & Visit To A Lake Gives You A Feeling of Paradise
Well, that reminds me, the kids will have a lovely time playing in their amazing garden. The stupendous view of the lake gives you a feeling of tranquillity and peace amidst the Covid-19 times. Far from the chaotic and uncertain life, this gives you a feeling of your own little paradise with the clouds watching you, the lake being your companion and a campfire in the night not just warming your body but also your mind along with the stars that could just light your mood a little bright. You can't just take your eyes off the pleasing sunrise and the warm coloured sky during the sunset. Well, to soak up this ethereal beauty, I took out my camera and captured as many pictures as I could.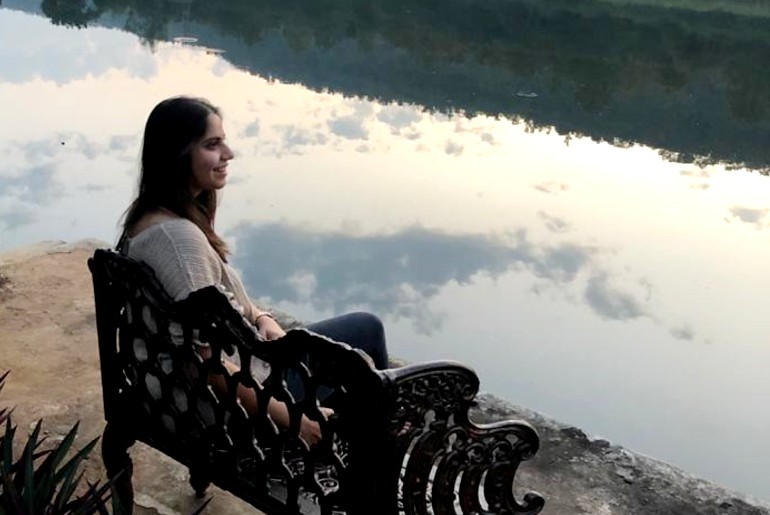 Apart from the Shri Joraver Vilas, Santrampur has two other places owned by the royal family, Raj Mahal and the Hawa Mahal. Hawa Mahal has tiles with intricate ancient style designs with natural colours. The view of the whole town is visible from it. And if you set your time right, then you can witness a beautiful view of the sunset from in between the arches. Raj Mahal is a little blemished, yet the fineness of the structure and the detailed planning makes you imagine how the actual Mahal would have been.
Also Read: A 500-Year-Old Palace Or A Haunted House? Malcha Mahal Has Got Delhi Excited!
Activities Here Include A Jungle Safari, Boat Ride & Visit To A Dam
I personally enjoyed the view of the Kadana dam. It's a perfect spot to take photos, along with the backwaters in the backdrop. You can also go for a jungle safari in their 1970's vintage jeep. Not many animals to see, but the jungle is also private and owned by the Maharajas. And you will see an abundance of indigenous flowers, fruits and local grains. Lake that surrounds the villa, has lotus that will please your eyes. A boat ride is recommended, as it will sail you through these lotus beds, so you can capture hundreds of gorgeous no filter pictures.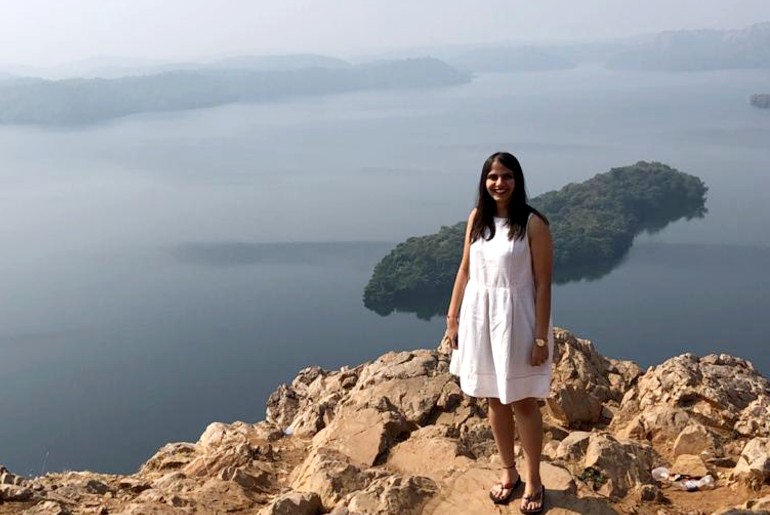 Lastly don't miss out on the Kesuda tea and the heavenly home-grown marmalades. Right from rose, to Mahuda are plucked fresh from their garden to prepare these marmalades. They also have a mini boutique of these jams and tea for sale along with the spicy garlic chutney. This heritage homestay definitely took me away from the chaotic humdrum of our hectic urbane lifestyles and just as they mentioned on the website, Shri Joraver Vilas is indeed an oasis of tranquillity.
This article was contributed to Curly Tales by Heta Shah. If you have an article or similar experience to share, do write to us on hey@curlytales.com