Always an enthusiastic water baby, or the way my parents called me "Our Little Mermaid," I wished to never get out of the water, even while going to our local pool in our area. I grew up in a house where most summers were spent travelling overseas with my father for work. He would combine it with a leisure vacation, and mom and I would travel with him. As I travelled from one country to another each summer, there was always something or the other that I wanted to do. It was mostly all forms of adventure experiences. It was then when I decided that I want to travel solo to some of these places by my mid-20s. 
Also read: 7 Life Lessons Solo Traveling Taught Me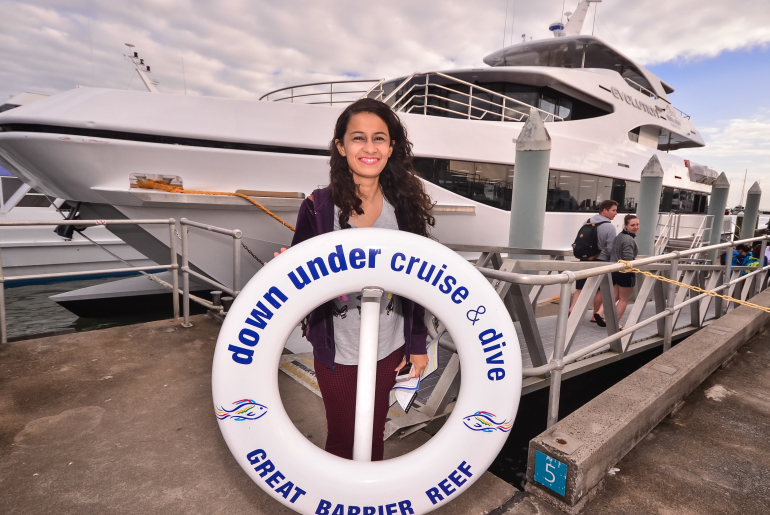 The Calling!
One a fine summer back when I was 25, I gathered some courage and told my parents that I wished to travel solo to the Great Barrier Reef, located in Cairns, North Queensland. I had been working as a publicist for over three years at that point and wanted to take a couple of months off to travel before I took up my next assignment in Mumbai. Cairns is known as the gateway to the world's largest coral site and also one of the seven natural wonders of the world. The place offers real thrill and activities such as Scuba Diving, Snorkeling, Helicopter Ride, Sky Diving, Flying Fox and so much more for millennials and adults alike. The facilities at Cairns are the safest in the world. Safety is one of the essential things one looks at, while deciding on doing such a 'once in a lifetime' activity. I was fully convinced that I wanted to take this up solo, after reading a lot about the safety aspects of Australia as a country to travel as well. Here are 5 Unique Dining Experiences That You Can Be A Part Of Only In Australia.
Cairns – A Tropical Paradise
I define Cairns as a tropical paradise, with the indigenous aboriginal locals, streets lined with bars and restaurants, and a beautiful lagoon for swimming. The evenings would echo with Zumba in the park that was in the middle of this small town. It was free for anyone to attend, no pass required. I had travelled from my hometown Delhi to Sydney on a non-stop flight. The plan was to stay with relatives in Sydney for 15 days, after which I would take a flight from Sydney to Cairns via the budget carrier Tiger Airways. Here are 8 Amazing Facts About Australia That Will Surprise You.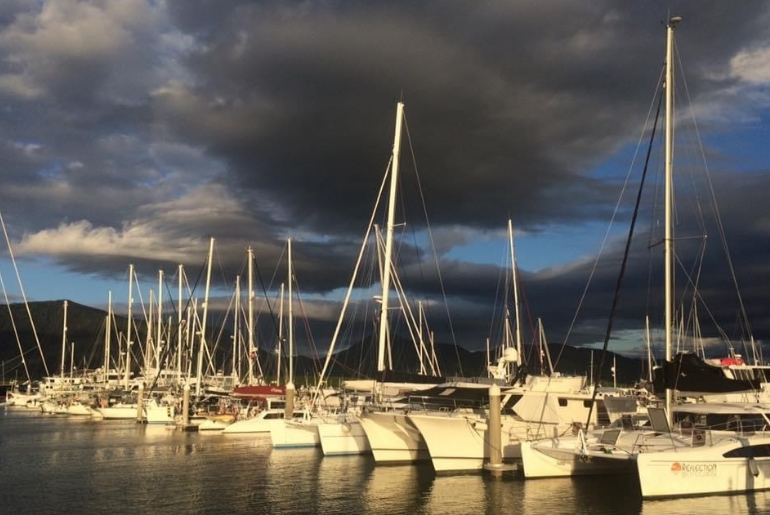 A Hostel That Was Home Away From Home
When I arrived, the travel hostel I had booked sent a cab to pick me up. My stay was at Travellers Oasis Backpackers, a charming little hostel, offering cosy and clean facilities to budget-conscious travellers, in a friendly and relaxed environment. The hostel was nice, had many international tourists, but no solo woman was travelling like me. At night, all the young people would be partying by the pool and during the day, there would be hardly anyone. Travellers Oasis was more like a place for bed and breakfast, the latter of which could be customised to suit your palate. My single room was small, but well equipped with all the essentials I needed for my budget stay. 
The Most Surreal Sky Diving Experience
Sky diving was the first thing scheduled, and the trip started with the Australian Parachute Federation (APF) sending a bus to collect all those who had a reservation with them. The journey of the bus ride was smooth, it was an early morning ride, so I was still sleepy. About one hour away from the city, we approached the spot for the dive. I kept scanning the skies from the bus, like an excited child, for chutes in the air and people falling from the sky like ants. It was surreal, and it had started to seep in that it was soon going to be my turn to fall from 10,000 feet above the ground! Fly Without Jumping Off A Plane At This Indoor Skydiving Experience!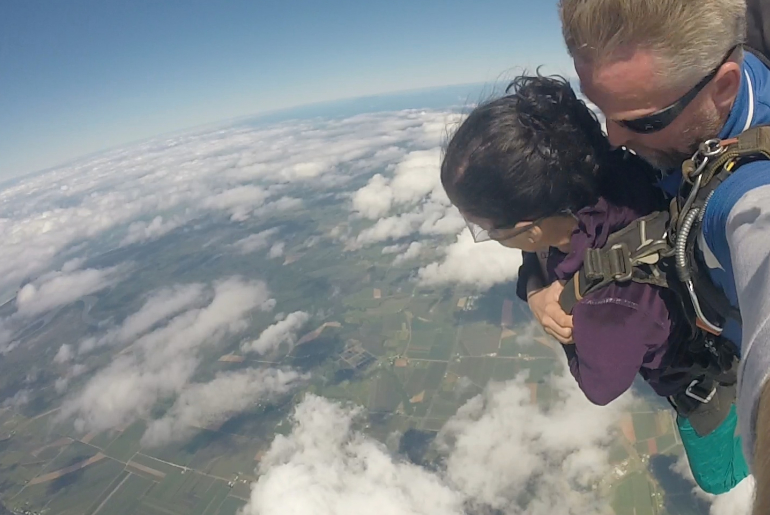 Free Falling From The Sky
There were about 30 passenger flights scheduled that day, all accompanied by a person to support and guide you through the whole process. It doesn't make it any less comfortable, but just extremely scary to jump out of the sky, where you can see the earth round with green and blue patches, just like in the atlas book I saw in school the first time. The air opacity is so high, that if you scream, your cheeks will fly in a way you have never experienced. So there isn't any point of shouting no matter how much you are afraid. Between closing my eyes, screaming, opening from one eye slyly to finally having the courage to keep my eyes wide open and see-through my airtight glasses, I finally saw gravity pull me to the earth. My flight expert was constantly singing in Punjabi. He said being married to a Punjabi woman from Delhi made him live life to the fullest, and he loved his job of making people fly! Leaving all aside, the whole experience was exhilarating, and out of the world (literally). And despite being terrified of skydiving, I would do it all over again in a heartbeat.You Can Now Skydive In The Historical City Of Mysore.
Scuba Diving And Exploring The Coral Reefs
The beginners' Scuba Diving experience involves a day trip on a cruise with meals included. You are divided into groups here and are supposed to learn the techniques of breathing underwater. I was in a group with three other girls who were travelling solo. All the girls were from different nations – U.S, Singapore and Japan. I was the only Indian in the cruise of 150 passengers. All of us were looking forward to various forms of water activities on the trip. On the way to the site of the activities, there was live music and snacks organised for everyone to chat and settle themselves in. In the group for those scheduled to do Scuba Diving, we were given our equipment to practice breathing. Be A Certified Scuba Diver In Just 2 Days Right Here In Mumbai & Pune.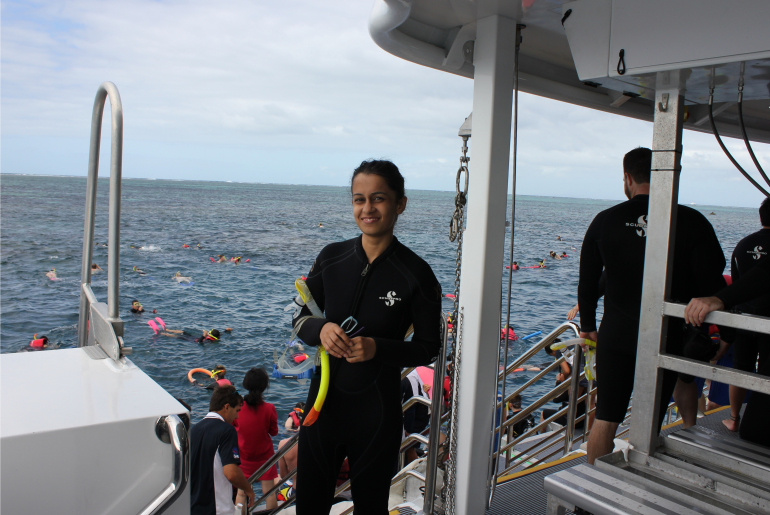 The Liberation Of Being Underwater
Also, they would make sure to check on your confidence level to survive underwater. So you would be asked to go down the ship, holding a ladder and then come up. You have to practice breathing calmly during this time, while you see turtles and different types of aquatic life swimming around you underwater. Many who have never done it, would find it overwhelming and I was one of them. My heartbeat was racing fast due to anxiety and, at the same time, excitement! My trainer would continuously ask me to breathe calmly. It was easier said than done due to the heavy equipment and many attempts to breathe into the pipe. Anyway! After a couple of shots, sticking by the ladder and taking mini steps with my trembling legs, I was ready to jump. We were in the water together and had to hold each other's hands considering not everyone knew how to swim. The whole trip lasted about half an hour, before we finally came up. Here are 5 Wacky Adventures All Thrill-Seekers Must Try In UAE.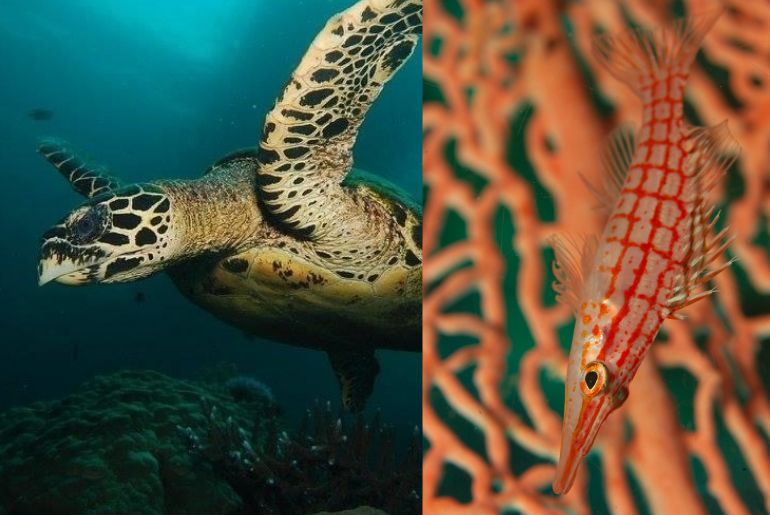 Chilling At The Sparkling Lagoon
In the afternoon, one can stroll around to find tourists gathered together in the park, sun-bathing or either at the beautiful sparkling lagoon. Lifeguards are always on duty while the lagoon is open. The lagoon is a 4800sqm saltwater swimming facility that offers an all-year-round, safe, swimming location without stingers and crocodiles. It is filled with saltwater but filtered through a state-of-the-art filtration system. I spent my third day, relaxing by the lagoon, reading a book while sun-bathing. Here are 10 International Destinations For A Perfect Friend's Getaway.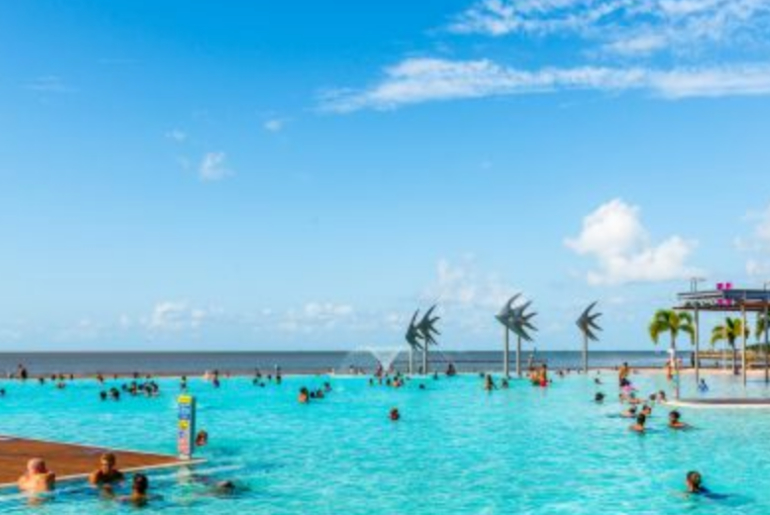 Taking Back Memories
At night you can choose to shop at the local mall and multiple shops on the street to get souveniers. Also, cycling is quite prominent and a preferred mode of commute by travellers. Lunch is served as a part of the packages you take for the day-long adventure activities. For dinner, there are restaurants, serving food from every part of the world. During my trip, I experimented with Korean, African and Mexican cuisine. Ordering a starter is the best if you are travelling solo, it helps in avoiding any wastage and also supports in keeping you on a budget.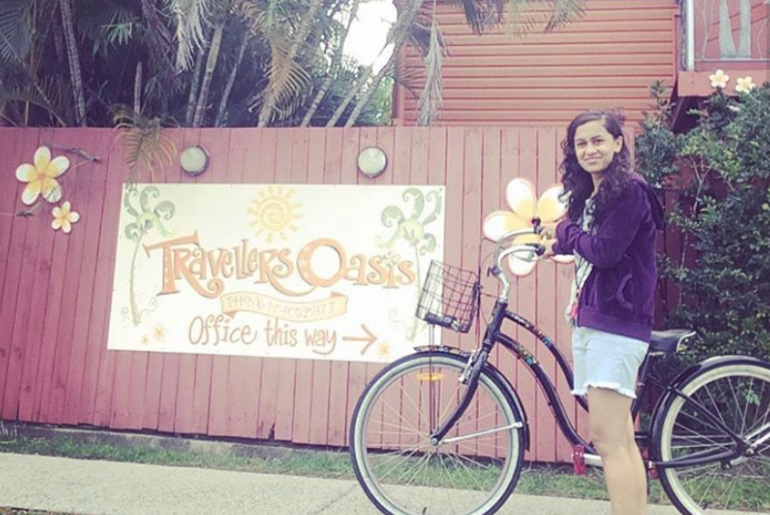 To cut a long story short, the three nights and four day stay at Cairns was one of the most liberating, once in a lifetime experiences. I had that I will never forget. If you want to travel solo and be occupied in your vacation. Choose Cairns! 
Contributor – Niharika Mathur is a Publicist living in Gurugram who has travelled to more than eight countries.