India is known for its rich culture and heritage. Several cities in India speak grandly about its lineage and history, and one such city is Rajasthan's capital – Jaipur. Known as the pink city of India, Jaipur is home to erstwhile royals. It is known for its impressive palaces, majestic fortresses, colourful markets and chaotic streets. Every street of this pink city speaks volume about its past. And to explore this beautiful town on a budget, I visited Jaipur with a friend for 4nights and 5days in November 2019 and here's how I did it for Rs.10,000 per person. 
Your step by step guide to visit the Pink City of India on a  Budget. 
Transport: We started our trip from Mumbai and travelled to Jaipur via train and paid ₹1500 per person. Since it was a peak season, we couldn't get a return train ticket; hence we came back via flight, and the ticket cost us ₹2500 per person. 
Stay: Jaipur offers plenty of budget hostels, hotels and B&Bs. We stayed in Zostel, which is located right in the heart of the city. Attractions like Hawa Mahal, Laxmi Mishtan Bhandar, etc. are at a walking distance from the hostel, and in total the stay cost us ₹3,000, which is ₹1500 per person for 4nights and 5days.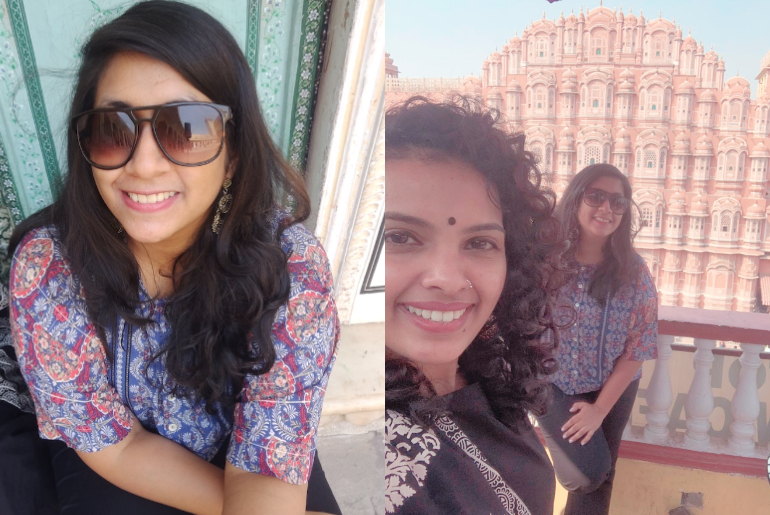 Transfers: There are many options that one can choose from for travelling in Jaipur. We used the local cycle rickshaws mostly, and the transfers in and around the city cost us ₹2000, which again is ₹1000 per person. 
Tip: You have to bargain to get a reasonable price. There are Uber autos and cabs, but they aren't available most of the time. Also, don't forget to try the Jaipur metro, it's fun and convenient. 
Also read: Rajasthan Reopens For Tourism; Here Are 8 Palatial Jaipur Hotels Where You Can Stay
Food: Jaipur is not only known for its rich legacy but is also known for its food. Street food is quite popular in Jaipur, and there are plenty of cuisines and options that one can choose from! We spent ₹2500 per person on meals and made sure to savour all the local dishes too.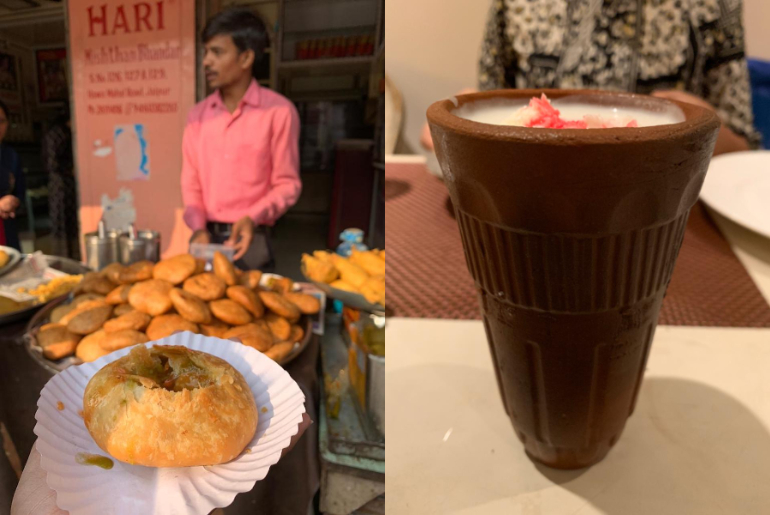 Miscellaneous: Apart from this, we spent ₹1,000 per person on entry tickets, etc. 
Best time to visit: Rajasthan is not only known for its cold weather but is also known for its scorching heat. So the best time to visit Jaipur is between November to March. We visited this beautiful town in November, and the weather was pleasant, which made travelling quite easy. 
Day 1:
The train journey of 13 hours from Mumbai finally came to an end, when the aromatic fragrance of Kachori- a staple breakfast dish of Jaipur welcomed us to the pink city. We took a cycle rickshaw from the station and made our way to Zostel. After reaching, we decided to keep the first day slow and took a short nap to compensate for the taxing train journey. It was around 2 30PM when we headed for lunch to Hawk View restaurant, which offers a panoramic view of the city.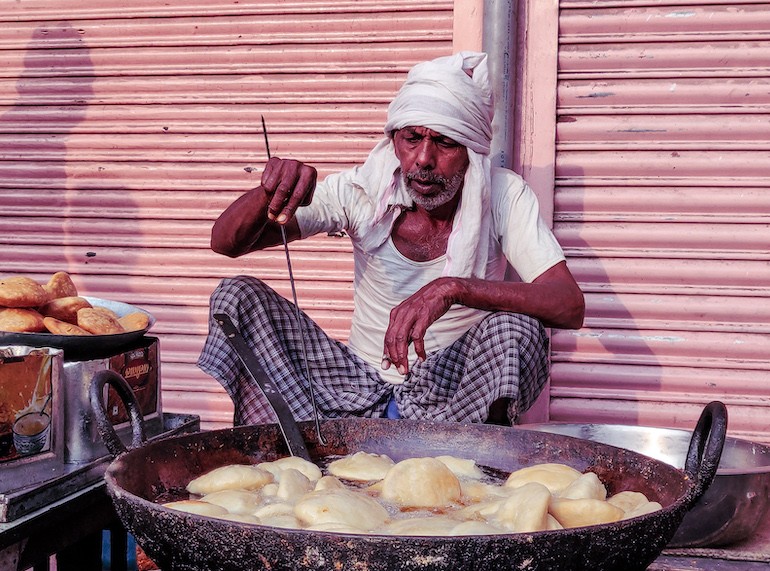 After eating some soulful food, we headed back to the hostel, interacted with fellow travellers and ventured out by 5 PM. We then traversed the nearby areas and called it a night by savouring some local street food. 
Also read: We Bet You Didn't Know These Crazy Facts About Jaipur's Iconic Hawa Mahal
Day 2:
In the excitement to explore a new city, we left our hostel at 9 AM and headed to the Wind View cafe. This cafe offers the best view of Hawa Mahal and is also one of the most Instagrammable cafes in Jaipur. We ate some breakfast, clicked some pictures and enjoyed the sight of the grand Hawa Mahal from the top. After breakfast, our first stop of the day was Hawa Mahal, we visited the Mahal and were charmed by the intricate interiors of the palace. Post that we visited the iconic Jantar Mantar, which is an astronomical observation site built in the early 18th century.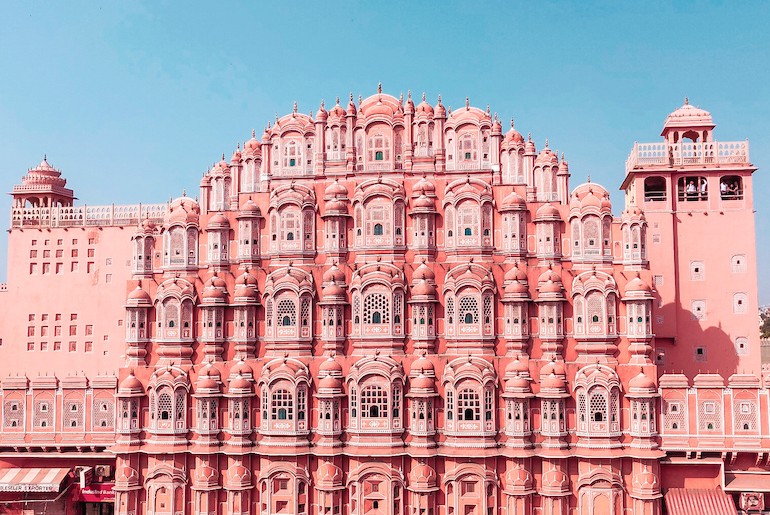 We spent a few hours there and then went to Tapri Cafe for some lunch. Post lunch, we shopped at Bapu Bazar and bought some cheap and yet top quality leather sandals and bags. By the time we got done with shopping, it was already 5 30PM, we then decided to visit another iconic spot, Rajmandir, the opulent cinema which looks like a Disneyland for movie lovers.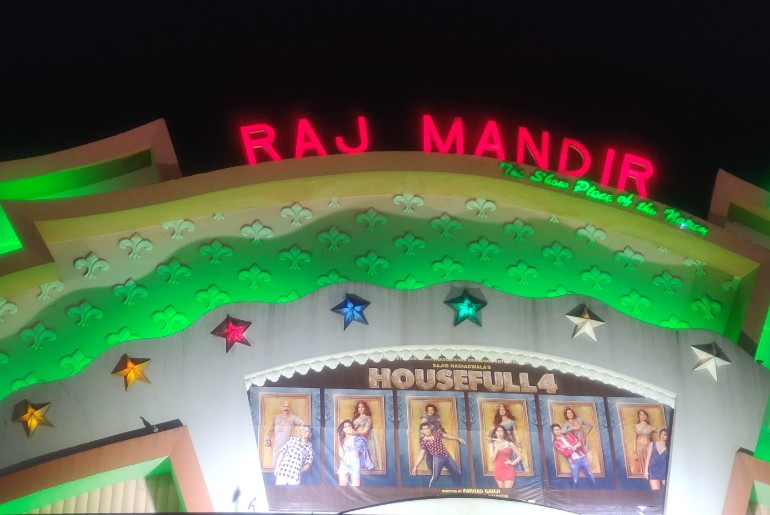 Larger than life chandeliers and cheap tickets and food make sure to transport you into an olden era. We sadly watched Housefull 3 there, but the experience was something I will cherish for life. Once done with the movie, we grabbed a bite from a local eatery and called it a night. 
Also read: Jaipur Listed Among World's 50 Most Beautiful Cities
Day 3:
After spending almost two days in the pink city of India, I began to understand why Jaipur is so unique. Right from the hustle-bustle to the food stalls, everything had an old-world charm, which made me fall in love with the city instantly. And to explore this bewitching town more we visited multiple markets on day three. We hit Tripolia Bazar, which is known for its ethnic Rajasthani handlooms and then to Johari Bazar, which sells some of the best silver jewellery in town.
Post the shopping exercise we stopped at Laxmi Misthan Bhandar for some lip-smacking lunch. Tip: Do try authentic chaats and lassi at Laxmi Misthan Bhandar, they offer some of the best chaats in town. 
Also read: 5 Reasons To Visit Jaipur In 2020
After filling our tummies with some Rajasthani food, we decided to take a nap in our hostel. It was 3 30PM when we woke up after a half n hour nap and decided to venture out to explore the mighty Amber Fort. Hiking to the fort for enjoying the sunset was surely worth it.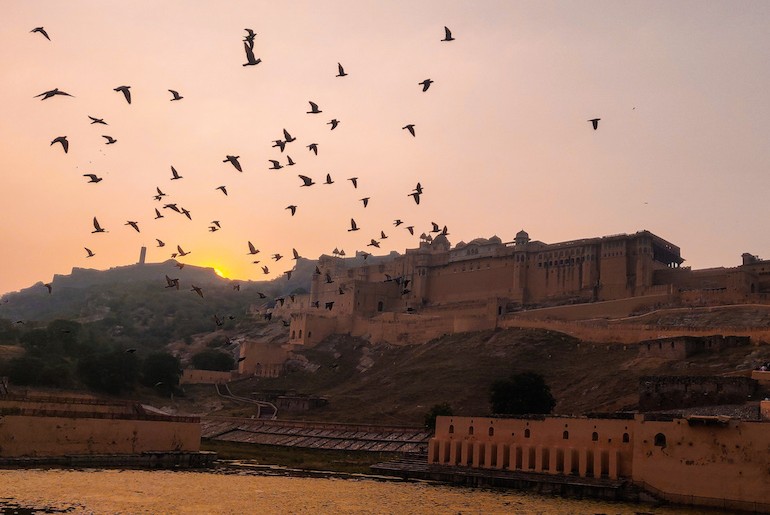 By the time we left Amber fort, it was already 6 30 PM, and we decided to stop at Jal Mahal, which was on the way back to our hostel. Post that, we headed to a rooftop cafe, ordered some food and wine and called it a night. 
Day 4
:
It was already our last in Jaipur, and we wanted to make the most out of it. So for breakfast, we went to MG Road, which is known for its street food. We savoured some desi Chole Bhature, Kullad wali chai and Kachoris over there. After having a lip-smacking breakfast, we visited City Palace. We didn't get to see the interiors of the Palace since it was non-operational for some reason, so we just visited the Palace Museum.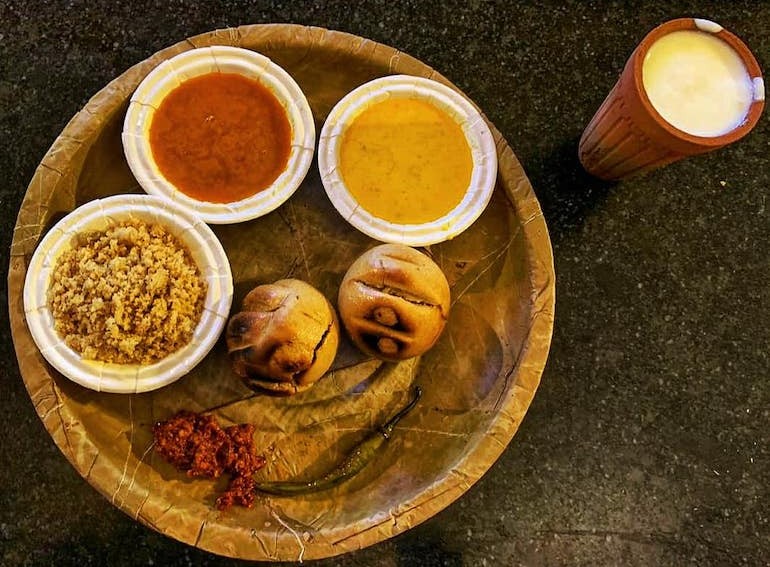 From there, we went to the Albert Hall Museum and spent some time there. By the time we got done with the Palace and Museum, it was already 3 PM, so we made a quick stop at Lassiwala to enjoy their world-famous Lassi.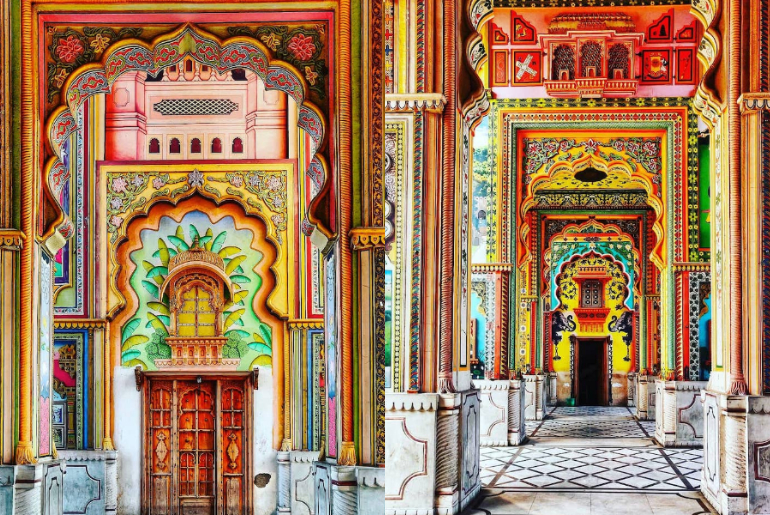 From there, we visited Patrika Gate, which again is a must-visit place in Jaipur. Post that, we headed to Masala Chowk for dinner and savoured some authentic Dal Baati Churma and chaats.
Also read: Jaipur Municipal Corporation Arranges 15,000 Chapatis A Day For Hungry Strays Amid Lockdown
Day 5:
We had an evening flight to catch for Mumbai, so we finished packing and just traversed the streets of Jaipur for one last time. And at last, it was time to leave Jaipur, so with tonnes of memories, we flew back to our home town.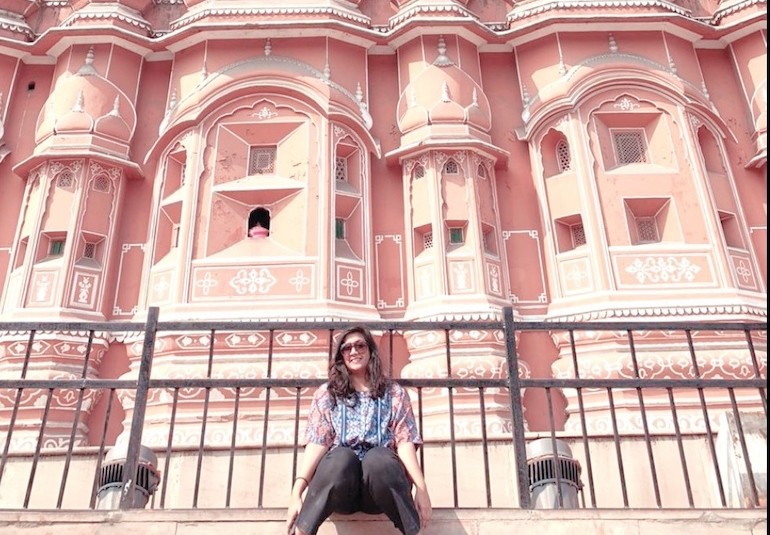 Things I missed but you shouldn't: I missed out on the city palace, but you should visit there. Also, there's an Elephant farm right on the outskirts of Jaipur and you must add that to your list.