There are two kinds of people in this world.  Ones who love the daytime and those who adore the nights. And I, Sanjana Shenoy a Features Writer at Curly Tales, falls in the latter category. The soft white moonlight, twinkling stars, cool night breeze has always fascinated me. I love nights so much, that I wait for sunset so I can go out for a walk, or even just muse in the dark while listening to my favourite songs; lost in the embrace of my own thoughts and the surrounding darkness to keep me company. So let's rewind back to the year 2016 when the nocturnal me met my perfect match- a breathtaking midnight trek to Anthargange. On March 6, 2016, I along with my two friends went for an adventurous midnight trek, cave exploration and stargazing experience to Anthargange for just ₹1000 per person. How did we do that, how was the experience? Well, hold on to those thoughts. And just walk down memory lane with me.
Planning My Midnight Trek To Anthargange
It was back in the year 2016 when I was a student at Christ University in Bangalore. And the travel bug bit me. My feet constantly itched for spontaneous trips or experiences both within the city or outside. So one weekend, I browsed through Thrillophilia and found a great package for a night trek to Anthargange for just ₹1000 per person. It included pick up and drop from Bangalore, midnight trek, cave exploration, stargazing, bonfire, sleeping bags and breakfast the next day.
There was so much adventure all packed tight for one night. How could I refuse? I love nights and I do absolutely adore adventure. So I roped in my two friends, Nikita my classmate from Christ and Taha my childhood friend from school. The three of us were so excited. But we really didn't know what to expect. We weren't professional trekkers, just college students looking for some adventure.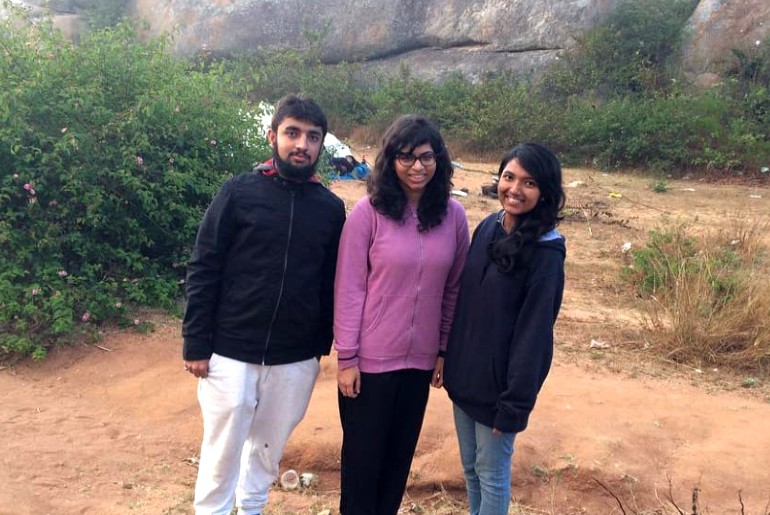 Also Read: Exquisite Temples Around Bangalore That You Need To Visit Atleast Once In Your Life
So we made our bookings, two nights before. We were instructed to carry torches, snacks, a bottle of water and warm clothes. On a chilly night at 10:30 pm of March 6, we were picked up in a minivan from Koramangala. There were around 15 of us all huddled together in the minivan. Like my friends and I, none of us knew what to expect. I mean, trekking in the dark with torches, on a rocky mountain range, how exciting was that! We reached Anthargange at around 12:45 am. While most of Karnataka slept in peace, our day was just about to begin, from the bottom of the rocky mountain situated near the gold town of Kolar ( Yes, Kolar from the hit film KGF).
Trekking With Torches Up The Rocky Mountain
Once we got down from the van, our hearts pounded and our eyes twitched to make sense of the utter darkness.  Our two able yet friendly guides were there by our side. We were given sleeping bags and sticks to carry up the hill for the bonfire. Our guides gave us safety instructions and trekking tips before we started our journey. And off we trotted up the hill with our rucksacks, sticks and our torches. Climbing uphill in pitch darkness was quite a task, but our guides made it look like a piece of cake. We walked through thorny bushes, broken rocks, twig laden paths and rocky boulders, right under the gorgeous, moonlit star-studded night sky.
Experiencing One Of The Most Scariest Moments Of My Life
As we walked up the 1712 m high Anthargange mountain, we knew it was nothing short of any adventure we ever expected. At one point in time, we had to cross a deep valley in pitch darkness. One wrong step, and off we would fall deep down the valley like broken pieces of rocks. I remember I had a lump in my throat, and I asked myself what if I wouldn't make it?
It was definitely an adrenaline-rushing moment. My guide crossed the valley first manoeuvering swiftly through the thin rocky path. He pulled me across in one shot, and off I was on the other side of the rocky valley. Phew! I can still feel my heartbeat rising even as I pen down this experience now, 4 years later. But with my closest friends by my side and fellow trekkers we were all in the same boat.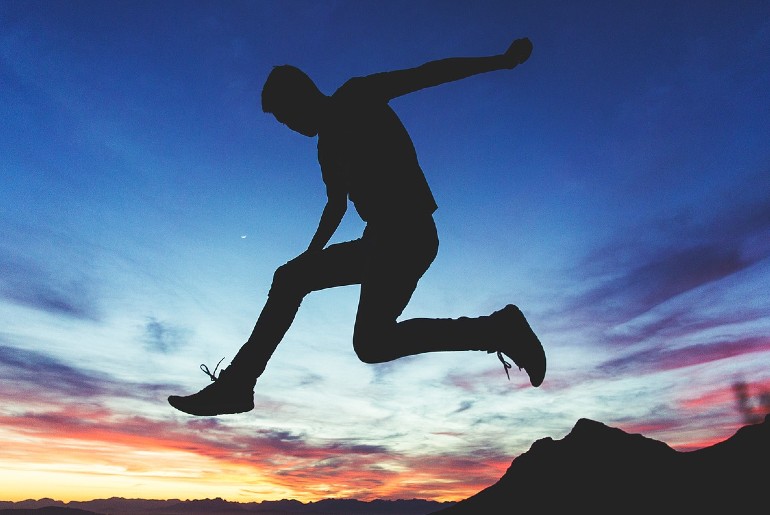 Also Read: 82-Year-Old Karnataka Man Converts Barren Hillock Into Bed Of Lakes, Receives Praise From PM Modi
Exploring The Anthargange Cave
We trekked up the mountain and finally reached the majestic cave. From the outside, it was really really dark. We felt like we were entering the black hole. But once we switched on our torches, it was a whole new world. The cave had unique volcanic formations. It was rocky, yet there were intricate lines of weathering, which seemed to have been carved by hand. But it was all-natural and rustic.
Exploring the Anthargange cave was another ball game altogether. We had to crawl through the dingy small boulders and climb up the rocks like Tarzan. And we had to do all that and more with torches in our hands, and rucksacks on our backs. I remembered Enid Blyton's Secret Seven and Famous Five novels that I enjoyed reading as a child. Exploring a hidden cave on top of the mountain in the middle of the night was a ravishing experience. What can I say? My childhood fantasies came alive. I was a mystery sleuth, unravelling the hidden secrets of this cave with my companions, Nikita and Taha. How about the Triumphant Three?
Witnessing The Breathtaking Star-Studded Sky
Once we were done exploring the marvellous cave, we trekked a bit more and finally reached the peak of the Anthargange Mountain at around 3 am. And that was when I had my travel orgasmic moment. I looked up to witness a clear dark sky filled with millions of twinkling stars. It was almost like a thick blanket studded with heavenly diamonds. We gasped in disbelief, switched off our phones and just soaked in this moment. The sky was so magnetic that I just couldn't look down. Nikita told me that it felt like a total relief to be away from the polluted city. We could all agree on one thing, the stars were the ultimate highlight of our trip. Everything was worth it, the risks, the tiredness, fatigue, freezing cold, EVERYTHING!
Bonfire, Antakshari & Cliche Horror Stories On The Peak
As we enjoyed the stargazing experience, our tour guides lit a bonfire. We huddled together playing Antakshari, sharing our travel experiences and of course the signature horror stories. As the night continued, we realised it was getting cold, very very cold. Our teeth chattered, hands shivered and we huddled in our sleeping bags. It was supposed to a warm month of March, how did it even get so cold? But when you're right up the mountain, 1712 m above sea level, all we can do is  Let It Go'.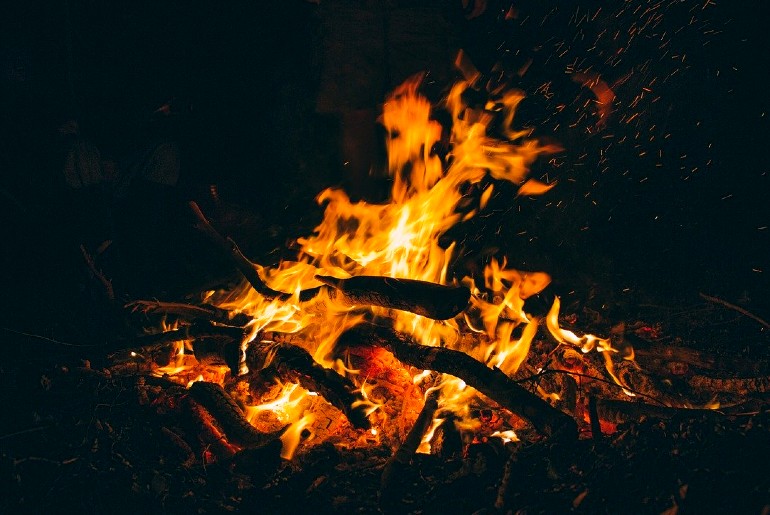 Shooting Stars, Constellations & Philosophical Talks
So we warmed ourselves at the bonfire, and even hilariously wore our socks on our hands like gloves. As we snuggled in our sleeping bags on the grass, we watched the night unfold. The grey clouds slowly moved, the stars kept twinkling and most importantly we saw shooting stars. Hundreds of them, one after the other. Like the Kuch Kuch  Hota Hai fans that we are, we started making wishes as we glanced up at the shooting stars. But eventually, we got tired of making wishes. I mean how many can you make if every other second you see another shooting star? So in between all the stargazing, constellation spotting, shooting star wishing and philosophical talking we drowsed away to sleep.
Also Read: Enjoy An Evening Under The Stars At Nara Camp
Witnessing The Gorgeous Sunrise
It was the crack of dawn and the chirping birds slowly woke us up. The early morning sunlight softly fell on our faces. And our sleeping bags were wet with morning dew. We slowly awoke, replaying the breathtaking scenes of the shooting, twinkling stars from the previous night. But if the night at Anthargange could be so magnificent then wait till we witnessed the crack of dawn. Climbing up a huge rocky boulder, we got a gorgeous view of the sunrise.
The sky was painted in dark blue, orange-yellow hues and the crescent moon stayed put, slowly making way for the sun. The pin-drop silence, with chirping birds, painting-like-sky and rocky boulders around, made us so mindful of our surroundings. It was a meditative experience. While I personally missed the star-studded night sky, I could definitely find myself grateful for a new day, a new experience.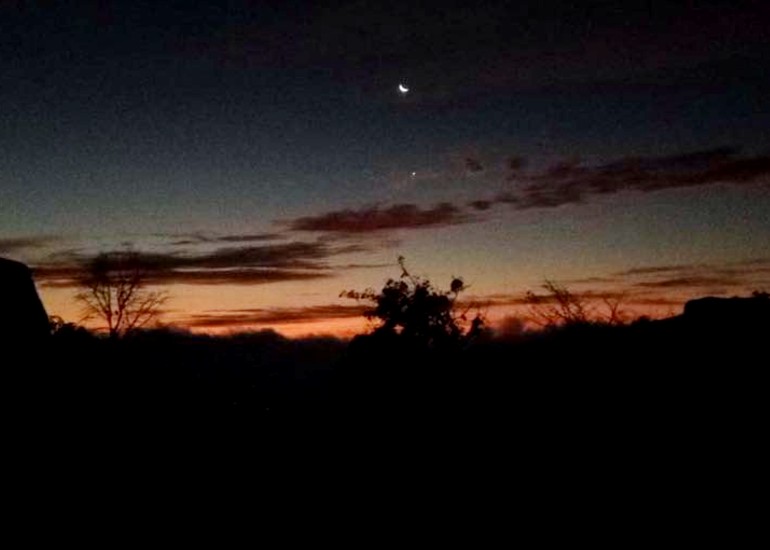 Breakfast Like Kings
The trek down the mountain was an easy one. Our minds felt lighter after a peaceful night. But our hearts felt heavier as we carried back millions of memories that we made, under the millions of twinkling stars last night. Our minivan took us to a lovely South Indian restaurant near the mountain. And we stuffed ourselves with crispy vadas, soft idlis and strong filter coffee. We definitely ate breakfast like kings and queens after a ravishing night of trekking.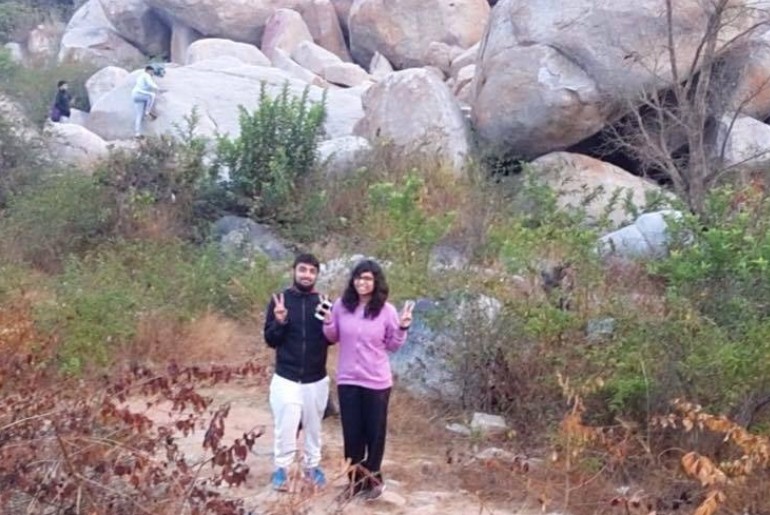 Also Read: #CTCraves For These 10 Desserts In Bangalore
A Night Trek To Remember
For us college students on a budget, this night trek was way more than any adventure we ever envisaged. A trek amid the mountains, blissful dark sky and underlying adventure probably taught us more than what we could ever learn within the four walls of our classroom. The mountains called us, we went. The night sky filled with twinkling, shooting stars beckoned, we listened. Nature has its own marvels, and we are just tiny ones. So the nocturnal me, finally met my match, in the midnight trek to Anthargange.