In the world of gastronomy, the Indian Accent restaurant stands as a testament to the rich and vibrant tapestry of Indian cuisine. Dining at this restaurant is more than just consuming a meal. And if you're a Mumbaikar, it's time to rejoice. Because Indian Accent is finally making a debut in the city sometime this month at the renowned NMACC.
Indian Accent Is Ready For Mumbai Debut
View this post on Instagram

Yesterday, Mumbai played host to an industry event, attended by the likes of Namrata Zakaria, Rocky & Mayur, Riyaaz Amlani and more. The event looked like an inaugural one, welcoming Indian Accent to Mumbai.
The menu at an Indian Accent restaurant is a meticulously crafted narrative. It showcases the culinary legacies of India's various regions. The inaugural menu included dishes like Indian accent shorba, smoked eggplant, beet and peanut butter chop, anar churan kulfi sorbet and more. An Indian Accent restaurant is a haven for both meat lovers and vegetarians.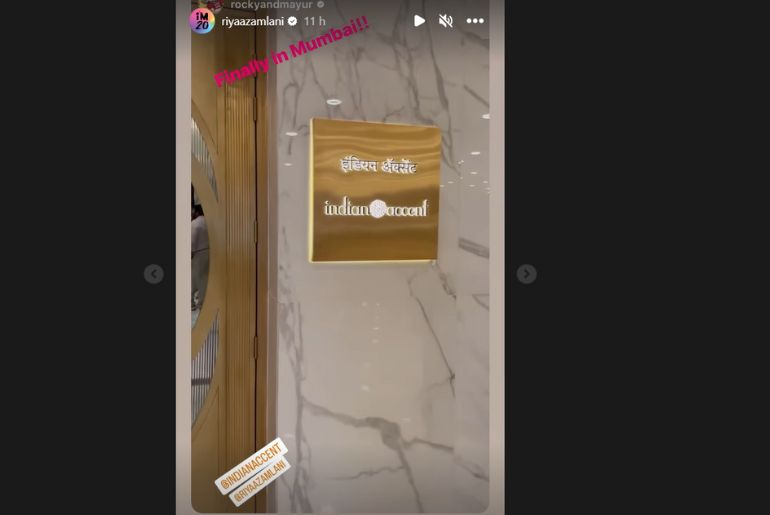 From the northern plains to the southern coast, from the western deserts to the eastern deltas, the menu looked like a gastronomic voyage through India's diverse landscapes. Main courses could feature delicate dumplings stuffed with aromatic fillings, slow-cooked curries that melt in the mouth, and tandoori delicacies that pay homage to the age-old art of clay-oven cooking.
The event looked like a fun-filled one with everyone commenting and ready to welcome. Well, be ready to feast here!
Also Read: 6 Most Ordered Dishes At The Award-Winning Indian Accent, NYC For A Culinary Journey Across India
However, The Dates Are Yet To Be Announced
View this post on Instagram

The NMACC is a one-of-a-kind multi-disciplinary cultural centre. They recently also unveiled another restaurant, Amadeo by Oberoi. With the restaurant coming up this month in NMACC, the location seems to be booming and swooning for food connoisseurs. Also, positioning itself as a destination to immerse in great food culture.
The official dates are not revealed yet, Mumbaikars will have to wait for some time. As Indian Accent is a place where tradition and modernity harmonise. Expect centuries-old recipes reborn with contemporary flair, and where the myriad flavours of India find their home on a single plate.
Cover image credits: Instagram/Riyaaz Amlani