We Indians love our food as much as we love our culture. Unlike foreigners, we Indians can never eat food using a fork and spoon. But what to do when you are in a foreign country, well you teach them how to eat with one hand. Recently in a viral video, an Indian man teaches his foreigner friends how to eat naan with chicken curry using one hand and his friend follows him too. 
Indian Man Teaches Foreigner To Eat Indian Food
We all know that if someone is trying Indian food for the first time, he or he may not know how to eat it the right way. This happens especially when the platter has roti or naan in it. Recently a video went viral that featured an Indian man with some of his foreigner friends. All the people are sitting around a table which has a bowl of chicken curry and naan served on it. The Indian man from the group takes a plate and serves himself a naan and the curry. Next the man takes a bite of the naan using his hand, folds it and scoops the curry using it. The video shows a man following him doing the same and relishing the dish. 
View this post on Instagram
Also Read: Anand Mahindra Is In Awe Of This Pristine Village In Kerala
Netizens Giving Out Mixed Reactions
The video ever since it is posted has garnered about 2.3 million views and more than 24k likes on Instagram. More than 500 people commented on the post. Some people appreciated the Indian man for being true to his roots and teaching others. While some spoke about how the foreigner guys will now be addicted to eating with hands for the rest of their lives. While there was so much positivity in the comments sections, some also wrote negatively. The people were concerned about the look of the Naan and said that it looked like some Pizza base. One user also pitied them for not being able to relish authentic naan.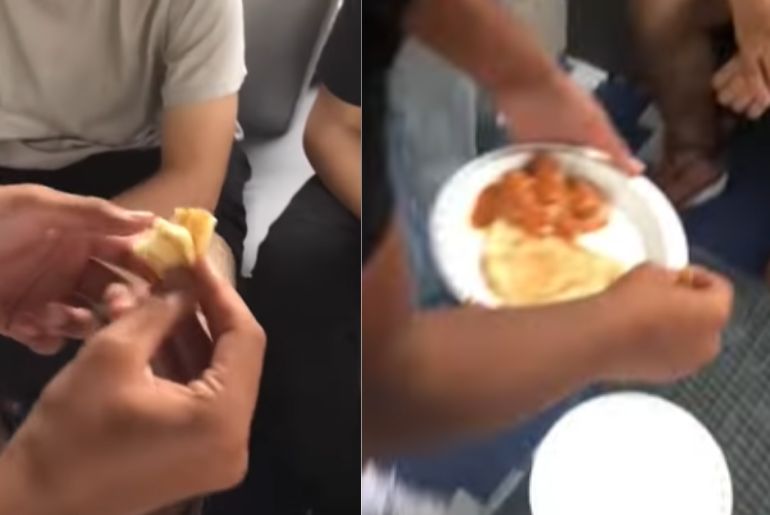 Also read: Viral Food Trend Of Cooking Pasta Without Boiling It Leaves Netizens Confused