I find a lot of people going on vacation outside India! I was amazed to see how little India has been explored by Indians. Trips to the USA are not your only option! Here are some of the best hotels to stay in India! And undoubtedly, India Is Incredible!
1. The Oberoi Udaivilas in Udaipur, Rajasthan
This luxurious Oberoi Udaivilas hotel is set on the banks of Lake Pichola and is spread over 30 acres. The hotel is a beautiful construction of domes which is a reflection of the royal city of Udaipur. The hotel has intricate designs, majestic rooms, fine dining experience in the outdoor of the hotel, huge swimming pools and cuisine from over the world. It is set between lush greenery and surrounded by mountains on all sides! The view from the balcony is serene and peaceful. It is the perfect place to spend a luxury weekend.
Deets:
Cost: Premier Room ₹28,500 Per Night
Address: The Oberoi Udaivilas, Haridasji Ki Magri, Mulla Talai, Pichola, Udaipur, Rajasthan 313001
Phone:0294 243 3300
2. Taj Lake Palace in Udaipur, Rajasthan
Taj Lake Palace is set right in the middle of Lake Pichola, it's grand structure and beautiful architecture are breathtaking! The windows of Taj Lake Palace have a grand view of the lake and some have the view of the dense Aravalli Hills, Machla Magra Hills, and Jag Mandir. The palace is also known as the floating hotel, and yes, for all the right reasons. The exotic rooms have beautiful paintings that depict the Indian mythological stories and the marbles have beautiful carvings! It is a perfect stay for a romantic vacation in India.
Deets:
Cost: Starting Rate ₹ 39,500 * Per Night
Address: Taj Lake Palace, Pichola, Udaipur, Rajasthan 313001
Phone:0294 242 8800
Also Read: 5 Best Business Hotels In Delhi
3. The Oberoi Amarvilas, Agra
Is it even worth to stay in Agra if you cannot see Taj Mahal from your window? If you are coming to Agra and want to live in a luxurious hotel, The Oberoi Amarvilas is the place to be! The best part about Amarvilas is that you can sit right across the Taj Mahal for a romantic candlelight dinner. The hotel has some beautifully designed rooms which have intricate designs that reflect the culture of Agra.
Deets:
Cost: Starting Rate ₹ 32,640 * Per Night
Address: The Oberoi Amarvilas, Taj East Gate Rd, Paktola, Tajganj, Agra, Uttar Pradesh 282001
Phone: 0562 223 1515
Also Read Unique Luxury Hostel In Viman Nagar, Pune Is The Perfect Option For Male Students
4. Alila Fort Bishanghar, Jaipur 
Alila Fort is another beautiful luxury hotel in Jaipur. It is located in Bishangarh and is easily connected to the Highway. Did you ever want to experience living in a fort that is fully furnished with a great view of the entire sit? Alila Fort stay is just the best luxury resort which is also not so expensive but also provides the best of all facilities.
https://www.youtube.com/watch?v=kb3A0dHrfwc
Deets:
Cost: Starting Rate ₹ 12,000 onwards* Per Night
Address: Off NH-8 at Manoharpur Bishangarh Village, Jaipur Bishangarh, Manoharpur, Rajasthan 303104
Phone: 072300 58058
Also Read: Live Like A Star At These 5 Fine Luxury Hotels In The UAE
5. Kumarakom Lake Resort, Kumarakom
As we all know, Kerala is God's own country, I will also go ahead and call it heaven on earth. The place is beautiful all year long and the best way to enjoy authentic Kerala is by living at some exotic destinations and Kumarakom Lake Resort is definitely the right choice! Here, you will find some iconic villas and pools all to your self and you can also choose to have lunch in the houseboat, they will also prepare authentic Kerala lunch for you!
Deets:
Cost: Starting Cost Direct Price

₹

12,000* per night

Address: Kumarakom Lake Resort,
North Post, Vayitharamattom, Kumarakom, Kerala 686563
Phone:0481 252 4900
Also Read: 6 Indian Hotels Make It To World's Best Hotels List 2017
6. Mihir Garh, Rajasthan
Mihir Garh is an exquisite stay in the historic city of Rajasthan! This royal resort is set between beautiful trees and gardens. This property has some of the most breathtaking views during sunset! The property has the touch of rural Rajasthan and one can experience the raw and authentic culture of Rajasthan.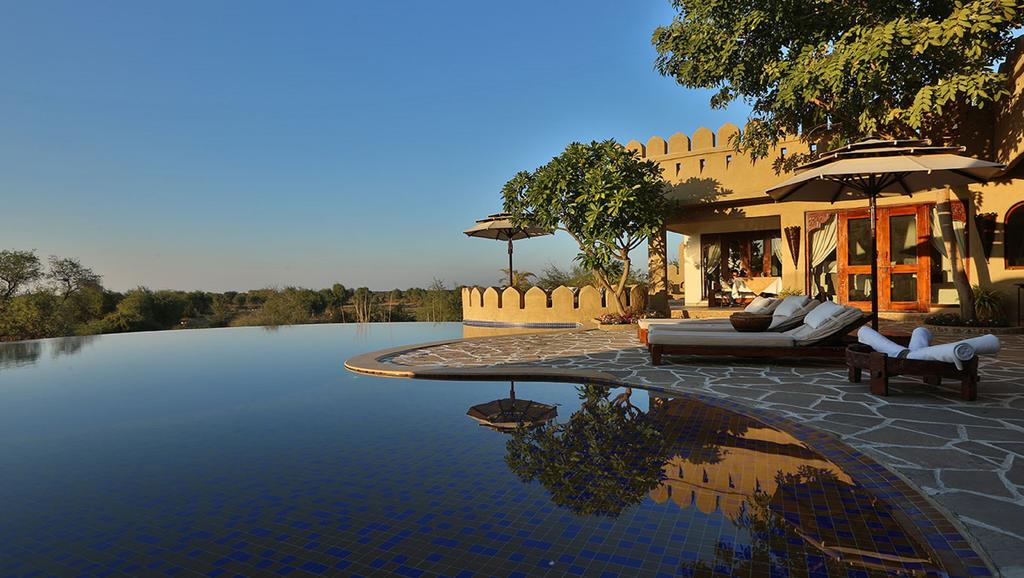 Image Credits: Booking.comDeets:
Cost: Rooms Starting From ₹26,280 Per Night
Address:  C/O Rohet House, P.W.D. Road, Jodhpur,  Rajasthan – India.
Phone: 91-124-4654330
Also Read: Abode Boutique Hotel With Luxury Bathtub Inside The Room

7. Rambagh Palace, Jaipur
Rambagh Palace is absolutely the right choice to stay in Jaipur if you want to experience royalty.  Here you are treated with almost care and also pampered a lot! The architecture of this palace is inspired by Indian, Arabic and Gothic architecture. You will not fail to get the authentic experience of the city of Jaipur and its culture. They also offer the best cuisine for over the world. Now you know, when you are in Jaipur, Rambagh should definitely be on your list.
Deets:
Cost: ₹ 30,976 per night
Address: Rambagh Palace,
Bhawani Singh Rd, Rambagh, Jaipur, Rajasthan 302005
8. Alila Diwa Goa, Pacheco Vaddo
Goa is one of the most loved destinations for vacation and this 5-star luxury hotel in Goa, Alila Diwa is the go-to place. It is not very expensive but gives you the best experience of Goa! Now, we have to travel a lot sometimes to reach our hotels, but Alila Diwa is just 20 minutes from the Airport (yay!). The rooms here are plush and have the view of the beautiful state of Goa!
Deets:
Cost: Cost Varies depending on the season and days. Starting price ₹ 8,591
Address: Alila Diwa, 48/10, Adao Waddo, Majorda, Goa 403713
Phone: 0832 274 6800
Also Read:5 Luxury Movie Experiences In Dubai Cine-Buffs Will Love
9. Wild Flower Hall, Shimla
Shimla is the preferred destination by most parents for family trips! Wild Flower Hall in Shimla is one of the most iconic stays, it is set on 8, 250 feet from the ground level. The hotel has a view of the entire Shimla and it is also away from the hustle bustle of the town! The best tourist places are just minutes away from this luxury hotel. The hotel windows have the majestic view of the Himalayan mountains, and when it snows, it is absolutely magical there!
Deets:
Cost: Starting from
₹22,500 Per Night

Address: Wild Flower Hall,

Charabra, Shimla, Himachal Pradesh 171012
10. The Taj Mahal Palace, Mumbai
I am a true Mumbaikar, how could I leave Taj Palace behind? Taj hotel is set in one of the prime locations of Mumbai. The grand architecture, the symmetry of this building always leaves me stunned. Taj Palace is set in the same area as Gateway Of India and is one of the tourist destinations in Mumbai. Can you imagine, Mumbaikar just come here to appreciate its architecture! It offers the best luxury and the view of the iconic is just the thing you need when you are on a vacation!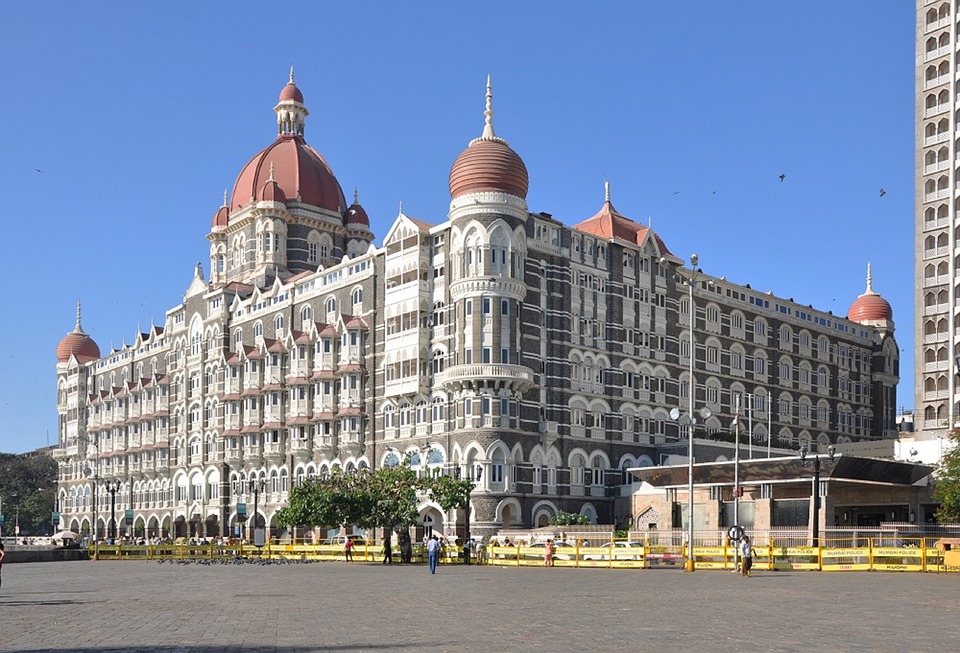 Deets:
Cost: Luxury Room Starting from
₹17,000 Per Night

Address: The Taj Mahal Palace,
Apollo Bandar, Colaba, Mumbai, Maharashtra 400001
Phone:
022 6665 3366