Aloo-Kachori is a very common dish when it comes to Delhi's street food. But Kachori-Chole is a unique dish that you might not have heard of. Very few food joints in Delhi serve 'Kachori-Chole' and undoubtedly one of the best is served at 'Fateh Ki Kachori'.
Also read: 5 Places In Delhi NCR For A Good Meal Under Rs 100
What is it?
You can find a small food stall named Fateh Ki Kachori on Raj Niwas Marg in Civil Lines. Fateh Ki Kachori is known to serve the most delicious kachori and chole kulche in this area. Brij, the owner's grandfather started selling their iconic Kachori-Chole over 50 years ago. He proudly claims that they are the first ones who invented this snack.  His grandfather used to carry the delicacies on his head and hop from one school gate to another, before settling at the current spot near St. Xavier's School, Civil Lines. Their majority of clients are students or alumni of nearby schools like Rukmini Devi School, Victoria School, BM Gange, St. Xavier's and many more.
How Is It Prepared?
Brij with his younger brother Bittu start their daily work ritual at 11 am. A dozen of pattas are laid out on a large plate. Then a mixture of chole is prepared using garam masala, salt, amchoor chutney and so on. Once the chole mixture is made, they are plastered on kachori just like bread and butter. The combo is then topped with tangy chutney and sprinkled with homemade masala, which is a blend of 36 spices and salts including ajwain, kaali and peeli mirch, laung, kaala namak, elaichi etc. This is followed by a topping of freshly cut ginger, green chill, coriander slices and onions.
And the result is an extraordinary delicious adventure thank to the crispy Kachoris at Fateh Ki Chand.
Also read: Lotan Chole Kulche Since 1920 In Old Delhi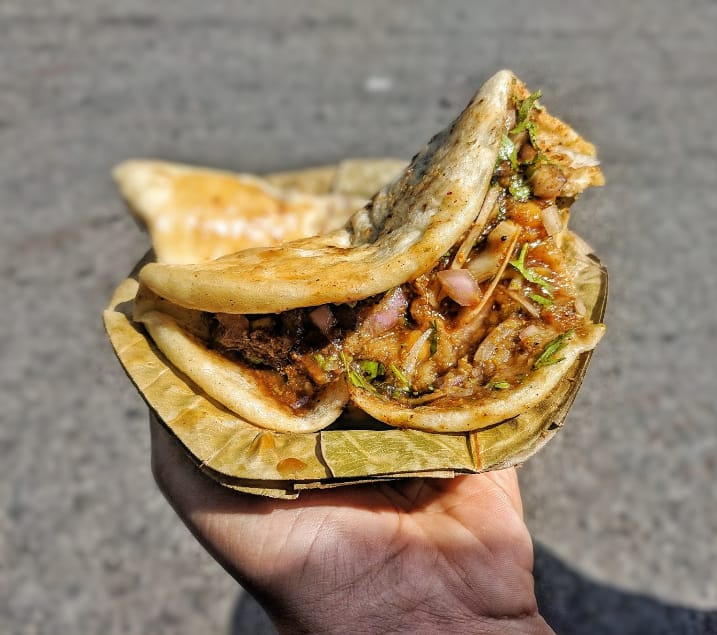 What's more?
Other than the unique Kachori-Chole at Fateh Ki Chand, you can also grab a bite of Chole Kulche and Kulcha roll that they recently introduced. When they started in the mid-60s, they used to sell a patta of two kachoris with chole of 10 paise, now it's priced at ₹25. The cost may have increased, but the grandsons have maintained the tradition of selling pattas on a bicycle.
The mouth-watering kachoris are definitely bound to have you hooked and you just can't stop yourself from asking them for more and more chutney.  Fateh Ki Kachori served snacks that are very well-prepared and rich in flavour; needless to say, they're worth a visit.
Deets
Address: 4, Raj Niwas Marg, Ludlow Castle, Civil Lines, New Delhi, Delhi 110054
Timings: 10:30 am to 4 pm
Price: ₹25 per plate