Till date, the concept for travelling in a recreational vehicle (RV) is super popular in the West. Hollywood films like We're The Millers, Meet The Fockers and even Modern Family showed how an RV can become the perfect road trip partner for families. And now, the RV is all set to make its debut in Karnataka as the Chief Minister BS Yediyurappa launched 'Caravan Tourism' in the state on June 17. This initiative is started by the tourism department to revive the tourism sector badly affected by COVID-19. Under this initiative, tourists can book a fully-equipped vehicle that can take them to places like Hampi, Gokarna and also serve as a bed for the night.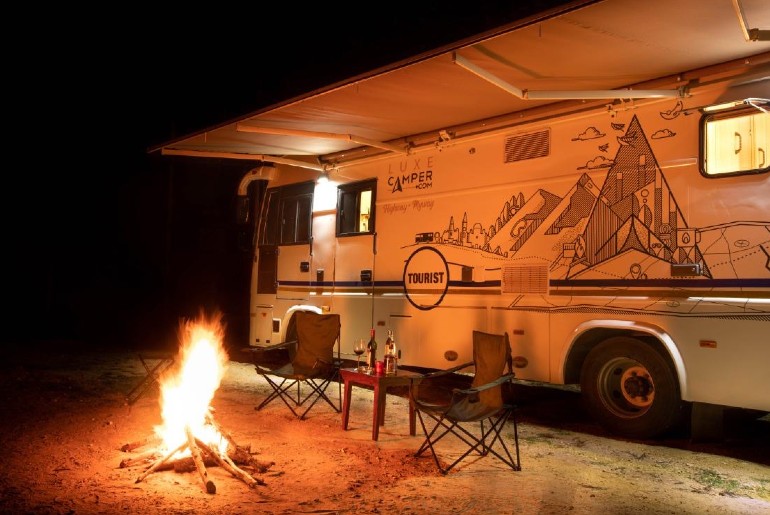 Karnataka Launches Luxury Caravan Tourism To Revive Tourism Sector
On June 17, the Karnataka government launched 'Caravan Tourism' to revive the ailing tourism sector in the state. A start-up called Campervan Camps provides this service. Tourists visiting Karnataka can visit their website to book services available in various packages. The government on its part provides parking facilities for these caravans at various tourist spots and Karnataka State Tourism Development Corporation Ltd (KSTDC) hotels.
Speaking to media persons Chief Minister Yediyurappa states "Under the start-up project, the Caravan buses will promote independent tourism, besides ensuring physical distancing and personal hygiene for the tourists." He further adds that the tourism industry contributes to around 14 per cent of Karnataka's Gross State Domestic Product (GSDP).
Tourism Sector In Karnataka Faced Loss Of ₹15,000 crores Due To COVID-19
He reveals that the coronavirus outbreak has dented the tourism industry. The sector suffered an estimated loss of around ₹15,000 crores. The Chief Minister states that they are now taking steps to revive the tourism sector if the state. He informs the government has also proposed the redeveloping of 20 significant tourist spots in Karnataka.
Also Read: No AC, Not More Than 50 People At Weddings And Events In Karnataka
LuxeCamper Is India's First Commercially Approved Premium Motorhomes
The state government reveals the caravan service can boost the tourism sector and also help its start-up development programme. The Bangalore-based startup Campervan Camps and Holidays India launched its fleet of the first commercially approved premium motorhomes in India called LuxeCamper. Tiger Ramesh is the founder of this new experiential holiday company. He reveals to media houses "LuxeCamper is glamping on motorhomes. We partner with small campsites in scenic locales off the beaten track." They partner with select campsites of Jungle Lodges and Resorts Ltd, and other lodges, homestays and inns across Karnataka. This is a great way to go glamping in India.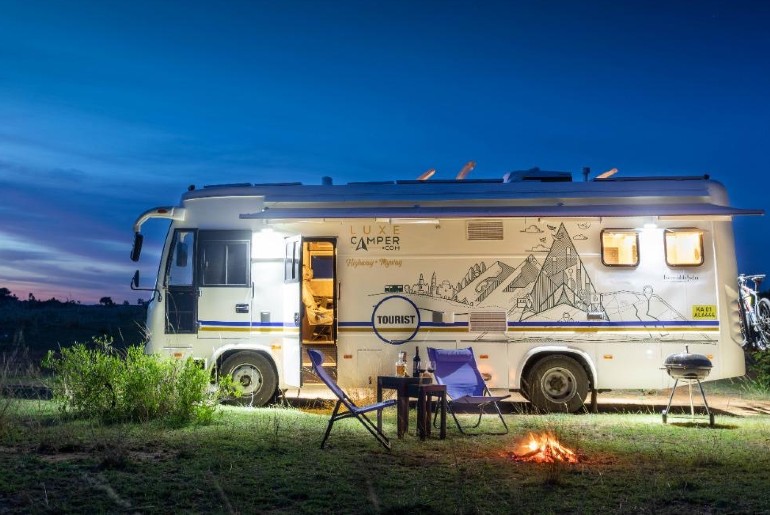 Renowned Cricketer Anil Kumble Backs This Startup
Ramesh states that since lodges cannot be constructed in and around protected areas travelling in caravans in the best way to trave without impacting nature.  He reveals that their's is the first company in India to have central government approval for motorhomes for public use. With the approval of the Automotive Research Association of India their RVs are certified. Tiger Ramesh also has a partner, Vinay Luthra. He was formerly the head of forest force in the Karnataka Forest Departement. And he developed the Jungle Lodges & Resorts Ltd.  Together Tiger Ramesh and Vinay Luthra pulled in a group of angel investors which includes renowned cricketer Anil Kumble, popular singer Vijay Prakash, TaxiForSure's Aprameya Radhakrishna and ex-Infosys honchos Subhash Dhar and Phaneesh Murthy. Apart from Karnataka, Madhya Pradesh Tourism also promotes caravan tourism to explore the state. 
Travel To Tourist Spots Like Gokarna And Hampi In Caravans
Luxe Camper offers a complete curation. This includes sightseeing meal activities and adventure. Due to logistical reasons, self-drive is not an option at the moment. So each campervan comes with a driver and a guide. So travellers can choose from one of the recommended itineraries or have it customised. The experiences currently on offer are historical sites like Belur- Halebid or Hampi. Beach destinations like Om or Gokarna are there for beach lovers. Wildlife enthusiasts can go fro Kabini and sanctuaries like Bandipur and Sitanadi or even visit the lush Western Ghats on caravans. Apart from these in the first phase places like Badami, Kudremukh, Sakaleshpura, Sakrebailu and Coorg are also included for caravan tourism in Karnataka.
Facilities Provided By These Caravans
If you're wondering about the facilities in the caravan then let's tell you more about that. Luxecamper's caravans are built from an Ashok Leyland chassis. They are designed in a German manner having an Indian aesthetic. A caravan for a family of four gets a luxurious RV.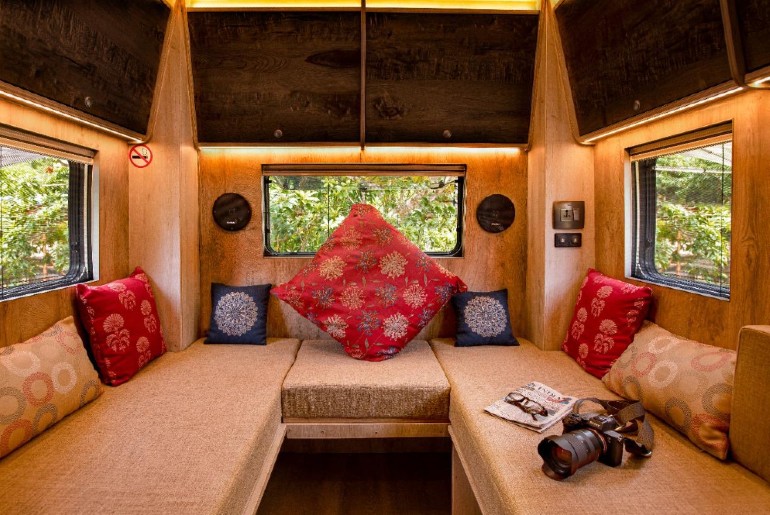 There is a separate cabin for the driver. And the tour leaders give guests total privacy and social distancing. When you step inside the RV here's what you'll get-
Around 200 sq feet of space which include a seating area with seat belts, comfy sofas and cushions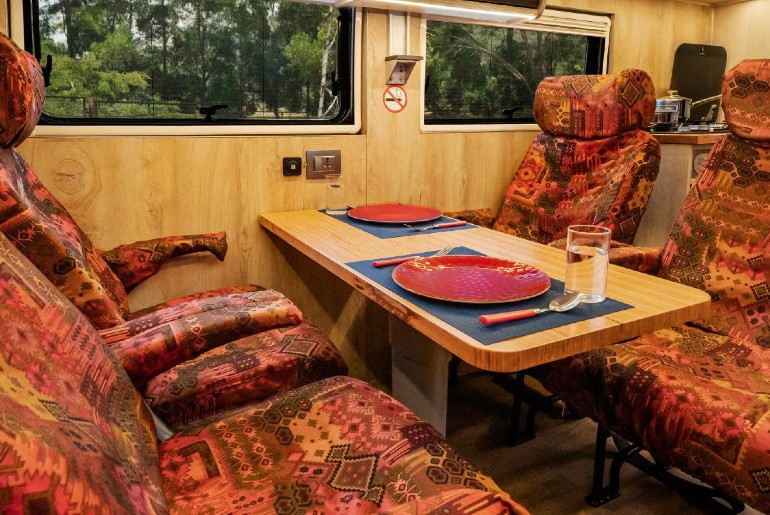 Two smart TVs and Bluetooth
A rear lounge that converts into a queen-size bed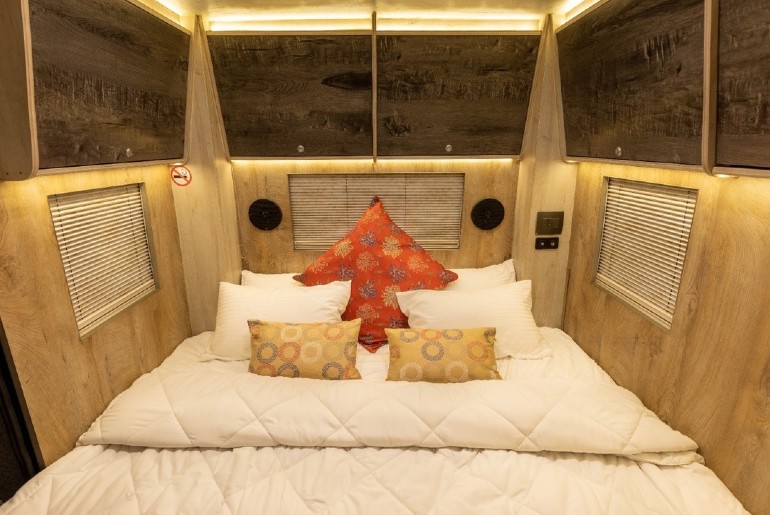 A kitchenette that includes three hobs, induction, gas and electric
Kettle, toaster, large freezer that can accommodate a week's supply, microwave, RO system and a fridge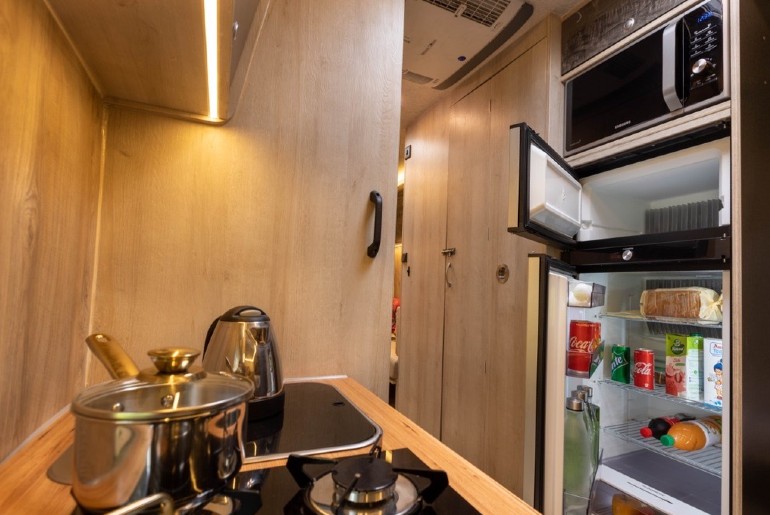 A separate shower and incinerator toilet powered by solar panels, LPG and an external 230V power
Seatbelts for safety, 360-degree cameras, speed governor, GPS tracker, fire extinguishers and first aid kit
On the outside, there's a shower, sleek awning with wind sensors and a bicycle rack
The team cooks meals at the campsites. And you can pitch in if you'd like. Pre-cooked meals like MTR and ITC are also available. There's also an outdoor barbeque connection in the campervan.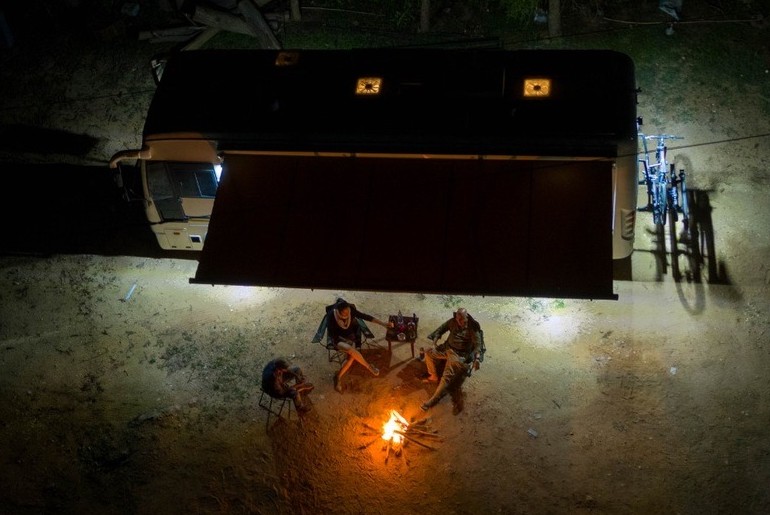 The caravan bus has 1400-watt solar panels on its roof. It's completely solar-powered. It uses solar energy for heating and cooling. The toilet is designed in a manner to incinerate human waste and dispose of only bio ash. So this reduces the use of water and other resources to decompose the waste. Travelling in a caravan is also a great way to travel while maintaining social distancing.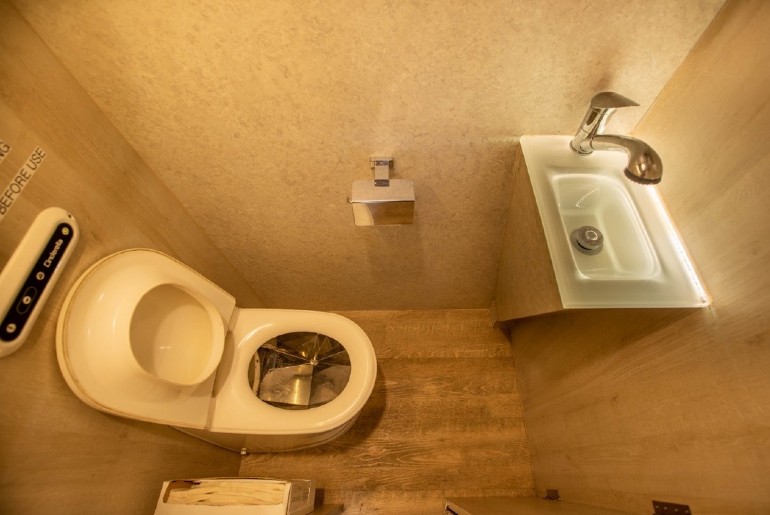 Cost To Rent A Campervan
This glamping experience in Karanataka starts from ₹25,000 to ₹30,000 for two adults per day. Meals can be at the campsite or through tie-ups with highway restaurants. For a two-day trip to Bheemeshwari in a caravan, it costs ₹49,000. A three-day trip to Sakrebailu Elephant Camp is priced at ₹74,000. And a three-day experience at Kabini costs ₹69,999.
These prices are just for two adults and it doesn't include taxes. If you want to purchase a LuxeCamper it costs around ₹1 crore. You can even buy it and lease it back to the company. The first batch of 10 campervans is ready to go. The company also informs that it has all India permit for its caravans. However, for now, these experiences are just restricted to Karnataka.
For more information on the Luxe Camper click here