In the eastern domain of the city of joy Kolkata, lies a town that will transport you to the lanes of East Asia. This is the only Chinese settlement in India, at Kolkata's Tangra area. The Tiretta Bazaar in Central Kolkata, near Lalbazar is known as the Old China Market. Many ethnic Chinese people had started living in this area, popularly known as China Town.  The town still houses around 5000 Chinese Indian nationals, who live by following Chinese rituals and traditions.
At China Town, the culture of old Kolkata and East Asia blends beautifully. And yes, China Town is a true paradise for gastronomes. Here are 6 reasons why you need to visit this mini China in Kolkata:
1. The Age-Old Heritage Buildings
After the establishment of the Chinese-run tannery in Tangra in 1901, the Hakka Chinese population relocated to this part of Kolkata. In the 1930s and 1940s, around the time of World War 2, China Town received a large refugee population from South China.
The population declined during the 1961-62's Sino-Indian War. Now, around 5000 Chinese are carrying the legacy in Kolkata, at this historic town. The town has age-old kaleidoscopic buildings, many of which are decked up with quaint paper lanterns.
2. A Line Up Of Authentic Chinese Restaurants
One thing that makes China Town most popular is authentic Chinese food. China town is home to many budget restaurants that serve highly delicious fried rice, pork soups, crab soups, chilli prawns, pakchoy, fried wontons, dumplings, rice noodles and more.
And most restaurants here serve liquor too. Some popular Chinese restaurants in China town are Beijing, Kim Fa, Kafoluk, Golden Joy, Kim Ling, China Gardens and Big Boss. There is also an age-old pastry shop here.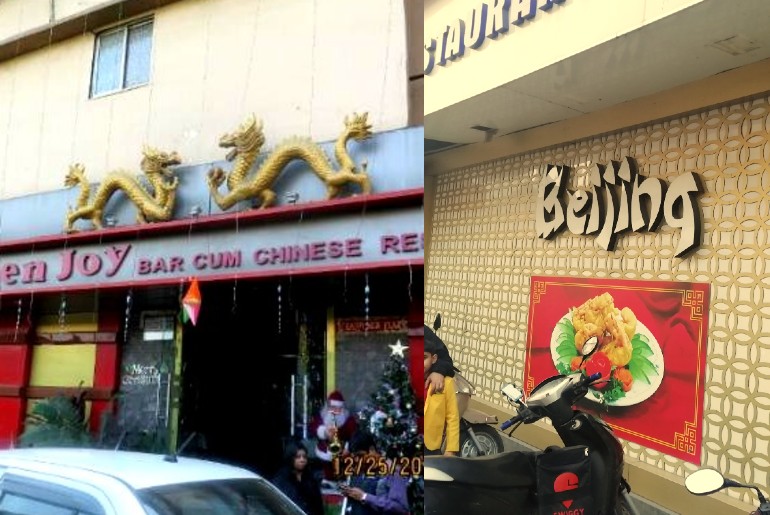 Also Read: This Colonial Penthouse In Kolkata Has Rooms & Infinity Pool Overlooking Victoria Memorial
3. The Iconic Chinese Breakfast
While Tangra's China Town is famous for Chinese restaurants, before visiting there for lunch, you can head over to Tiretta Bazaar to try out the authentic Chinese breakfast. But you need to visit this breakfast bazaar really really early. Chinese vendors start selling dishes like momo, sausages, zung, pork rolls, pau buns, wontons and more from around 6 AM and they wrap up by 8-8.30 AM.
4. Shops Selling Striking Curios
The China Town is dotted with shops where Chinese vendors sell unique and pretty items that one can collect as souvenirs. You can hoard Chinese showpieces, Chinese spices and even Chinese medicines from these shops. Do not forget to bargain a bit before buying the souvenirs.
Also Read: This Cathedral In Kolkata Is Quite A Replica Of Norwich Cathedral In UK
5. Dragon Dance During Chinese New Year Celebrations
Chinese New Year usually falls in the month of February, when lion and dragon groups pay door-to-door visits to offer prayers and good wishes. Also, the people here organise vibrant lion dance, dragon dance and cultural show. Drums and cymbals are played, heralding the new beginnings. The celebrations begin several days before the actual New Year's Day. And they take place both in Tangra and Tiretta Bazaar.
6. The Chinese Temples
Kolkata has many beautiful Chinese temples, mostly around the Tiretta Bazaar. Many of these temples are referred to as churches, however, the traditional Chinese religion is followed in these places of worship. Some prominent Chinese temples in Kolkata include Sea Ip Church, Toong On Church,  Sea Voi Yune Leong Futh Church, Gee Hing Church, Choong YeeThong Church and Nam Soon Church. Also, India's only Chinese Kali temple is in Tangra, that serves noodles as prasad.
Also Read: They Say Kolkata Is Flawed, But Here Are 11 Reasons Why I Still Find The City Stunning
There's so much more to explore in Kolkata, other than the colonial architectures, Bengali culture and cuisine. It's truly said that the city is a melting pot of diverse cultures. For now, enjoy this virtual tour of Kolkata from the comfort of your couch: