Everyone deals with the 'What To Eat For Breakfast?' question every morning. And Supermodel Lisa Haydon's 'go-to' breakfast might just be the solution for you! Lisa Haydon often shares her food diaries on Instagram. Recently, the model treated fans with a glimpse of her 'go-to' breakfast meal and we ain't complaining!
Lisa Haydon mostly shares healthy and easy-to-make recipes and her toasted English muffin recipe is a great choice for breakfast. Read on to know more about the model's 'go-to' breakfast and know the way she likes to prepare it.
Lisa Haydon Prepares Her Go-To Breakfast For Her Husband
Lisa Haydon recently shared her go to breakfast recipe and called it a blast from the past. While preparing a toasted English muffin for her husband, the model recalls all the instances that made the dish her go-to breakfast. The actor reveals that an English muffin toasted with ricotta, berries, and honey has been her go-to breakfast since the time she was working jobs in Europe. She writes,
"This was my go to breakfast whenever I'd find myself on a job in Europe. Reminds me of working breakfast in my 20's… But today this is breakfast for my hub who is finally home from 3 week business trip. And there is no mandated hotel quarantine in Hong Kong anymore. He landed and came straight home. I mean, it's like we're in 2019 again🎊."
Well, we are sure Lisa Haydon's husband must have totally enjoyed the delicious toasted English muffin she prepared!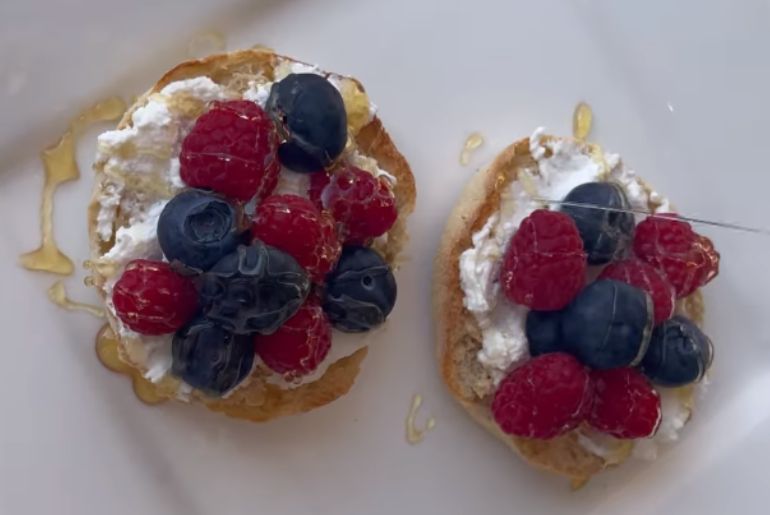 Also read: Jacqueline Fernandez Would Love To Go On A Road Trip With Varun Dhawan, Lisa Haydon, And Tapsee Pannu
Lisa Haydon Shares A Video With The Recipe Of Her Go-To Breakfast
Lisa Haydon is always thoughtful and shares recipes of the dishes she makes at home. This time she shares the recipe of her go-to breakfast that she prepared for her husband recently in Hong Kong. The video opens up with Lisa toasting the English muffins. Once done, she spreads ricotta cheese on the muffin and places them on a beautiful white plate. Lisa then goes ahead and uses fresh berries and honey as toppings for the muffins. Super easy and super delicious, we say!
View this post on Instagram
Now that you know Lisa Haydon's go-to breakfast, do tell us if you tried it out in the comments section below!
Feature Image Courtesy – Instagram/Lisa Haydon