On October 11, Prime Minister Narendra Modi inaugurated the first phase of the Shri Mahakal Lok corridor in Ujjain. He inaugurated it with a shivling covered in sacred red thread. This 800 crore project, Mahakaleshwar Temple Corridor is the third Jyotirlinga site to witness an upliftment after Vishwanath Temple and Kedarnath shrine.
The Mahakal Lok Corridor is a celebration of India's culture and will surely boost tourism in the country. Our Editor-in-Chief, Kamiya Jani, visited the corridor and gave us a sneak peek into it. Check it out.
Mahakal Lok Corridor
Mahakaleshwar Temple in Ujjain is one of the 12 Jyotirlingas. It is the only one facing south, signifying the Lord of time and death. The multifaceted Mahakal Lok corridor has 108 ornate pillars (stambh), which are a depiction of Lord Shiva's Happy Dance form known as Anand Tandav Swaroop. The place depicts the story of our mythological past in the most beautiful manner.
The Mahakal Path has more than 50 murals that beautifully depict stories from the holy Shiv Puran. The 900-metre-long corridor is nestled around the old Rudrasagar Lake. The two grand gateways, Nandi Dwar and Pinaki Dwar, are erected at the entrance and offer enchanting views along the way. The temple has many artistic sculptures of different gods.
Also Read: Ujjain: The City of Wisdom, Lordship And Temples 
The Much-Awaited And Ambitious Project In Ujjain
The Mahakal Lok corridor path has about 76 idols of 9–18 feet in height and 110 small idols that depict the life of Lord Shiva. It has a lotus pond, an open-air theatre, a lakefront, and many facilities for visitors. The Mahakal Lok development also includes a multi-story parking facility for buses and cars, a park, a water pipeline, a sewer line, solar lighting, florists, and other shops.
It aims to bring back the historic glory of Ujjain with its ancient temple architecture and all the modern facilities. Ujjain Smart City's CEO, Ashish Kumar Pathak, spoke about how every person in the city is excited and happy about the project. He is sure that the corridor will bring in many tourists to the country and city.
Our editor-in-chief witnessed this beauty and experienced vibrancy and positivity on the premises.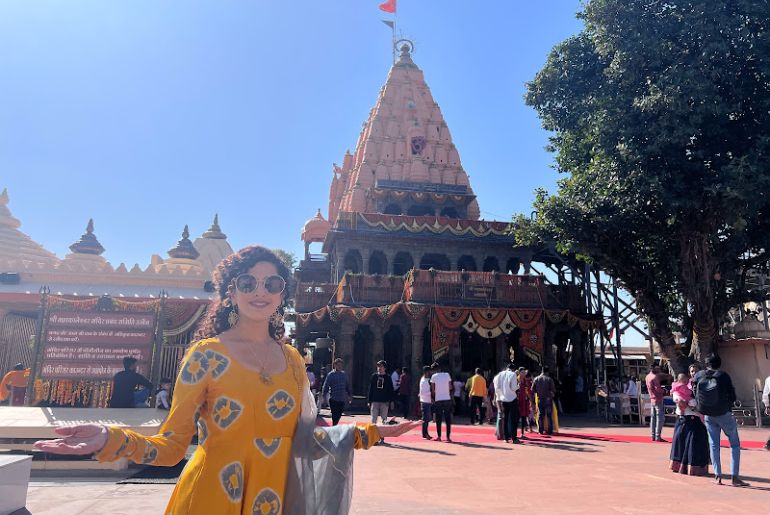 Also Read: Ujjain's Mahakal Lok To Boost Tourism & Celebrate Rich History & Culture Of City
Make sure you check out the video and lets us know your thoughts!
Cover Image Courtesy: Media Library