Notting Hill in London is one of the most popular neighbourhoods in the world. Partly, it's thanks to the blockbuster romantic movie starring Julia Roberts and Hugh Grant. But more importantly, Notting Hill is fostered with vibrantly painted houses that bring out the creative bohemian energy of the streets. But why go to Notting Hill, when India is laced with colourful streets? Offering a dose of culture, vibrancy and chilled out vibes, here are 6 most colourful streets in India that remind you of London's Notting Hill.
1. French Quarter In Pondicherry
Dotted with French villas, boutique hotels, charming homes with Bougainville, French Quarter in Pondicherry is one of the most Instagrammable places you've ever been to. Take a heritage walk at the French Quarter and look out for French houses and villas painted in bright yellow and ochre hues. Many of them are converted into beautiful guest houses. And not just French houses, graffiti on the roads and walls even add to the bohemian vibes of the place. Dine at a charming cafe here and take lots of pictures against the coolest backgrounds in town.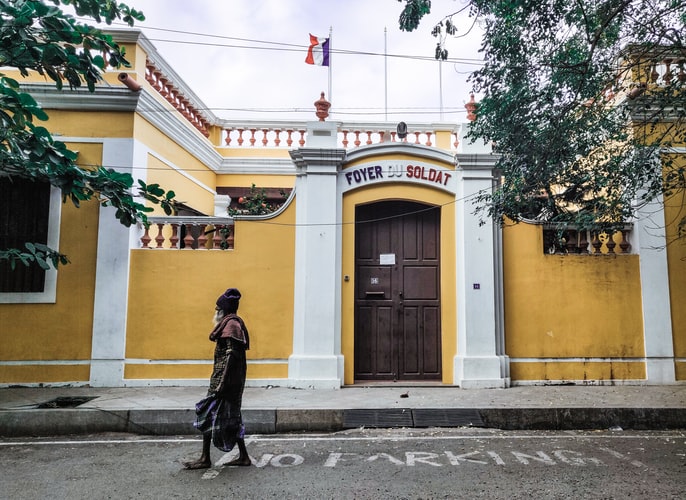 Also Read: 5 Best Places To Eat In Pondicherry, The Hotspot For European Cuisine In India
2. Fontainhas In Goa
When you think of Goa, more often then not the breezy beaches come to your mind. Well, that's because you haven't heard of Fontainhas or the Latin Quarter. This area in Old Goa is dotted with houses and cottages built in colonial architecture style. Take a walk down this lane to explore the charming houses painted in pastels and fluorescents. Infact the narrow cobbled lanes here traced back to the Portuguese time in Goa. Painted in colours of green, yellow and blue, the red-roofs, overhead balconies and artistic doors will make you instantly fall in love with this place.All houses here follow a Portuguese rule where it gets painted every year to stay beautiful and refreshing.You can also find bakeries and cafes that are over 100 years old. Now isn't this just stunning?
View this post on Instagram
Also Read: 7 Local Drinks From Goa You Must Try In Your Next Trip
3. Lodhi Art District In Delhi
Lodhi Art District in Central Delhi is one of the most colourful and gorgeous streets you'd ever see in India. The crumbling walls and pale minarets of the city got a refreshing makeover by street artists and illustrators. This space was painted entirely by a not-for-profit organization, St+art Foundation. Nestled between Khanna Market and Meharchand Market, this open-air art district united 25 street artists from India and across the world to create a stunning art piece. The bright patterns and murals on the walls will just leave you gaping in awe. Find art in the Hindu epic Mahabharata, women's rights and a magnificent painting inspired by our national flag, to name a few.
Also Read: 5 Palatial Hotels In Udaipur You Can Book Starting From Under ₹2000
4. Old City In Udaipur
The City of Lakes, Udaipur is often known for its pristine lakes, breathtaking palaces and mesmerising sunsets. Interestingly, Udaipur also has one of the most colourful streets in India, the Old City. To explore the Old City, hire a bike, cycle or just take a stroll down the narrow lanes. You'll notice that the home here is painted with intricate handprinted motifs of animals like elephants. The complex artwork and fresco paintings dotted on houses throughout the lanes is really pleasing to the eyes. Homes are usually painted with these motifs to mark an upcoming wedding in the family. Moreover, they are great for Insta-worthy pictures.
5. Bandra In Mumbai
The walls in Bandra are splashed with graffiti and paintings highlighting different themes. They are interesting and also insightful. Take a graffiti walk through Bandra through Waroda Road and its bright Jude Bakery or Nagrana Lane. There are beautifully painted elephants, colourful child grafitti, a homage to the legendary filmmaker Dadasaheb Phalke and much more. Take a leisure stroll, stop at a cafe or walk down the cobbled lanes post-sunset to admire the fairy lights.  You'd surely find beauty in every corner of Bandra.
Also Read: Visit Bangalore's First Zero Waste Juice Bar At Eat Raja In Malleshwaram
6. Malleshwaram In Bangalore
Bangalore has a host of streets that are splashed with street art. From the MG road metro station to the walls in Indiranagar, you'd find graffiti and street art, if you're looking for it. But Malleshwaram in Bangalore is one hidden gem to take stunning pictures with even more beautiful backgrounds. This part of Bangalore is known for its polyglot culture and creative artworks. You'd find mesmerising paintings and larger than life graffiti here. Malleshwaram is home to walls with funky whimsical designs and the streets are a riot of colours. Bangaloreans! Plan an outing to Malleshwram if you want those wacky photoshoots.
So, here are 6 of the most colourful streets in India to fill your Instagram with amazing photos with gorgeous backdrops. Street art, graffiti, colourfully painted homes, French villas, India has everything that can even get London's Notting Hill, a tough competition.