Be it a house party, a family get together or even a quick lunch with colleagues, Biryani Is India's Favourite Dish! Not only is it delicious but it also isn't very heavy on the pocket. It's one of the few dishes that one can have by itself. No accompaniments required! One might not associate Mumbai as where one can get the best biryani places. Mumbai does have Delhi, Lucknow and even Hyderabad as stiff competition. However, there are a few places in the bay who do manage to serve a pretty mean version of what is (arguably) one of the most popular rice dishes in the world.
Veg, Non-veg or the just as popular Egg, there is biryani for everyone. So come one, come all!
1. Jaffer Bhai's Delhi Darbar, Multiple Outlets 
Established in 1973, Jaffer Bhai's Delhi Darbar is an institution when it comes to the biryani. Today, they are popularly known as 'The Biryani King of Mumbai'. I have been visiting this place for over 20 years. Jaffer Bhai's Delhi Darbar manages to live up to all the hype that's been surrounding it since almost 45 years now. Be it their Chicken Biryani, Mutton Biryani or even their Chicken Tikka Biryani. Although, of late there has been a lot of complaints about the service at the restaurant – biryani getting over too soon and impolite staff. We only hope that this food chain gets it grip back and lives up to its name.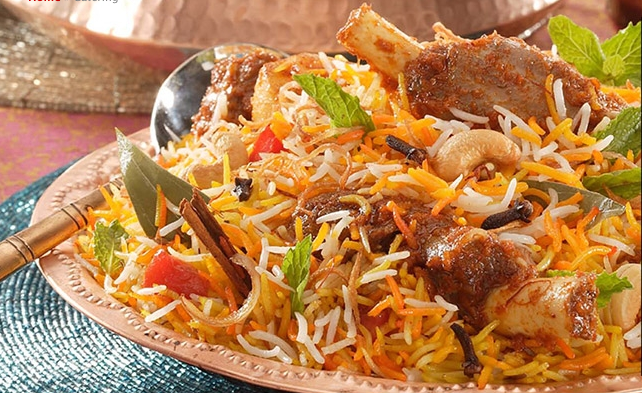 Also read: 9 Food Joints At Mohd Ali Road That Promise The Best Iftar Feasting
Price:
Chicken Biryani – INR 260 (full plate)
Mutton Biryani – INR 299 (full plate)
Chicken Tikka Biryani – INR 330
Locations:
Mahim – 18, Lady Jamshedji Road, St Michael Church
Grant Road – 195/197, Patthe Bapu Rao Marg, Grant Road East
Marine Lines – 94, 1st Marine Street, Big Three Building, Metro Gol Masjid, Dhobi Talao
Jogeshwari – EE Heights Essa, Aziz Estate, SV Road, Jogeshwari
Vashi – 1/A, Next to APMC Market, Mafco Road, Ramlaxman Tower, Sector 18
Mohammad Ali Road – 151/153, Abdullah Mansion, SVP Road, Chaar Null, Dongri, Umerkhadi
Mohammad Ali Road – 84, Mohammed Ali Road, Near Crawford Market
2. Noor Mohammadi Hotel, Mohammad Ali Road
Having been in business for the last 94 years (Yes! That's how old this place is), Noor Mohammadi Hotel has managed to carve a niche for itself amongst the meat lovers in the bay. Although they are very popular for their Nalli Nahari, Chicken Hakimi and Sanju Baba Chicken (the recipe for which has been apparently given by Sanjay Dutt himself), what a lot of people don't know is that they serve a very unique version of the biryani. Known as the Chicken White Biryani, this version is unlike any other biryanis out there.
Instead of having the traditional brown/red masala as the base for the biryani, the folks at Noor Mohammadi Hotel prepare one with a reshami (white masala) base. This gives the biryani a very unique creamy flavour as opposed to the traditional masala flavour.
Tip: People who have tried this version of the biryani swear by it hence making it one of their fastest selling dishes. Make sure you reach there before 8 PM in order to sample this creamy goodness.
Chicken White Biryani – INR 90
Location:
179, Wazir Building, Abdul Hakim Chowk, Bhendi Bazar, Near, Mohammad Ali Road, Mumbai

Also read: Restaurant Review: Turban Tales, Powai 
3. Persian Darbar, Bandra & Andheri
One glance at their menu and you will come across multiple options when it comes to biryanis. The one that stood out for me was their Chicken/Mutton Persian Special Biryani. This biryani, according to me, gets it absolutely bang on when it comes to the proportion of rice to meat to masala. Priced at Rs 450 and Rs 500 for the chicken and mutton version respectively, one portion of this biryani is good enough for 2 to 3 people.
Also read: 10 Irani Restaurants In Mumbai You Have To Try
Price:
Chicken Persian Special Biryani – INR 450
Mutton  Persian Special Biryani – INR 500
Locations:
Marol – Shop 101 – 102, Noori Baug, Andheri Kurla Road, Marol Naka, Andheri East
Bandra – Morya Mahal, Linking Road, Bandra West
4. Hotel Deluxe, Fort
Known mainly for its Malayali offerings, Hotel Deluxe is not a place where one would generally go for a plate of biryani. Surprise! Surprise! Hotel Deluxe's Boneless Chicken Biryani is truly a hidden gem. Prepared with short-grained rice as opposed to the traditional long-grained basmati rice, this version of the biryani is highly spiced. It is also doused with a generous amount of ghee (you can actually taste the ghee while having the rice).
Also read: Bandra Gets A New Gastropub, House of Nomad At Taj Lands End 
On one of the occasions when I'd visited, they had also put small, bite-sized pieces of pineapple in the biryani, which surprisingly (I'm against fruit being part of any kind of main meal dishes) proved to be a great contrast for the spicy masala. Don't know why they've stopped doing this.
Price:
Chicken Boneless Biryani – INR 170
Location:
10-A, Pitha Street, Opposite Lane of Citi Bank, Fort, Mumbai

5

. 

Café

Noorani, Haji

Ali
For biryani connoisseurs, the concept of a 'Chicken Tikka Biryani' might seem slightly scandalous. A true biryani is one where the rice and meat are cooked together. The various spices and masalas combine together and that's when individual flavours from all ingredients complement each other. Voila! you have your perfect biryani ready. Although Café Noorani's Chicken Tikka Biryani does not follow this route, be rest assured that there is no compromise at all when it comes to taste. Fragrant, colourful rice is topped on a bed of tikka masala along with huge pieces of juicy chicken tikkas. It's far from being the perfect biryani but it surely hits the spot as far as flavour is concerned.
Also read: Mumbai's Iconic Haji Ali Juice Centre Is Now In Bengaluru
Price:
Chicken Tikka Biryani – INR 330

Location:
5 D, Tardeo Road, Haji Ali Circle, Tardeo, Mumbai

6. Kebabs & Kurries, ITC Grand Central Parel
The only '5 star' restaurant to feature in this list, Kebabs & Kurries' Gosht Dum Pukht Biryani is totally worth the bomb that you're going to spend on it. Prepared in the traditional dum pukht style (it's brought on to your table in a huge vessel which is covered with flour and the same is dismantled in front of you). The biryani is delicately spiced with pieces of mutton that melt in your mouth. This is the closest that you're going to get in finding a truly authentic biryani in the bay. Highly recommended! (Irrespective of the steep pricing).
Price:
Gosht Dum Pukht Biryani – INR 1500
Location:
ITC Grand Central, 287, Dr Babasaheb Ambedkar Road, Parel, Mumbai

7. Zaffran's Gosht Biryani, Multiple Outlets Across The City
A biryani list without the addition of Zaffran would have to be a crime! The next time you don't have to wait for Eid to get some great Biryani, just head over to Zaffran and order the mutton biryani. The meat is succulent, it is just the right amount of spicy and it smells like what I imagine heaven smells like. I know a lot of people who think of dal-chawal as their comfort food. To me, it is biryani from Zaffran.
Also read: 5 Best Places To Have Butter Chicken In Mumbai
Price:
Gosht Biryani – INR 550

Locations:
Malad – 4th Floor, Infiniti Mall, Link Road, Malad West
Lower Parel – Todi & Company, Mathuradas Mills Compound
Mumbai CST Area – B, Sitaram Building, DN Road, Crawford Market
R City Mall – 1st Floor, R City Mall, LBS Marg, Ghatkopar West
Kandivali – T 9, 3rd Floor, Growell's 101 Mall, Akruli Road, Off Western Express Highway
Vashi – 1st Floor, Inorbit Mall, Vashi, Navi Mumbai
Bandra – Fernandez Villa, Opposite St Andrew's Church, Hill Road, Bandra West
Andheri – Floor 2, Infiniti Mall, Andheri Lokhandwala, Andheri West
8. Go Biryan, Lokhandwala, Bandra And Lower Parel
Don't feel like heading out to that party tonight? How about you bring the party to your house? A delivery kitchen located in Go Biryan is your perfect companion for an ultimate Biryani feast. Servingking size, queen size and by the kilo portions, Go Biryan has a great selection of vegetarian and non-vegetarian biryanis. Vegetarians, choose from Paneer Tikka Biryani and Vegetable Afghani Biryani and many more! Who said Biryani can't be vegetarian?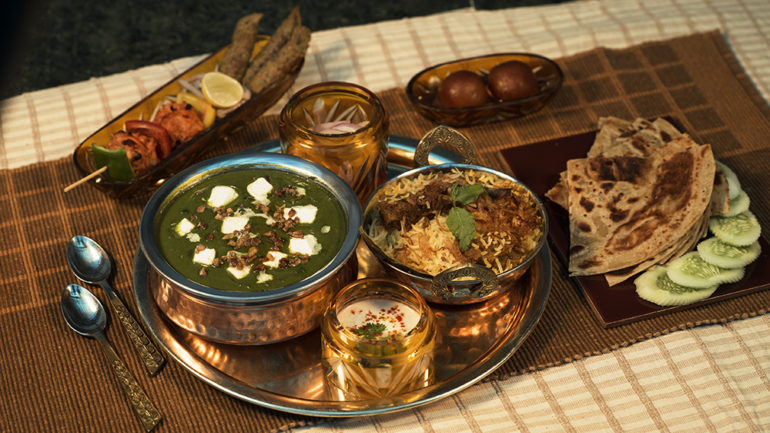 Where: Lokhandwala, Bandra and Lower Parel
Phone:
Lokhandwala: 022 30151647
Bandra: 022 26048844, 022 69948844
Lower Parel: 022 30151827
Approx cost: ₹600 for two people
9. Hyderabad Xpress, Oshiwara 
You have not had biryani until you've had Hyderabadi Biryani. And Hyderabad Xpress gives you just that, authentic Hyderabad dum biryani flavours available in both vegetarian and non-vegetarian variants. Come get a taste of asli Hyderabadi biryani, you won't be able to go back to regular biryani after this. We recommend the vegetable biryani, Hyderabadi dum biryani, boneless chicken biryani. Don't forget to pair them all with delicious and trademark Mirch Ka Saalan.
Address: Hyderabad Xpress, Near Lotus Pump, New Link Road, Oshiwara, Andheri West
Avg cost for 2: ₹350
Contact: +91 8419938333, +91 8419934333
10. The Sahib Room And Kipling Bar, St Regis, Lower Parel
When you do fancy, do it right. And nothing spells fancy like the grand St Regis Hotel in Mumbai hiding away The Sahib Room And Kipling Bar. Turns out you get killer gourmet level Biryani here! And at the St Regis, we expect no less. Whether it's the fragrant Subz Dum Biryani, Murg Biryani or Gosht Biryani, the right amount of spices and marination will have you salivating for more. Pair them up with some fresh cocktails. And don't forget to make a reservation before you go.
Address: The Sahib Room And Kipling Bar, The St. Regis, Level 9M, 462 Senapati Bapat Marg, Lower Parel, Mumbai
Avg cost for 2: ₹3500
Contact: 022 61736132
11. Behrouz Biryani, Multiple Outlets 
With over 15 outlets in Mumbai, Behrouz has sure established a name for itself. Many turn to it for a hearty meal and an uber delicious Biryani. It's a delivery-only canteen and boy does it make life easier when you just don't want to go out nor do you have the energy to cook either. All you have to do is try Behrouz Biryani's range of biryanis including Afghani Biryani, vegetable biryani, paneer biryani etc. You shall not be disappointed.
Avg cost for 2: ₹700
Contact: +91 7700050050 (worli outlet)
12. Charcoal Eats, Multiple Outlets
Get flavourful Biryani, good quantities of it too and without breaking your bank here at Charcoal Eats. We swear by the Awadhi Biryani and Chicken Tikka Biryani. There's plenty of options for both Vegetarians and Non-vegetarians. Go crazy and tell us which is your favourite Biryani here! You can also call for the party packs here, suited for larger groups, to gorge on unapologetically.
Avg cost for 2: ₹500
Contact: +91 9022500500 (Dadar outlet)
13. Lucky Restaurant, Bandra
Think a wide range of biryanis, great quantity and spot-on taste and you have Lucky Restaurant. What's more, there's a lot of dishes and cuisines to check out and gorge on here instead of just biryanis. It's the sort of place to take all your friends and family to so that you can try as many dishes as possible! Go for chicken biryani and mutton biryani. End the meal with a sweet and fluffy caramel custard or malai kulfi and you are all set.
Address: Lucky Restaurant, Junction Of SV Road & Hill Road, Hill Road, Bandra West
Avg cost for 2: ₹1,000
Contact: 022 26442973
14. Biryani Barbeque Chinese By Borivali Biryani Centre 
Want to discover something new in Borivali that does Biryani as well as your cult favourites? Head to Biryani Barbeque Chinese By Borivali Biryani Centre. Their expansive menu, indulgent quantities and economical rates will definitely impress you. We recommend the Chicken Tikka Biryani, Chicken Dum Biryani, Mutton Biryani etc.
Address: Biryani Barbeque Chinese, Shraddha Heights, Babhai Naka, Opposite Kam Dhenu Building, Borivali West, Mumbai
Avg cost for 2: ₹1,300
Contact: +91 8655532121
15. Rahat Darbar, Marol
Rahat Darbar in Marol area serves a number of cuisines like Chinese, Noth Indian and Mughlai. It is not a huge restaurant but the food here is amazing. Some of the dishes you must try here are their Chicken and Mutton Biryani, they are heavenly. And while you're at it,  do try their Kebab dishes and especially the mutton kebabs. Also, the Chicken Shawarma is very popular among customers. It's easy on the pocket too!
Address: Rahat Darbar, Alpine Industrial Estate, Opposite Mumbai Residency, Marol Military Road, Marol, Mumbai
Avg cost for 2:₹800
Contact: 022 68493631
16. Bukhara Bar And Kitchen, Mira Road
Egg lovers, we did not want to exclude you from this biryani extravaganza and this is just the place to indulge in a well-made egg biryani. And for a change, we have a special biryani here if you are up to trying something different, it's the SMOKED Butter chicken biryani that will surely surprise you with it's clean and creamy and smoky flavours. A must try!
Address: Bukhara Bar And Kitchen, Sasupada, NH 8, Mira Road, Mumbai
Contact: 022 61736111
Avg cost for 2: ₹1,600
17. Birista, Multiple Outlets
If you are in Navi Mumbai, don't despair for Birista with its multiple outlets is going to make your mundane day a delicious one. With multiple lip-smacking biryanis to choose from, our money is on the Murgh Nawabi Biryani which is the perfectly cooked in a mixture of yoghurt, garam masala which is complemented by soft, melt-in-the-mouth chicken. Can we really ask for more?
Address: Birista, Multiple Outlets
Avg cost for 2: ₹650
18. Dum Pukht, ITC Maratha, Chakala
With a rich history behind it and the fact that Dum Pukht has been serving up a storm for the past 32 years, you sure as hell don't want to miss out on their biryani. The iconic restaurant is popular for its Dum Pukht Biryani which has had people coming back for not second but third helpings. The fact that it is a mutton biryani goes to show that they care about the authenticity and the recipe hasn't changed since the restaurant's inception.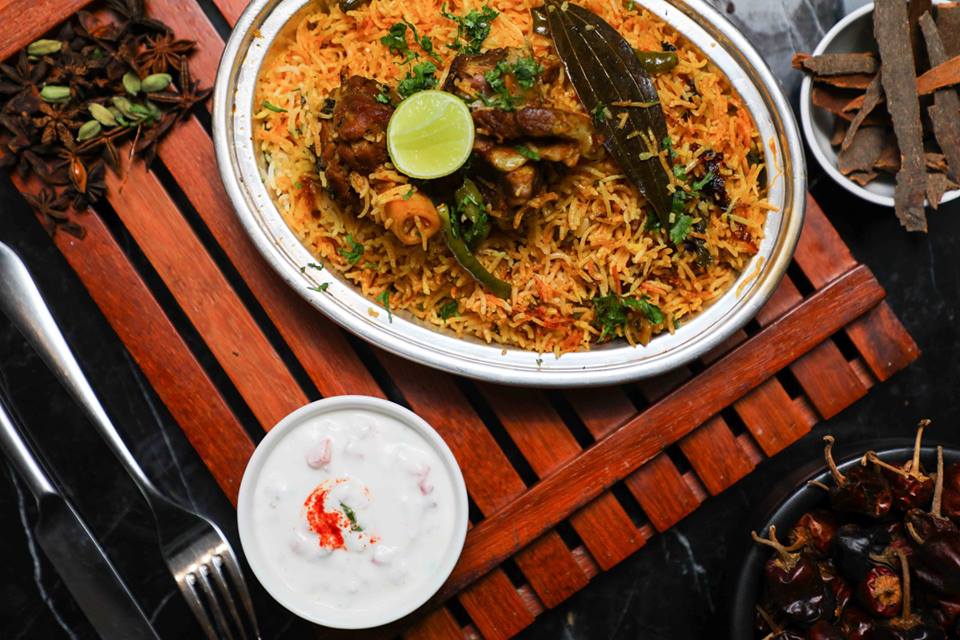 Address: Dum Pukht, ITC Maratha, Sahar Airport Rd, Near International Airport, Ashok Nagar, Andheri East, Mumbai, Maharashtra 400099
Contact: 022 2830 3030
Avg cost for 2: ₹5000
19. Kasbah Grand, Goregaon
This eatery in Goregaon is wildly popular for their Nawaabi Thaal which comes in at a whooping ₹10,800. And if you don't have the appetite for a thaal that big then I am sure you can definitely make some space for their Murgh Mussalam Biryani which is an absolute delight to have. Trust me, you don't want to miss out on this one.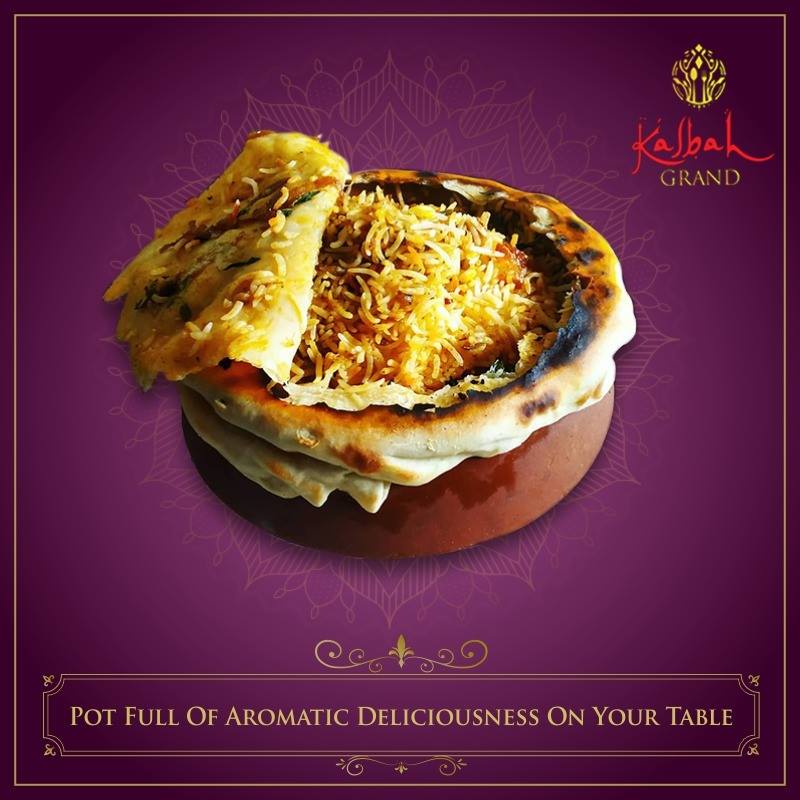 Address: Kasbah Grand, Top Floor, Chandiwala Arcade, Link Road, Next to Absolute world furniture boutique, Opp Bangur nagar, Police Choki, Goregaon West, Mumbai, Maharashtra 400090
Contact: 022 2871 2500
Avg cost for 2: ₹2000
20. Kakori House, Multiple Outlets
Here's another reason to rejoice for you can relish Kakori House's delicacies at multiple outlets across the city. Honestly, nothing can beat their kebabs which are bound to remind you of the city of Nawabs, Lucknow. But we have a soft spot for their exquisite rice dish, the Dum Gosht Noormahal Biryani. Not only is the name of the dish a mouthful, so is the dish. With meatballs steeped along with the rice, this one's a cracker!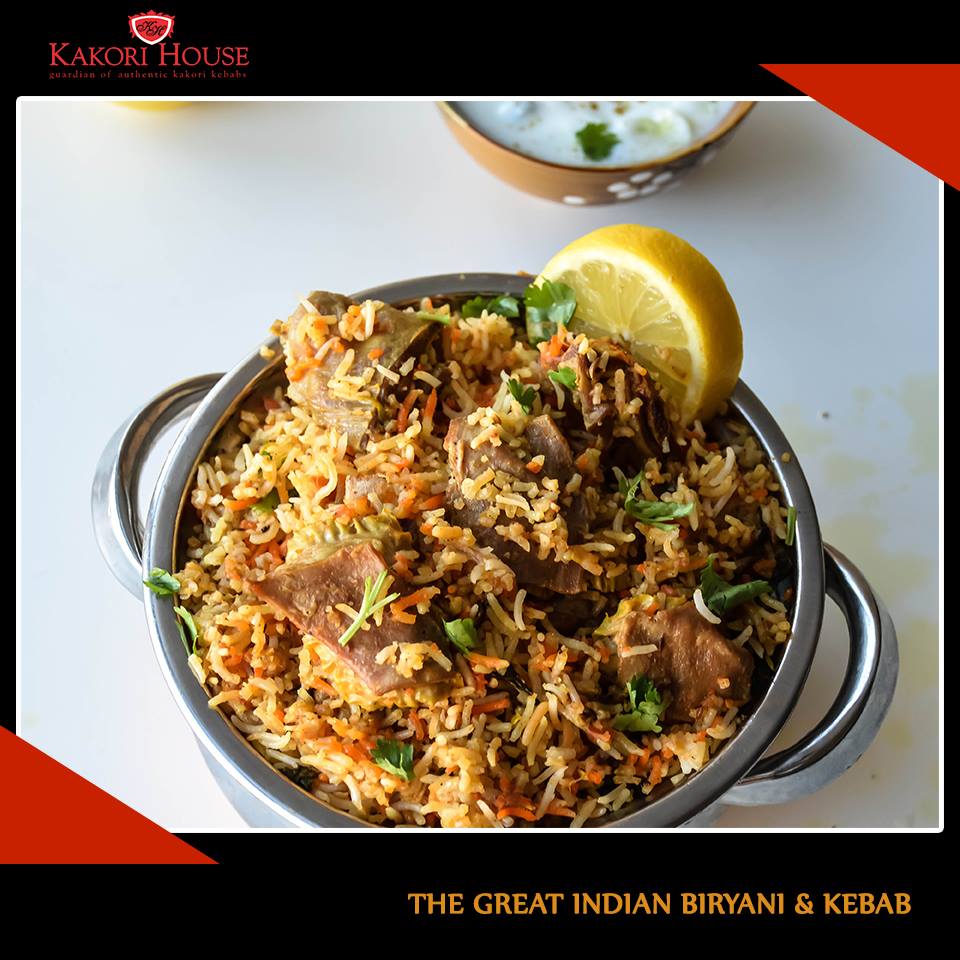 Address: Kakori House, Multiple Outlets
Avg cost for 2: ₹1,300
21. Neel – Tote On The Turf, Mahalaxmi
If you like us prefer a gorgeous view while dining then Neel is the place to be. Located at the Royal Western Turf Club, Neel boasts of a mean biryani. Their Murshidabadi Murgh Biryani is the stuff of dreams and one bite of the heavenly dish is bound to make you go for multiple helpings. The secret lies in their preparation which involves the old method of cooking it the Mughlai way.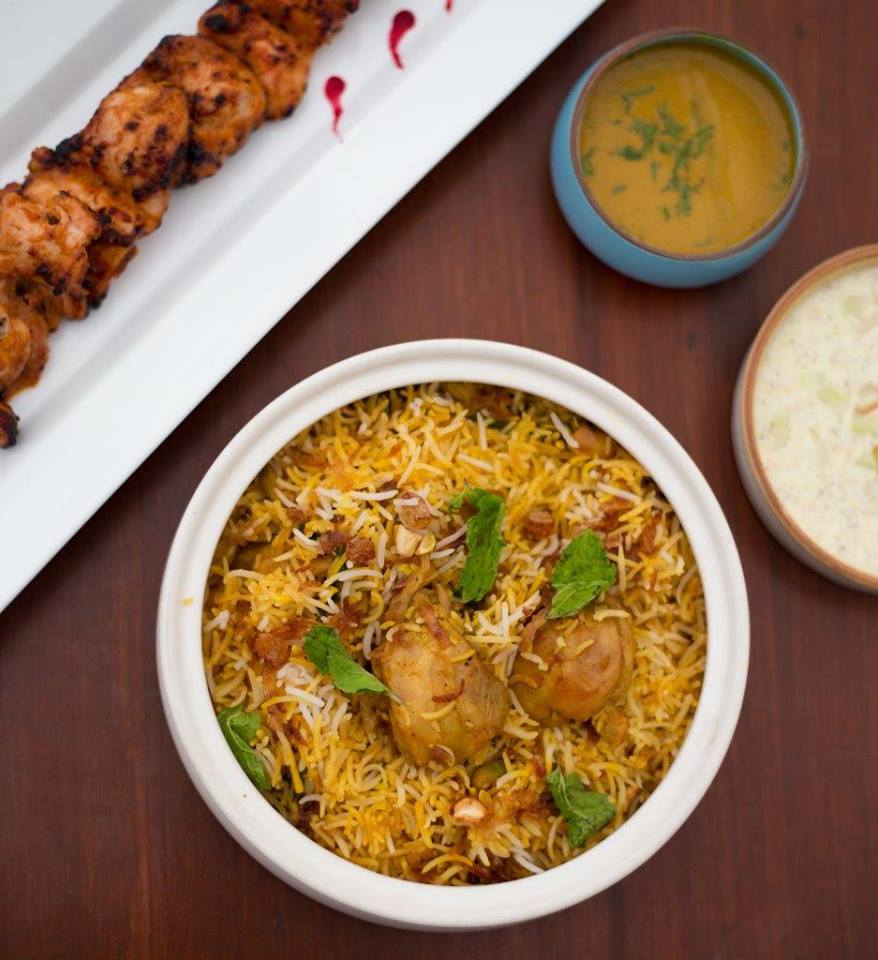 Address: Neel – Tote On The Turf, Unnamed Road, Royal Western India Turf Club, Mahalakshmi, Mumbai, Maharashtra 400018
Contact: 075064 25004, 022 61577777
Avg cost for 2: ₹1,700
22. Jyran, Sofitel, Bandra Kurla Complex
You can't come to Mumbai and not head to Jyran in Sofitel, you just can't. And the reason behind that is their Mutton Awadhi Biryani. Flavourful rice cooked with soft chunks of lamb and the most pristine spices. What's not to love about it?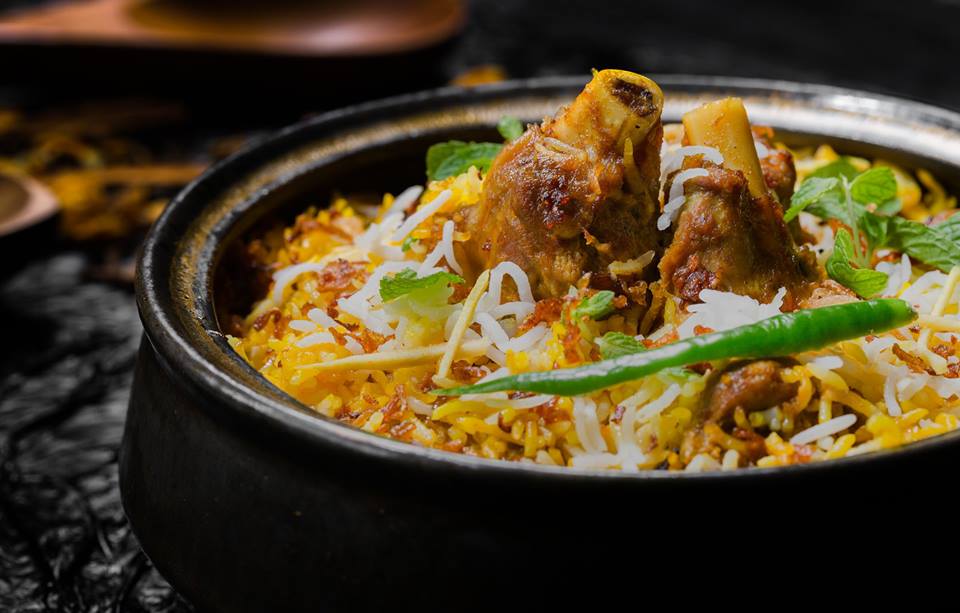 Address: Jyran, Sofitel, C 57, G Block BKC, Bandra Kurla Complex, Bandra East, Mumbai, Maharashtra 400051
Contact: 082681 52597, +91 9167391130
Avg cost for 2: ₹3300
23. Dewano Da Dhaba, Versova
If you find yourself wandering on an empty stomach in Versova, you need to make your way to Deewano Da Dhaba. With an exhaustive list of biryanis which will your mind confused mess, just do what the seasoned patrons do. Get yourself a portion of the Sikandari Raan Biryani. A complete meal in itself, this biryani is food for the mind and the soul.
Address: Dewano Da Dhaba, 204/A, Inlaks Nagar, Versova, Andheri West, Mumbai, Maharashtra 400047
Contact: +91 98339 71516, +91 7715821199
Avg cost for 2: ₹1300
We're sure that we haven't covered all the best biryani joints of Mumbai in this article. Know a really cool biryani place? Please drop a word regarding the same in the comments section below.