While I don't identify myself as a writer, I have always been a traveller. A fun-loving and an adventurous person with a pleasant personality. I think this is what makes me the centre of attraction amidst all my friends and family. Hi, this is Heta Shah, an HR practitioner by profession. A free, independent, confident girl with a mindset of doing what feels right is what has always been my type. From a very young age, I was given the opportunity to travel. I spent countless hours on family road trips and vacations to what seemed, at that time distant places. Passion for exploring the unexplored was always inside me. I would like this article to inspire you, to inform you and also to add fuel to your wanderlust. A journey of thousand miles must begin with a single step. Let's go through this trail of steps. So here's the story of my 6 days trip to Bhutan with my family.
The Globetrotter In Me!
Oprah Winfrey said 'The biggest adventure you can take is to live the life of your dreams'.This is how my hunt for travel started right in my early teen years. Since childhood, I had a love for resolving the mystery as to how the cultures differ from places and how each country has its own uniqueness. To get the mark of each continent stamped on my passport, gave me an adrenaline rush in itself.
From family leisure trips to having a backpacked budgeted trip, I have experienced it all. The urge of exploring and the temptation towards each cuisine has helped me collect stamps of more than 25 countries internationally and touching the 5 major continents.
My pursuit of experiencing each country has just begun. I still have space on my fridge for magnets, in my wardrobe for souvenir t-shirts and my desk still needs more pieces of the world.
Time To Increase My Happiness Quotient By Exploring Bhutan!
Last Diwali, the globetrotter in me wanted to explore the unexplored. That's when we came across so many beautiful destinations like Sri Lanka, Mauritius and even Nepal. But my father and sister wanted to charge up their explorative minds, and that's when this less discovered "Kingdom of Happiness" as the Gross National Happiness index quote's struck their mind. I was initially not convinced of just exploring the nature of the temples and the monasteries. When you first hear Bhutan, all you feel is about what am I gonna do there, it's not even a party place or doesn't even have fancy stuff to show to the world or add to your collection.
But, this happens when you want to get your bucket list ticked but you don't do your research right. I did go through a few travel tips and articles on Bhutan, that's when I realized that there's more to it than just nature or temples. Interesting facts also came up which left me totally awestruck. And trust me each and every fact was witnessed by me and I am sure reading it to the last word, will leave you with that same feeling.
It was in the second week of November that we decided to travel. As I mentioned, that Bhutan is less travelled but is considered to be an expensive destination, we had connected to a lot of travel agents for good deals and especially safe flight booking. Yes, you rightly read "safe flight" booking. The first step of the trip itself started with us being stupefied by the fact that Bhutan has one of the most dangerous airports in the world. It's only some days when the flight lands there, so we had to be sure of the booking date. Yes, Bhutan is the "Last great Himalayan Kingdom". And the airport is right in between the mountains, making it beautiful as well as dangerous.
My trip was a 6-day long trip. We connected with Thomas Cook to get a basic itinerary. Since there were only 2-3 flight options, we decided to fly with DrukAir Airline from Delhi to Paro. We had planned to cover 3 cities namely Thimphu, Punakha and Paro. Our total family expenditure on the trip came around ₹50,000 per person, including flight tickets.
Day 1, Delhi To Paro
We had a direct flight from Delhi to Paro. Usually, flights are considered to be boring if they are more than 2 hours. But DrukAir gave us some beautiful sights that I am sure none of the passengers on that flight would ever forget.
The tip here I would want all the travellers to know is please book your window seat on the left side of the aeroplane. The beauty of the Kanchenjunga and the Himalayan paradise is visible right outside your windowpane. Can you ever imagine to have this mesmerizing view through your window seat? Cameras were out and travellers were up on their seats. It was almost a 10 min long sight of this white beauty. Everyone was amazed and for the first time, even I had no words or even captions to quote for this amazing moment.
On reaching Paro, the height of the mountains and the turbulence faced while landing did prove its dangerous airport title, but it was one of hell of an experience to land in between the mountain ranges. The weather was slightly windy as we reached during afternoon hours. Well, Bhutan is just 30 minutes ahead of India, so we didn't have that toll of time on us.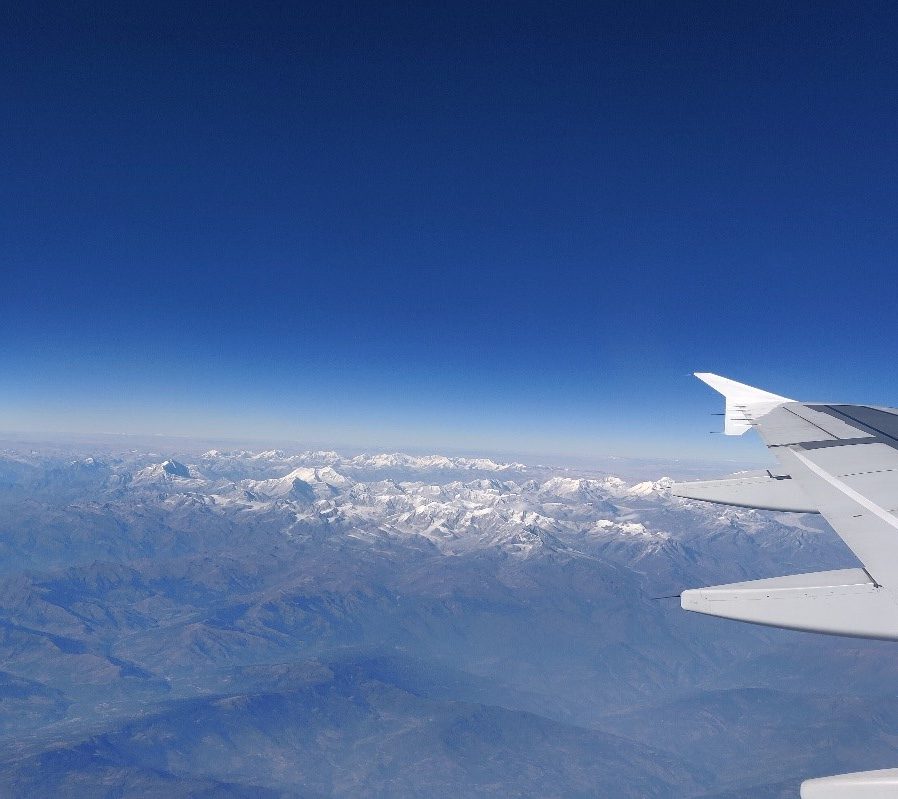 We just had glimpses of Paro, but it was exactly where our minds could feel the happiness index rating. There was a car waiting outside the airport which took us directly to Thimphu. We had pre-booked it to save time and cost. ur first destination in Bhutan was the capital city of Thimphu, which was a 1.5 hours drive from Paro. We decided to check in to our hotel, Ramada Valley in Thimphu.
On our way to Thimphu, we had a drive-through Chuzom- Its where the confluence of both the Thimphu and Paro river is seen. We were welcomed at the hotel in Thimphu. In Bhutan by almost 5 pm the sun sets, and it starts getting dark, so in the evening time, we just explored our property and decided to go around the city for a walk. Not much traffic and not many commercial buildings, but we did treat ourselves with a small pastry from a local bakery shop.
Also Read: A 7 Day Detailed Itinerary For Bhutan Under ₹50,000 Trip Cost
That night at our hotel we had a folk dance representing the Bhutanese culture. In Bhutanese terminology, it is called "Cham"- series of masked dances. The hotel staff entertained us by giving a cultural feel and explaining their tradition through several mask performance that depicted many emotions.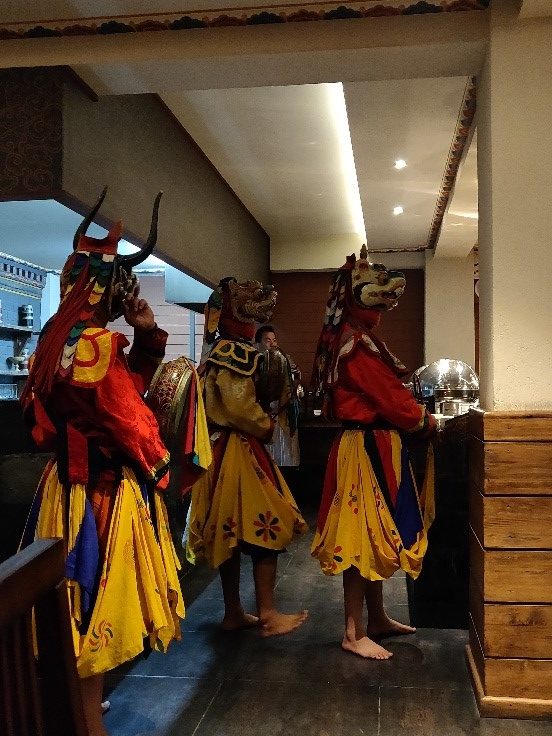 Day 2 – Pangri Zampa Monastery, School of Arts and Crafts, National Library & Archery
We started the day by visiting the Pangri Zampa Monastery. It is famous for astrology and has many temples inside the big area. When you go with a Gujarati- Indian family, especially during Diwali, you ought to cover the temples and worship all the idols irrespective of what significance or name they have been termed with.
It was a pleasant place, and yes disciples of Buddha and monks were seen managing temples as well as explaining to us the significance they hold. We could also get the feel of religious Buddhist Stupas inside this monastery.
Bhutan is also famous for its wood and paper industry. Next in line was the "School of Arts and Crafts", where we got a chance to visit the handmade paper mill. This school of Arts and Craft teaches almost 13 different types of arts that are predominant in Bhutan. Here we were shown the end to end process of paper being made from the pulp of wood and its final dyeing in different colours and textures. We also got our hand onto it. It was a nice first-time experience for all of us. Notepad, hand-made diaries, bookmarks and also thick chart papers were made from hand and you could feel the rawness as well as the fineness it had in it.
Bhutan also has its name in the Guinness Book of World Records. We saw the world's "Biggest Book", at our next destination – the National Library.  The library is a three-floored building with all the ancient preserves of the Buddhist culture as well as manuscripts.
The world's biggest book is titled "Bhutan: A Visual Odyssey Across the Last Himalayan Kingdom," written by Michael Hawley. It's around 5 feet by 7 feet in size and roughly resembles the size of a ping pong table. This massive book weighs more than 60 kg. We were quite astounded to see this. Surprisingly we also saw a lot of photographs depicting the India- Bhutan relationships. We were also surprised to see our Prime Minister's photo, Narendra Modi with their Leader. It's a must-visit for those who are interested in the history of Buddhism.
Tip: For those of you who are interested in Buddhism, let me tell you that 1 hour is definitely not enough to explore this beautiful place.
Being a foodie, I was always tempted to try out different cuisines, the much-awaited part of the trip for me was tasting the Bhutanese food. Well, it is amusing to know how much the Bhutanese community LOVES Chillies. Trust me the local food here has the finest taste of cheese and chilli that one can ever get. We tried butter tea, called Suja. In my entire life I had not seen "Red rice", and here I am having a plate full of red rice before me. Simply Bhutan is the go-to place for anyone who wishes to experience the essence of Bhutanese tradition and culture.
From the local food and traditional wine experience (containing almost 45% alcohol content) to the local dances to how they construct their houses and their way of living.
They have managed to keep alive the beliefs, and traditions in such a way, that one cannot even think of.
Just when we thought we were done with the whole experience of it, we got to know that 'archery' is the national sport here. That feeling of hitting the bull's eye, using all your strength and getting the technique right, is an experience in itself. Bhutan has also got accolades in the Olympics because of Archery.
The excitement to see how amidst mountains, the world's largest Buddha statue resided. 169-foot-long with 125,000 miniature Buddhas encapsulated inside its enlightened bronze chest, ranging from 8 to 12 inches tall, and the glimpse of the whole valley from the statue point makes it very attractive along with its piousness.
The key attraction is to see forms of Buddha with variations in size inside the temple. It is beautiful how the Bhutanese not only follow Buddhism but also have adapted to the principles of it. Unfortunately, one can only capture this sight through the eyes but not behind the camera lenses.
Did you know that Bhutan's national animal is called "Takin?" As hybrid as the name sounds, the animal too is a form of a goat's head and a cow's body. Their existence is becoming rare but they are still considered as sacred. It is believed that a saint who brought the concept of Buddhism to Bhutan created this creature with his powers giving him life. One can locate this animal at Zilukha Nunnery – the national zoo in Thimphu.
Tip: People who have issues with walking, can plan and avoid this attraction, as Takin is just seen from a distance, so it would not be worth the pain of climbing all the way uphill.
DAY 3 – Thimpu To Punakha, Dochula Pass
The drive from Thimphu to Punakha is something every traveller should look forward to. There are some passes in life that tend to become a destination rather than a mere stopover. About 3100m above sea level, creating a place in your heart and giving your eyes a "white" twinkle with the perfect pictures your camera could have clicked, is the "Dochula Pass (30kms from Thimphu)."
Amazed by the contour of the Himalayan range as well as the 108 stupas or the "chortens" as they call it, a block was added and ticked in the bucket list. The unique 108 number of chortens is believed to be created in memory of the dead soldiers who died fighting in an attack. Walking past each Stupa, there was a different yet serene feeling which makes this place as a highly recommendable place even for your bucket list.
Tip – Check the weather conditions beforehand, if it's cloudy you will be highly disappointed. So, choose a non-cloudy day to get your eyes to witness the white twinkle.
Punakha, a warm valley area which does not have a large population is famous for its paddy production and the walkways which pass through these paddy fields. Right after we checked in our hotel we decided to get down with our adventure spree. The river was basic but the rafting held us high. It was fun and we could also see the Punakha Dzong where we were to visit later in the afternoon.
After a thrilling river rafting adventure, we visited the "palace of great happiness" – The Punakha Dzong. With a symbol of great happiness, it is also a magnificent piece of fine architecture. Photography was prohibited inside, but you would be able to see this structure while moving around the Punakha Valley. The beauty of this building is that even though it's a 400-year-old fortress, each stone is still intact.
In the whole of Bhutan, it is the second oldest and the second largest dzong. A must visit the place to get a beautiful view of the whole valley, but again for those who have an issue with walking, it is up the hill and requires proper walking shoes.
The last destination for the day was the most-awaited and the most apprehensive one, The Chimi Lhakhang – the Fertility Temple. Located on a hillock in the centre of the valley, it can only be reached by walking across the paddy fields.
It's believed that this divine place fulfils the prayers and desire of an offspring. In Bhutan, to have a Penis caricature hung at the house entrances is considered to be a good omen, this left us completely startled. It was embarrassing to see it everywhere initially, especially when you are with your parents, but the answers to our anxiousness were met at this temple of fertility. This is All You Need To Know Before Planning A Trip To Bhutan
People across the world come here with a hope that the power of this temple will help them in conceiving a child, in case they are unable to. This temple has vibrant colours, as well as the mask-faced gods and goddesses. Inside the temple, we could see couples performing the chants, and everything seemed so real and so beautiful with the true sense of spirituality.
Tip – This temple has a lot of stairs inside, so it can get a little tedious. Here Phallus is worshipped and you would see a lot of miniatures of the same inside or outside the temple, do not make fun of this, as it is considered as offensive. It is a place worth visiting, so please do not miss it.
To end the Punakha Trail, in the latter part of the evening, we just passed through the local street markets, where to our amusement we saw all the dried vegetables like corn, chilis, pumpkins and even yak cheese. They believe in drying all the crops and storing it for the bad weather, as the fertility of the land and the seasonal drifts both are very uncertain.
Yak cheese is famous here, and they use it in preparation of their food. Trust me your concept of "Melting of cheese" would be taken aback as this cheese is so hard that even to chew it, requires patience. It was amazing to see, how they plan things in order to survive any of the uncertainties.
DAY 4
The last destination and the commercial capital of Bhutan welcomed us with good weather but the feeling of our trip coming to an end was definitely not pleasant. Travel time is almost 2 hours as we stopped by at the Dochula pass again to click some more photos.
Before checking into our hotel Metta resort and Spa at Paro, we stopped to visit the Simtokha Dzong- "the place of profound tantric teaching." There's nothing much to see here, it was a small dzong where we could spend some time amidst nature. And this Dzong is also considered as one of the oldest Dzong created in Bhutan. After checking in, had some good pizzas in the local market itself. Trust me Bhutan is one destination, which is a McDonald's or a Pizza Hut free but is not a point of worry, rather you wouldn't feel their absence as the food here is delicious without any of such brand names too.
Post lunch it was time for another museum- The National Museum of Bhutan, named as Ta Dzong which was originally built as a watchtower. More than the preserves I would recommend to go there for the cool and refreshing breeze.
One more picture-catchy destination and the clouds and the valley gives you a perfect landscape mode for capturing your photo. Right in that area, there's preserves and history of the paintings, textiles, weapons and armour and rich and ancient artefacts. Cameras are not allowed inside the museum, so click as many photos outside near the watchtower with the perfect view of the Paro city.
Tip- It is closed on Mondays, so do select your visit day wisely. And it also has an entry fee.
Rest of the day was spent in the local markets. One memory for life that I am sure not all of us would be aware of is that Bhutan is the only place where there are no traffic signals. Yes, I am sure your jaw just dropped, but it is true. No traffic lights yet less honking with perfect traffic management. Here's a tip for the shopaholics, I bought some amazing silk fabric at a good cheaper rate. You would also find wine holders which are actually light in weight and are of different sizes making your wine bottle look elegant. You will find scarfs and hand-woven stoles. Do bargain, and you will be able to get your hand on more variety. Bhutanese have their specific local attire, so we bought such silk material which was very local and very warm.
DAY 5
The most awaited day was here. One of the finest as well as the most unique Monasteries of the world and the "most recognized spot of Bhutan- Paro Taktsang or The Tigers Nest". Without a doubt, a first time trip to Bhutan would not be complete without seeing the Tiger's Nest. Its advisable to have a heavy breakfast and also be covered up but don't wear thermal inside, as once you start reaching up the hill, you would start feeling warm.
Total travel time estimated comes to almost 6-7 hours to and fro. Distance is almost 11 km and yes there are small cafes and washrooms available on the way up. You could either walk or take a pony. But pony also goes up to a certain point only, then you will have to walk by yourself. It's an uphill entire way but is not that steep too. Also note it has some 800 steps to and fro, as well as the temples inside,  have stair for their entrance. As you climb higher the sceneries just keep getting better.  Once you reach a little more than the halfway point, you did be able to see the Tiger Nest monastery clearly.
Built before hundreds of years on a cliff, this beauty holds significant importance in Bhutanese culture. Some of them also believe that God flew on a tiger's back and has made this whole monastery by himself. Each step that you take will have lots of photo points and prayer flags that will make you feel closer to tranquillity and serenity. There are almost 5 temples, each showing the stages of life, which is interesting.
One amazing experience for life. Not only a proud moment but feels like a success when you come down towards the last step. Your breath takes a toll and your legs feel the cramp but your eyes still have the pride of achievement.
DAY 6
The last breakfast in Bhutan was done right, and we had our flight back to Delhi from Paro. Took photographs with our guide. The people in Bhutan are honest, welcoming, pleasant and joyful. Since it is yet not a very favourable travel destination, tourists here are treated with a lot of respect and warmth.
Bhutan is a place blessed with an almost magical power to transform the mind of individuals. I can now relate with Bhutan's brand tagline- "Happiness is a place"- simply assures that happiness can be found in simple things and these simple things can be found anywhere and in anything. Check out 10 Unique Things To Do In Bhutan
Word to the Wise
It is advisable to have your guide booked beforehand for easy and safe travel
There is no visa requirement if you are Indian passport holder/ or even Indian voting card is valid
The currency value is very similar to Indian rupees, so that should not be any problem
Language– Majorly English is spoken, so should not be an issue
Alcohol and Tobacco– Bhutan is quite booze friendly but when it comes to tobacco, be ready to pay as much as 200% tax on them at the customs
Food– Even for vegetarians, you will get options, so no need to worry about it. Food is given in heavy quantity so order accordingly. It is not very expensive but certainly not cheap. It is spicy if you prefer local Bhutanese food
Attire for the trip– Try and keep your clothes more casual which keeps your body covered, as the local people there are very simple. In temples, it's a mandate that you need to keep yourself covered. Plus the weather is always windy, so even if you plan to visit in summers, do keep a warm cloth with you. Sports shoes are a must to be carried.
Travelling Mandates- Since there are not many flight options, check the flights with regards to the weather. When booking your seat, remember book the left side of your flight ALWAYS.
In case if you are suffering from motion sickness, for the local transport do keep your medicines in place.
What makes it special and different– Bhutan is a safe and clean country, so remember to not litter around. They respect their royals and have a pride in their ancestry, so do not talk ill about it as they do get offensive of the same.
The phallus is worshipped here, so do not show bad or funny expressions when you see them painted in and around streets
Astrology is highly accepted in Bhutan, so even if you don't believe it doesn't disagree with it.
This article was contributed to Curly Tales by Heta Shah. If you have an article or similar experience to share, do write to us on hey@curlytales.com