Namma Bengaluru is a paradise for foodies. From gorgeous microbreweries, humble authentic South Indian breakfast joints, fine dining restaurants serving authentic regional cuisines to charming cafes and bakeries, you will be spoilt for choice in the Garden City. So which are some new restaurants in Bangalore? To answer your question,  here are some new restaurants in Bangalore to chill with your friends and family.
1. Chill At Trans Into Placid,  Marathahalli
Marathahalli has a newly opened bar named Trans Into Placid. And as trippy as the name sounds, this resto-bar serves you reasonably priced drinks and food, so you can chill without burning a hole in your pocket. groove to foot-tapping music as you sip on a wide variety of wine, chug down beer and gorge on delicious bites. Munch on crispy Gobi Manchurian, soft Paneer Tikka, flavoursome Dragon Chicken and delicious Chicken Chettinadu. You can even head here to unwind after a tiring day at work with your colleagues and enjoy the Thursday Corporate Night offers.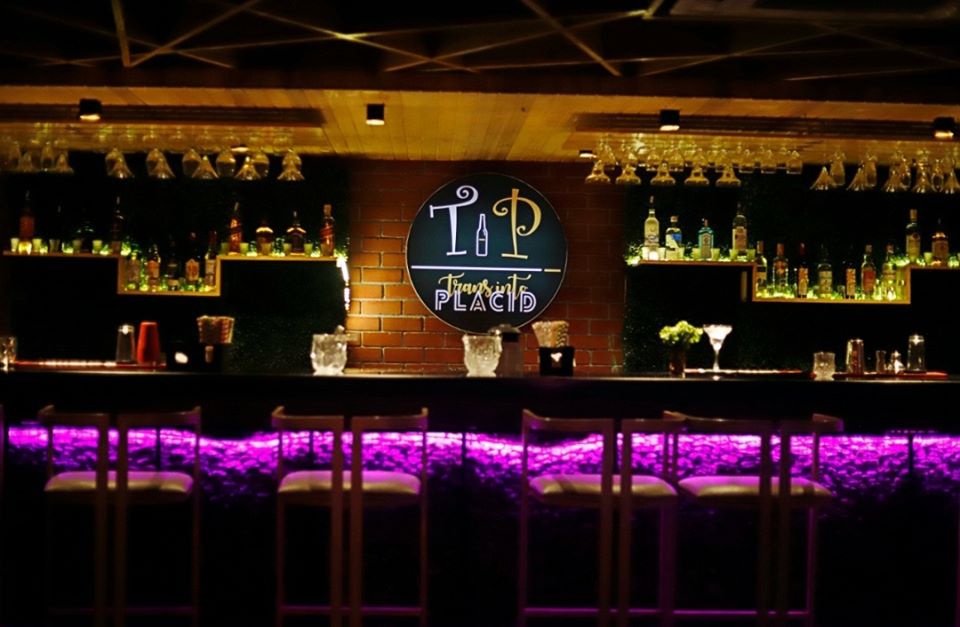 Deets
Address: 36/1, Outer Ring Road, Opposite JP Morgan, Kadubeesanahalli, Marathahalli, Bangalore
Timings: 12 pm to 1 am
Cost: ₹800 for two
Contact: 080 47483329
2. Delicious Buffet At Ministry of Barbeque, Koramangala
There are some days when you just feel like going for a cheat meal and pampering yourself with a lavish spread. For those glorious days, head to Koramangala's new barbeque hub, Ministry of Barbeque. The ambience is welcoming and the huge live tandoor grill will make your mouth water. Feast on a variety of lip-smacking 14 starters, eclectic main course spread including pasta, wood-fired pizza prepared with the choicest of meat, seafood and veggies. Wash your meal down with the beer-infused cocktails and end your meal on a sweet note with the exotic Flambe fruits. This is one of the interesting
Deets
Address: 130, 1st Cross, Jyothi Nivas College Road, Koramangala 5th Block, Bangalore
Timings: 11 am to 11 pm
Cost: ₹1,100 for two
Contact: 080 47483392
3. Pocket-Friendly Meals At Bae of Bengaluru, Ejipura
If you're looking for the ultimate pocket-friendly breakfast joint, then we found just the place for you. Bae of Bengaluru is a delight for coastal food lovers. Gorge on a variety of delicious Maggi preparations including Prawn Maggi. You can even have sumptuous vegetarian, chicken meals starting from just ₹40. Depending on your appetite you can even indulge in Chinese fare of fried rice and noodles which come in half or full plates. This is one of the most interesting new restaurants in Bangalore which must be on your go-to list.
Deets
Address: Shop 11, 27th Main, 4th Cross, VGS Layout, Viveknagar, Ejipura, Bangalore
Timings:  7:30 am to 11:30 pm
Cost: ₹300 for two
Contact: +91 9900399033
4. Baked Goodies At Zed The Baker, Lavelle Road
Tucked away in Lavelle road, Zed The Baker is a charming cafe, perfect to catch up with friends or for a casual coffee date. The aroma of freshly baked goodies will instantly leave you with a craving for desserts. From gooey eclairs, pastries, Lemon Meringue Tart, Blueberry Cheesecake, to Creme Brulee its heaven for dessert lovers. The best part is, Zed The Baker prides itself for being pet-friendly. So get your furry friends along here, as this is one of the most interesting new restaurants in Bangalore.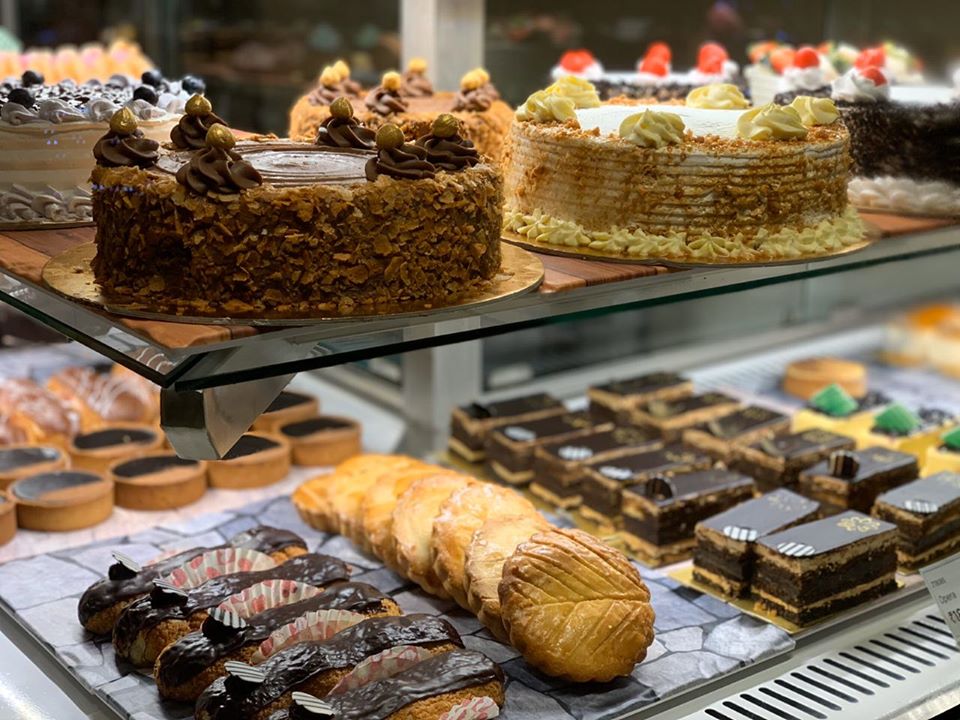 Deets
Address: 40/2, Shanthala Nagar, Ashok Nagar, Lavelle Road, Bangalore
Timings: 10 am to 10 pm
Cost: ₹900 for two
Contact: +91 9611475555, +91 9606578972
Also Read: 16 Best Bakeries In Bangalore For 2020
5. Greek Fare At House of Troy, Koramangala
There a new Greek kitchen in town, House of Troy located in Koramangala. The contemporary decor, rich seating, with warm lighting, gives this a place a modern chic feel. The food is prepared with fresh ingredients and has an authentic taste to it. You might have a difficulty in pronouncing the names of the dishes so do seek guidance from the helpful staff. Crispy Mushroom Bites, Greek Style Onion Rings, Chicken Souvlaki, and pasta dish, Gemista are some dishes you must give a try. Pair your bites with their signature cocktails and you're good to go.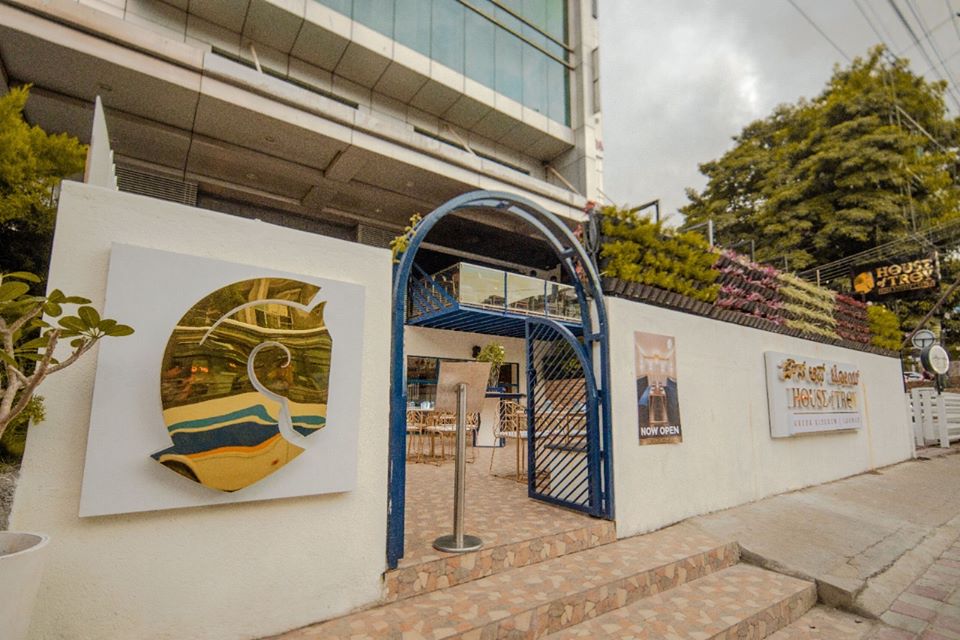 Deets
Address: SJR Primus, Ground Floor, Koramangala 7th Block, Bangalore
Timings: 12 pm to 12:15 am
Cost:₹1,400 for two
Contact: 080 47483298
6. Refreshing Asian Dishes At DOFU, Indiranagar
The pastel-colored ambience, beautifully lit decor will instantly make you feel calm and relaxed. Step into this restaurant to sink your teeth into a variety of delectable Asian preparations. Soothe your palate with the nutty Longjing Green Tea. Then proceed to the Vegan dish of Lotus Root, Shitake & Pickled Radish Gimbap, wholesome Saam Wrap Salad, nutritious Mixed Vegetable and Quinoa Fried Rice and Stir-Fried Sichuan Pepper Prawns. After a blend of nutritious and delicious dishes, sweeten your palate with the Bittersweet Chocolate Cremeux. If you like Chinese food then here are 18 Best Chinese Restaurants In Bangalore For 2020
Deets
Address:  303, Ground Floor, Ashok Terrace, 100 Feet Road, Indiranagar, Bangalore
Timings: 11 am to 11 pm
Cost: ₹1,000 for two
Contact: +91 6364636222
7. Decadent Desserts At The Sugar Therapy Cafe, Richmond Road
The Sugar Therapy Cafe. Just hearing this name would bring a huge smile on the faces of anyone who has sugar cravings. Nestled in a corner of Victoria Layout this quaint cafe with pastel pink shades, brick walls and charming decor is definitely on our list of some of the finest new restaurants in Bangalore to look forward to. Gorge on Cinnamon Rolls, Hazelnut Chocolate Mousse Tart, Eggless Orange Almond Cake, Cherry Danish and many more sweet treats here. Apart from baked goodies, try the pizza, pasta and sandwiches here for a hearty savoury meal.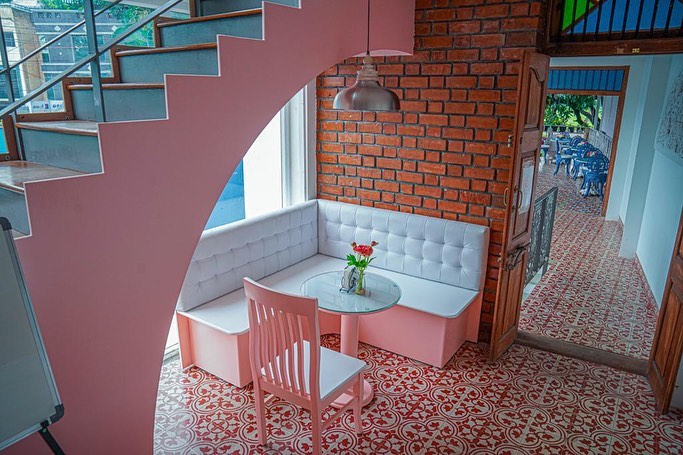 Deets 
Address: 33/12, Thyagi M Palanivelu Road, Xavier Layout, Victoria Road, Richmond Road, Bangalore
Timings: 11:30 am to 9 pm
Cost: ₹900 for two
Contact: +91 9916618120
8. Cheesy Pizzas At Red Tomato, Jayanagar
Jayanagar Machas! There's a new pizzeria in your hood. So take your family along to satisfy your pizza cravings over thin-crust, sourdough, stuffed crust and deep-dish pizzas. There is also a variety of dishes curated specially for kids like the Mini Chicken Nuggets, Mini Pizza with Creamy Chicken and Fried Mac n Cheese Balls to name a few. Pair your pizzas at Red tomato with a glass of Sparkling Red Wine Sangria. This is one delicious new restaurant in Bangalore where you must visit to paint the town red. This is one of the most interesting new restaurants in Bangalore that you must take your family to. Pizza fanatics check out these 20 Best Pizza Places In Bangalore For 2020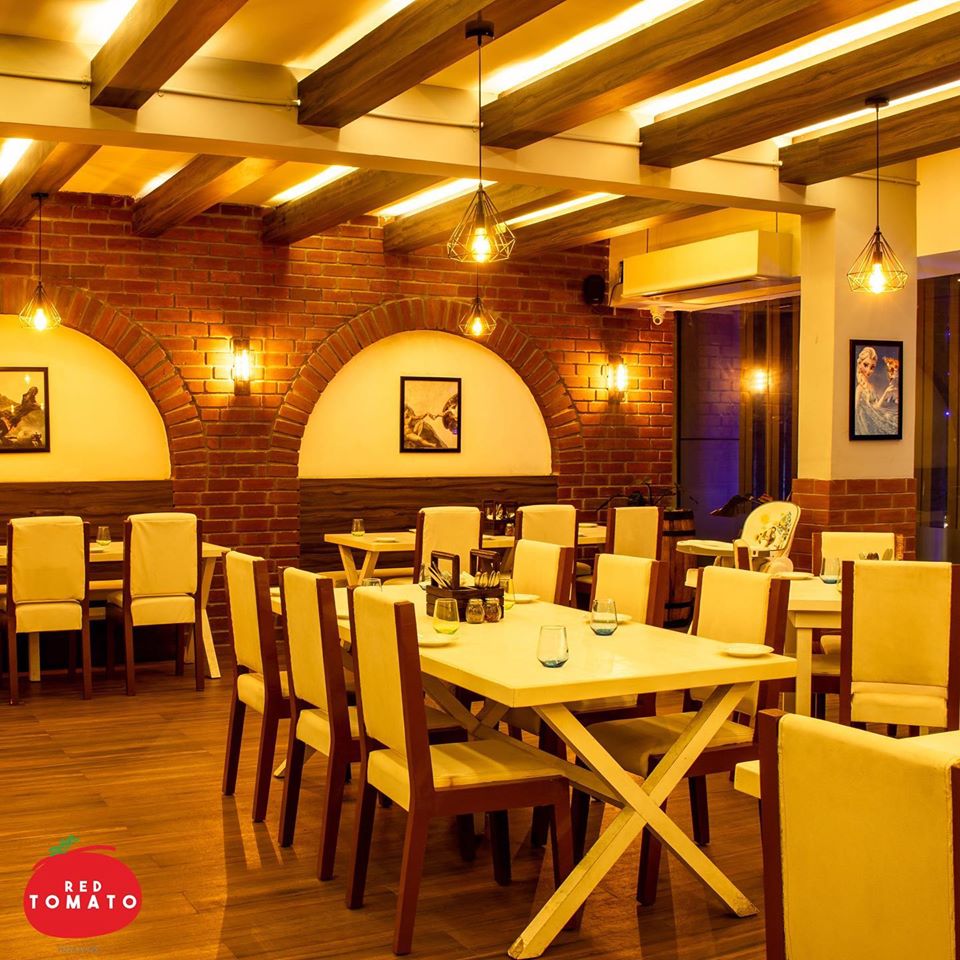 Deets
Address: 11, 42nd A Cross Road, 5th Block, Jayanagar, Bangalore
Timings: 12 pm to 11:30 pm
Cost: ₹1,400 for two
Contact: 080 47483034
9. Refreshing Craft Beers At What The Ale?!, Electronic City
Beer Lovers! Your list of favourite microbreweries in town is just getting longer. The latest addition to this would be What The Ale?! in Electronic City. Choose over a variety of craft brews like Belgian Wit, Hefeweizen and Dunkenweizen. As your sipping your drinks and chilling with your gang, do order the thin-crust pizzas, Beer & Vodka Battered Fish n Chips and the wide variety of sumptuous Indian dishes. What the Ale?! has a lavish venue offering an indoor seating adorned with potted plans, rooftop seating and even a lovely balcony one that overlooks the bar below. Make your pick! To quench your thirst for beer check out these 15 Best Breweries In Bangalore For 2020
Deets
Address: 5th Floor, Near Brand Factory, Neeladri Nagar, Phase 1, Electronic City, Bangalore
Timings: 12 pm to 12 am
Cost: ₹1,700 for two
Contact: 080 47482924
10. Authentic Lebanese Food At Manakish, Koramangala
Habibs! It can be quite a task to find authentic Lebanese food in Bangalore, especially ones serving Felafel, and  Zaatar bread. We found a quaint Lebanese joint located in the heart of Koramangala. Manakish is a small joint but serves you dishes that are bold in Arabic flavours. Devour authentic yet pocket-friendly Arabic dishes like Beetroot Hummus, Shish Taouk, Lebneh with Pita Bread, crispy Felafel, Zaatar and Olive Oil bread and much more. End your meal with their delectable Arabic coffee sprinkled with chocolate powder. You can even treat yourself to an array of Middle Eastern desserts. Satisfy your desires for Arabic food at these 10 Best Arabic Restaurants In Bangalore For 2020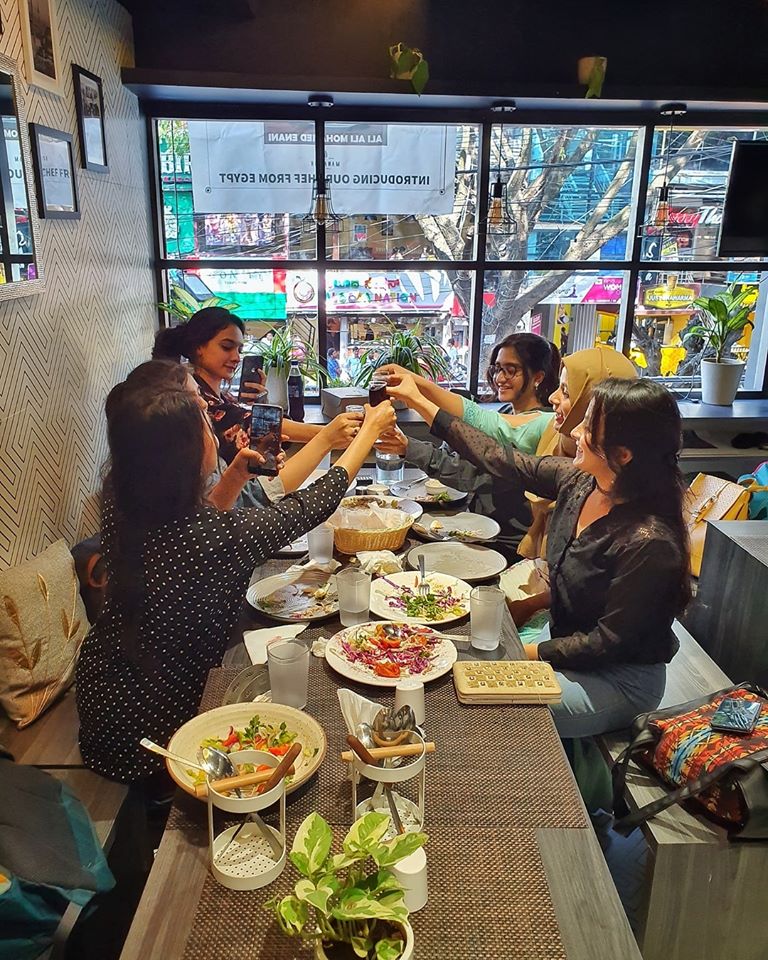 Deets
Address: 48, 1st Floor, 1st Cross, Koramangala 5th Block, Bangalore
Timings: 10 am to 12 am
Cost: ₹700 for two
Contact: +91 7558822866
So these were some of the new restaurants in Bangalore to add to your bucket list this weekend. Tingle your tastebuds to Lebanese, Greek, Italian and delicious bakery goodies. You can thank us later for this!