When you have settled away from home, you always crave a taste of home right? Well, our Desi girl Priyanka Chopra who after marrying Nick Jonas, settled down in Los Angeles, often reveals how she misses Indian food. But thanks to her friends, family, and SONA, she is able to indulge in Indian cuisine all the time. On Thursday, Priyanka Chopra took to her Instagram and uploaded a picture of a bunch of Indian snacks – poha, khakhra, bhujia, etc, and thanked filmmaker Boney Kapoor and his daughter Khushi Kapoor for sending her a taste of home. The father-daughter duo are currently vacationing in LA and have brought some classic snacks for Priyanka Chopra from India. Totally adorable!
Priyanka Chopra Thanks Boney Kapoor and Khushi Kapoor For Gifting Her Namkeens
We Indians have a habit of not enjoying our tea alone. And nothing goes perfectly with tea as namkeen – the favorite tea time snacks of Indians. No doubt Boney Kapoor and Khushi Kapoor decided to give Priyanka Chopra a bunch of Namkeens. PC was elated and took to Instagram to thank the father-daughter duo. The Desi girl shared a picture of the gifts received from Boney and Khushi Kapoor on her Instagram story and wrote, "Thank you @bonnie.kapoor and @khushi05k for the taste of home! So kind!" The picture shows a variety of classic tea-time snacks like khakhra, bhujia, poha, mathri, and husk among others. Priyanka uploaded the story with a namkeen mix placed in a bowl, consisting of poha, bhujia, peanuts, some herbs, and lemon. And we totally drooled!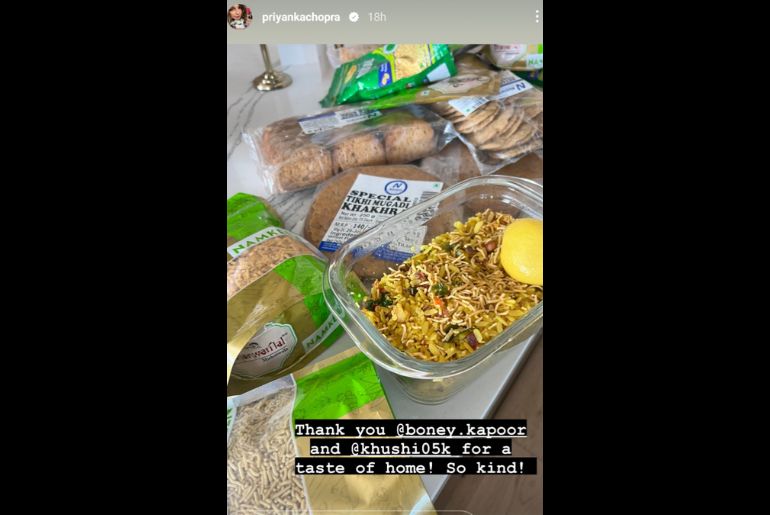 Why Do Namkeens Make Your Tea Taste Better?
We Indians love our Namkeens. No doubt Priyanka Chopra was elated after getting a bunch of those and called them a taste of home. Namkeens are basically a melange of crunchy and crispy Indian snacks made from basic grains and can be flavored in practically endless ways. Typical traditional namkeen snacks in Indian cuisine include bhujia, all in one mix, coated peanuts, farsan, chivda, sev and potato chips among many others. And because we Indians believe that tea time is more than just gulping down this hot liquid and getting back to work, hence Namkeens with tea makes for a perfect combo. And trust us, a bowl of aloo bhujia will definitely make your cup of tea taste better!
Also read: Priyanka Chopra Shares A Summer Salad Recipe From Her Restaurant SONA
View this post on Instagram