Without a doubt, Delhi is the master of quirky dishes. Doing the right experiments and rolling out insanely crowd-pulling food options is something Delhi has been doing for ages. And why not? After all, Delhiites are die-hard foodies in every bit. Also, the city has some absolutely unique snacks that you won't be finding anywhere else, we bet. Here are 7 such snack options:
1. Skull Vada Pav
Ever had a vada pav where the pav is shaped like a skull?  Inferno Brewpub in Gurgaon makes the Devilled Pav Bhaji dish that looks spookily delicious. The dish contains two skull-shaped pavs and a zesty curry served in a skeleton hand gripped bowl. Yes, at this pub, you can gobble up an entire skull and burp!
View this post on Instagram
2. Crunchwich
Bored with sandwiches? How about biting on a cheesy crunchwich instead? The Tummy Section serves this snack at its different outlets in Delhi NCR. In crunchwich, not normal milk or brown bread slices, but pieces kulcha bread coated with crunchies are used. At The Tummy Section, you can try Paneer Ramly Crunchwich, Chicken Ramly Crunchwich, Veg Shawario Crunchwich, Chicken Shawario Crunchwich and more.
View this post on Instagram
3. Cocktail Momo
This momo is utterly true to its name. These oregano garnished momos have a 'cocktail' of secret spices inside them and they taste way different from typical fried momos. The momos, available at Mahavir Enclave's hidden gem GoFungry, can give a burst of flavours inside your mouth.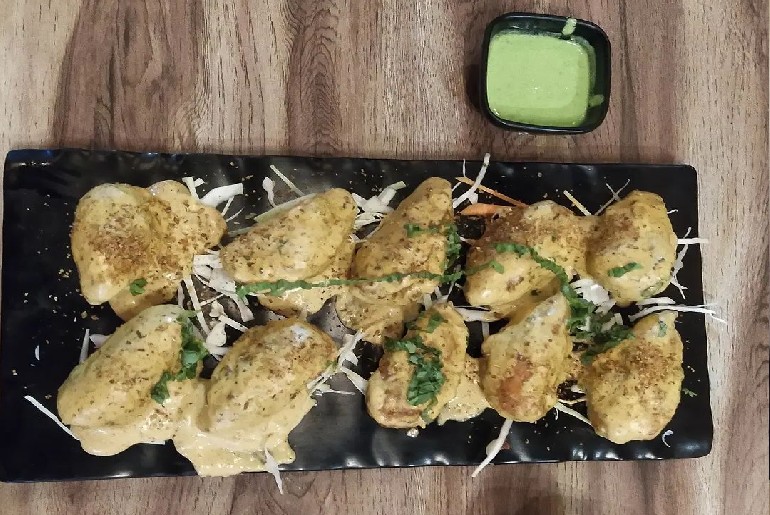 4. Potli Noodles
Not potli biryani, but Kuch Bhi Chalega in Janakpuri serves potli noodles. These noodles come wrapped in a delish potli that has to be cut with a knife. The potli like bag enhances rich taste and aroma of the noodles.The noodles are slow-cooked in the chapati dough potli.
View this post on Instagram
Also Read: 5 Must-Try Foods At Delhi's Tibetian Hub, Majnu Ka Tilla
5. Momo Pav
Do you love momos? And you relish vada pav too? Rejoice, as we've found a dish called momo pav for you. KBC cafe in Janakpuri makes this wonderful dish. Crunchy momos and stuffed inside tender pavs and topped with green chilli. Sounds drool-worthy, right?
View this post on Instagram
6. Butter Chicken Gravy Momos
Tried and tasted, these momos tossed in rich butter chicken are so amazing that they can give a rollercoaster ride to your taste buds. Trippy Junction in Dwarka makes these momos and tops them with luscious cream. The subtle spices of this momo will satiate the foodie in you to the core.
View this post on Instagram
7. Volcano Pasta
This snack not only tastes heavenly but looks gorgeous too. The baked cheese-loaded pasta comes inside a pizza base pot, the fiery topping of which resembles the lava of a volcano. Housefull Cafe Lounge in GTB Nagar makes this mind-boggling dish.
View this post on Instagram
Also Read: 5 Craziest Momos In Delhi NCR To Give A Twist To Your Taste Buds
Do you have more options in mind? Let us know in the comments section below.