It is true when they say the grass is always greener on the other side. The lives of our favourite actors are so glamorous and fun and seeing all the things happening at such fast paces, we sometimes feel like living a similar life. But is it really that smooth and simple? In the latest episode of Sunday Brunch with Zomato with our Chief Editor Kamiya Jani, Rashmika Mandanna spilled all the beans about travelling always and staying on track at all times.
Rashmika Mandanna: I Live Out Of The Suitcase
Rashmika spent her childhood in Coorg. This town in Karnataka looks stunning amidst tea and coffee plantations in very misty weather. And now she shifted to metropolitan cities for her profession and it is truly a massive transition. While sharing about her past days in Coorg and now, she commented hilariously on her home. In reply to Kamiya's question 'Where's home for you now?' Rashmika said, 'Home is on the flight. Literally, I feel like that's where I live. I live out of a suitcase but it's the most exciting part of my life.'
Also Read: Rashmika Mandanna Went On A Solo Trip To Paris; Says Solo Trips Are The Best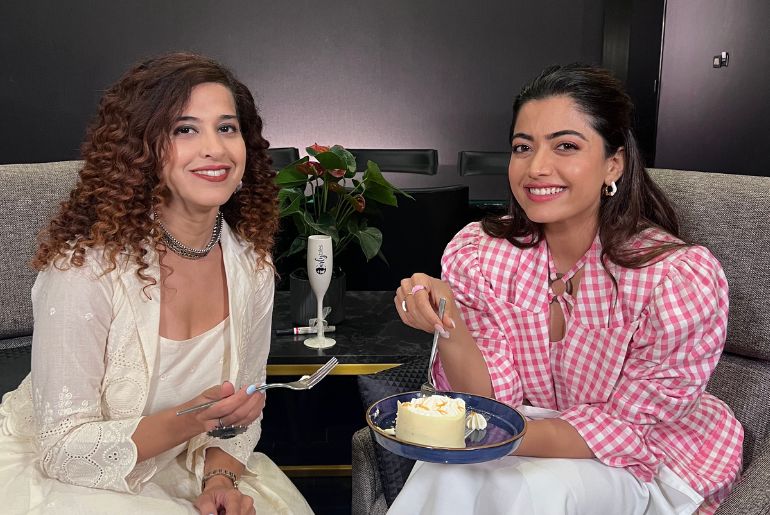 Rashmika needs to spend a lot of time in flight because of flying to different locations for her movies, advertisements, and all her works. Also, another reason for her to spend time on flights is her love for travel. She loves exploring the world and she makes sure to take a trip at least once a year. Fun fact: She loves to travel solo!
She Misses Homemade Food A Lot!
Adulting is great till you start missing your ghar ka khaana. And living in a metropolitan city, Rashmika also misses homemade food, especially the authentic dishes of Coorg such as rice preparations and recipes made with pork. She shared a lot about this cuisine and we are starving for sure.
Also read: Rashmika Mandanna Speaks About The Advantages Of Eating With Chopsticks
From her childhood to signing her first film to her journey till now, this episode of Sunday Brunch with Zomato is filled with so many stories about Rashmika's life.