Rashmika Mandanna, who's riding high on the success of Pushpa, recently graced her presence on Curly Tales by enjoying a lovely Sunday Brunch with our Chief Editor Kamiya Jani. The episode gave us numerous fun anecdotes from Rashmika's life but there was one that really stood out. Rashmika revealed quite a lot of advantages of eating with chopsticks from her own experience and we can't wait to share those with you. Read on!
Rashmika Mandanna Shares The Advantages Of Eating With Chopsticks On Sunday Brunch
Rashmika Mandanna shared her strange story with chopsticks to Kamiya Jani over Sunday Brunch and we ain't complaining! Talking about how she loves eating her grilled vegetables with Chopsticks the actor reveals, "You know, so, I have a strange story when it comes to chopsticks. You know, generally, when I get to eat, like grilled veggies and all of that according to diet, I prefer eating them with chopsticks." When asked if it tastes better that way, Rashmika smiles and replies, "It's just a little fancier and you eat a little slower with chopsticks. You know, you are like figuring out how to hold those little, little veggies, so.." The Pushpa fame actor later adds that she doesn't down all her food in one go and chopsticks help her eat slower.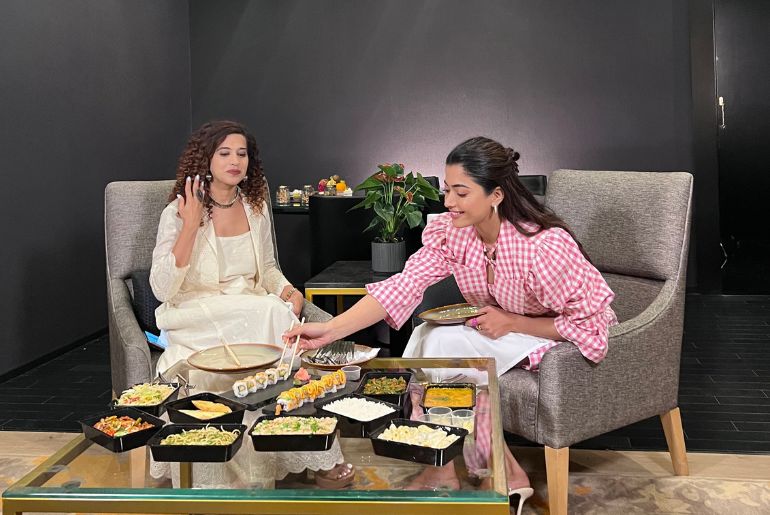 Also read: Rashmika Mandanna Loved Eating Rasam With Biryani And Lays With Curd Rice While Growing Up
Rashmika's Unusual Sushi And Bhindi Combo At Sunday Brunch
The recent Sunday Brunch Episode of Curly Tales with Rashmika Mandanna had delectable spreads of Sushi, Pasta, and comfort foods like Dal, Chawal, and Bhindi. And what caught our attention was Rashmika having an unusual combo of sushi and bhindi with her chopsticks on Sunday Brunch. Rashmika recollected her childhood days during the episode and revealed to Kamiya Jani her love for the 'Biryani with rasam' combo.
Well, Rashmika Mandanna said she was known for her weird food combos. But we say, as long as you love it, it's all great Rashmika!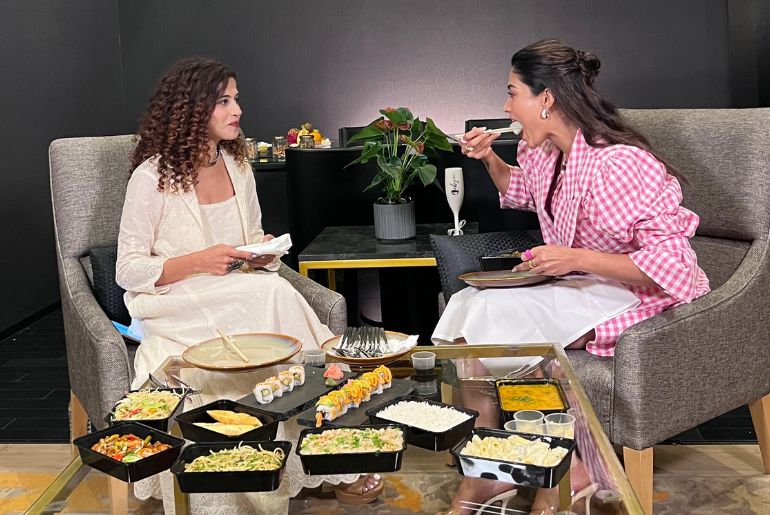 Now that you know of the advantages of chopsticks shared by Rashmika Mandanna, are you going to use them during your daily meals? Do let us know in the comments section below!