British prime ministerial hopeful Rishi Sunak on Janmashtami visited a temple in Watford with his wife Akshata. Janmashtami is an Indian festival which celebrates the birth of Lord Krishna. Rishi Sunak visited the Bhaktivedanta Manor temple in Watford with Akshata. Akshata is Infosys founder N.R Narayana Murthy and Sudha Murthy's daughter. He shared his visit to the temple with his wife on his Instagram handle. 
Rishi Sunak And Akshata Visit Temple 
Krishna Janmashtami is a very loved and celebrated festival in India that celebrates the birth of Lord Krishna. Rishi Sunak and his wife Akshata celebrated the birth of Lord Krishna which is known as Janmashtami in India by visiting the Iskon temple in Watford, United Kingdom. Akshata is a British based fashion designer and daughter of  N.R Narayana Murthy. The couple wed in Bangalore, India, in 2006 after meeting when he was pursuing an MBA at Stanford University. The wedding took place over two days. Sunak took his oath as a representative of the UK in the House of Commons in December 2019 while holding a copy of the Bhagavad Gita, a Hindu classic that is linked to Lord Krishna. 
View this post on Instagram
Also read: 5 Interesting Facts About Janmashtami That Will Leave You Awestruck
The Run To Become UK's Prime Minister
Recent polling indicates that Sunak is currently 32 points behind UK foreign secretary and fellow Tories member Liz Truss in the contest to become the island's 78th premier. The Conservative Party will name its new leader, who will succeed Boris Johnson as both party leader and prime minister, on September 5. The goal, according to Rishi Sunak, is to "love bomb" the Tory membership, as he did when he was chosen to fight for Richmond in North Yorkshire as a Tory member of Parliament in 2015. Rishi Sunak claimed he is stoic about Liz Truss's massive lead in the race for Downing Street.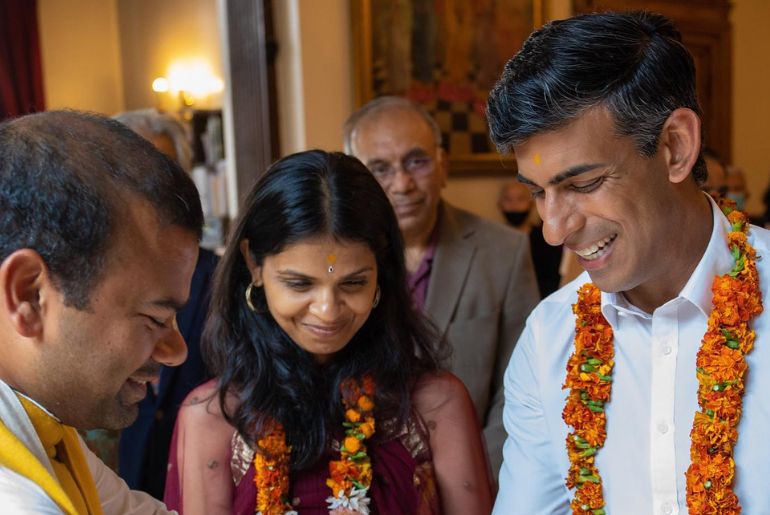 Also Read: Maharashtra Declares Dahi Handi As Official Sport; Govindas To Get Jobs & Insurance