On a cold Bangalore night, with the pouring rain and scintillating thunderstorm to give me company, I yearned to explore a new restaurant in the hood. Yes, that's the life of us foodies, where nothing can stop us, not even the rains. While I planned to visit a cafe, my mother suggested we explore a new coastal restaurant in Jayanagar. Why not feast on hot seafood, on a cold Bangalore Saturday, she suggested. Armed with umbrellas, donning Bangalore's iconic floaters, my family and I went to Seegadi nestled in the heart of Jayanagar 4th block. I'm Sanjana Shenoy, a Senior Content Writer at Curly Tales and here's why I'd recommend Seegadi for a pocket-friendly seafood meal in Bangalore.
Seegadi In Bangalore's Jayanagar Is A Cosy Pocket-Friendly Coastal Restaurant
The minute we walked into Seegadi, we were taken aback by the cosy yet polished interiors. For a humble seafood restaurant, Seegadi has a sophisticated ambience. You can choose to dine indoors or outdoors. The restaurant has wooden tables adorned with cute potted plants, fine white chairs, a sleek wooden bench and simple lighting.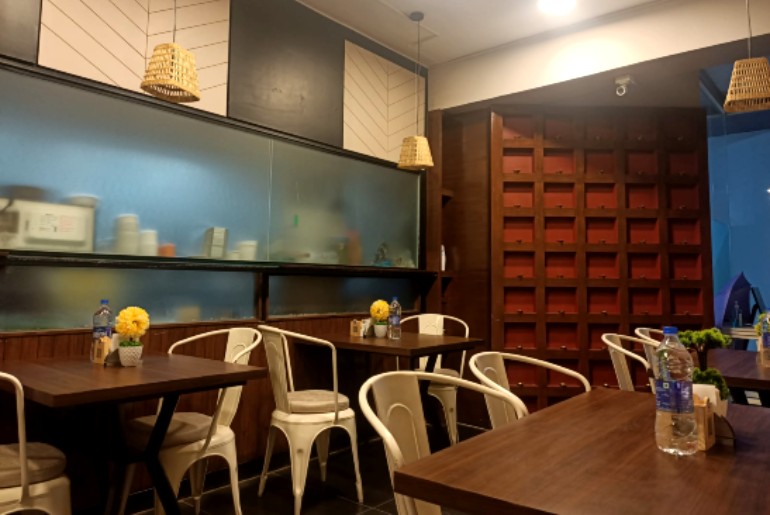 Also Read: Stonny Brook, India's First Stream Restaurant In Bangalore Has Indoor Waterfalls &Water Running Under Your Table
The contemporary decor is quite unlike budget-friendly seafood restaurants. And I was pleasantly surprised with the thought gone behind the quaint ambience. Despite the heavy rains, there were two other families who came all the way to dine at this only-Mangalorean food serving restaurant.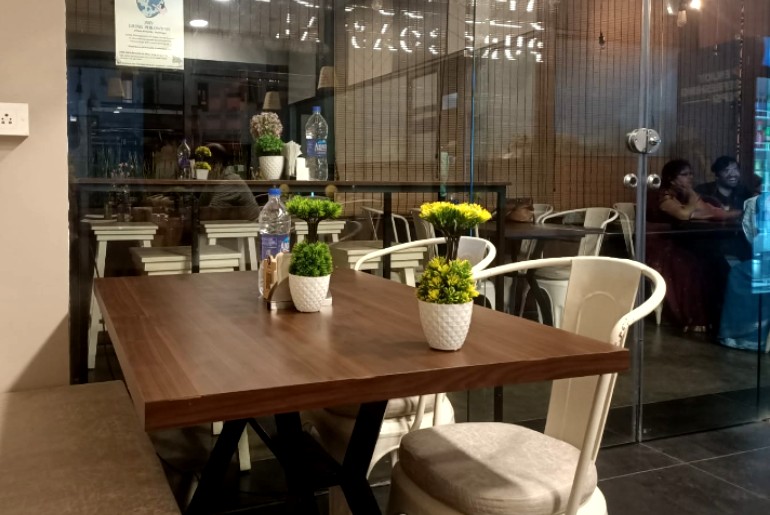 Start Your Meal With The Mangalore Special 'Taza'
At the suggestion of the staff, we started our meal with the refreshing cold drink, Taza. This bottle of fresh lime soda is sourced from the coastal city of Mangalore. It's refreshing and has a spunky taste. When it comes to the menu, Seegadi is a no-nonsense seafood restaurant. The menu is limited offering only seafood delicacies from Mangalore. So, if you're expecting North Indian or Chinese cuisines, this is not the place. Moreover, there are few vegetarian options but it's a paradise for seafood and meat lovers.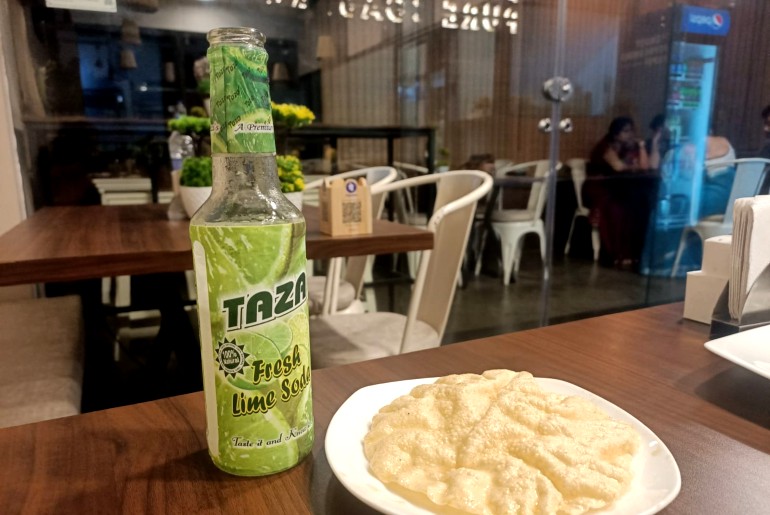 Also Read: The Toddy House In Mangalore Serves Refreshing Varieties Of Toddy 
Prawn Ghee Roast, Rava Fish Fry, Chicken Thali & More
Coming straight to the highlight of Seegadi, my family and I ordered a plate of Rava Fry Silver Fish and Rava Fry Anjal as starters. The fish starters were fried to perfection. They had a crispy semolina coating with a lovely hint of spices. It went well with the Taza. For mains, we ordered Prawn Ghee Roast, Neer Dosa, Lady Fish Curry with Boiled Rice and Chicken Thali.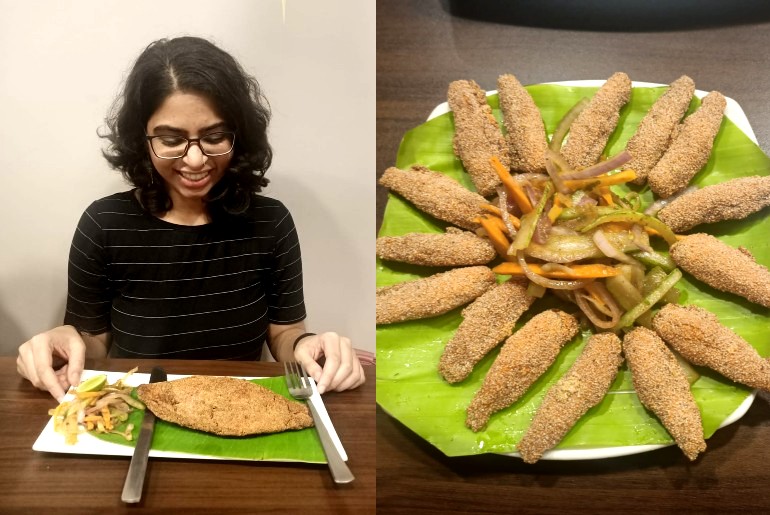 Also Read: This Mangalorean Dish Has A Secret Recipe Like Coca-Cola; Only 2 People Know It
Devour Pocket-Friendly Mangalorean Thalis
The seafood delicacies were the first to arrive. The Prawn Ghee Roast was spicy and had a lovely aroma of ghee. Scoop it with a piece of fluffy Neer Dosa and you'd get transported to the traditional humble eateries in Mangalore. The Lady Fish or Kane Curry infused with coconut milk and spices had a comforting homely taste. I had it with the wholesome boiled rice and it tasted lovely. While there were only two pieces of Kane, the gravy was served in a large quantity. And it was so good, that I had no complaints.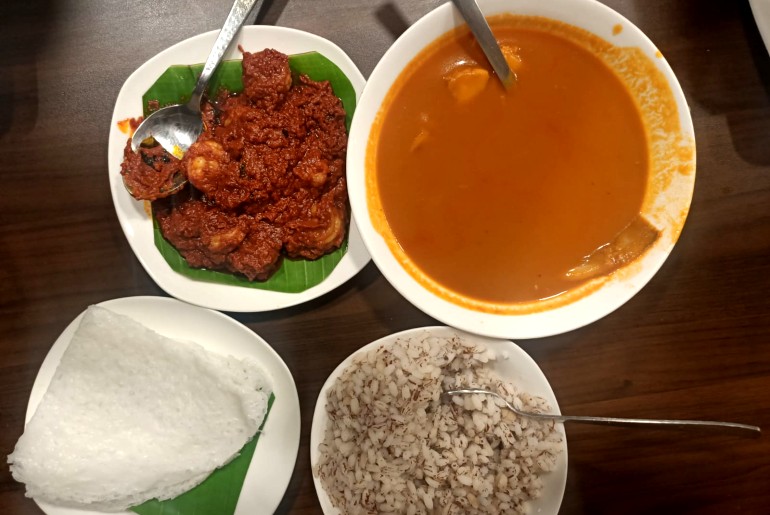 Also Read: 10 Best Rooftop Restaurants In Bangalore To Dine Under The Stars
The Chicken Thali was the last to arrive. We did have to wait a little longer for it. Nevertheless, it was a feast fit for the kings. Priced at ₹180 the thali consisted of Chicken Koliwada, Chicken Sukka, Chicken Curry, Veg Palya, White Rice, Rasam, Sandige, Neer Dosa and Butter Milk. The quantity was fit for two people, thanks to large portions of the Chicken Curry and Rice. It's truly a steal. The Chicken dishes were prepared in a coastal, Mangalorean style.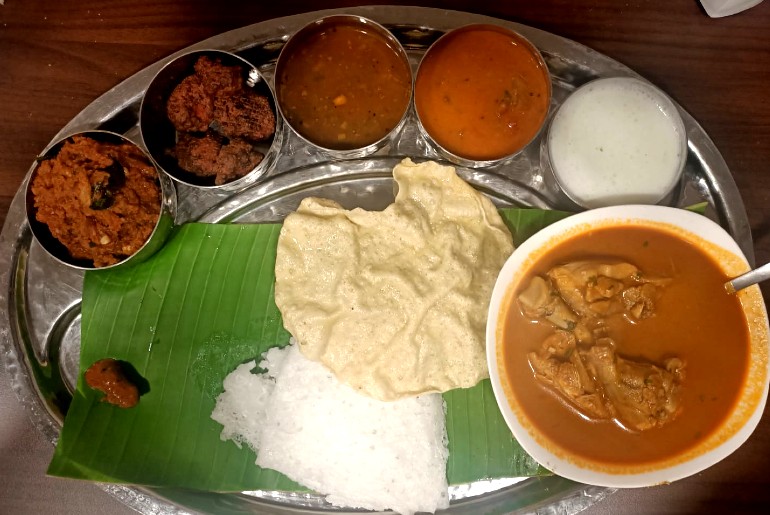 Also Read: 6 Best Vegetarian Restaurants In Bangalore You Must Try For A Soul Satisfying Meal
Large Portions Of Food At Great Prices
The Chicken Koliwada, which resembled small chicken pakoras were crispy. The Chicken Sukka prepared with coconut tasted amazing and the curry yet again had a homely feel to it. We relished every dish and were truly impressed by both the quantity and quality. It's not often that we come across authentic Mangalorean seafood restaurants that have dishes priced within a reasonable budget.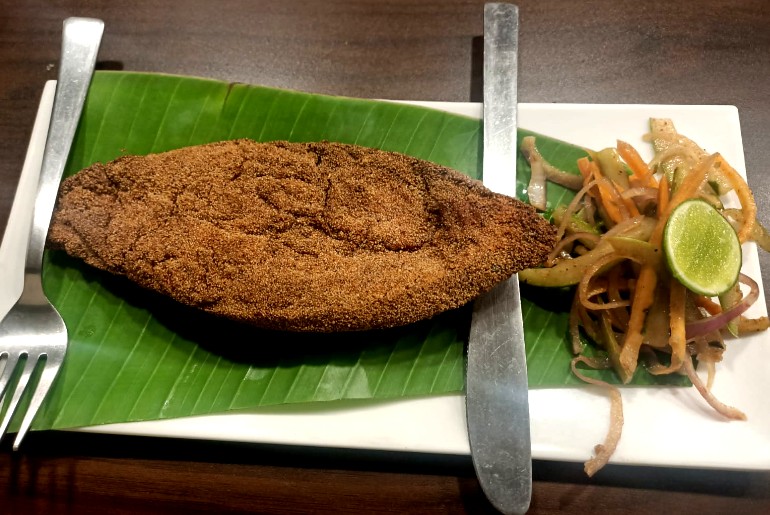 Also Read: 10 Best Buffet Restaurants In Bangalore With A Lip-Smacking Selection Of Dishes
Overall, I'd like to say, if you're a seafood fan or someone craving Mangalorean food, then I suggest you visit Seegadi. The name means "stove" and I can vouch that they prepare fresh seafood dishes and serve it straight out of the stove. Sitting right in the heart of Bangalore, you can travel to the calming beaches of Mangalore thanks to Seegadi's preparations. I'd suggest you definitely visit Seegadi on a rainy Bangalore evening, to enhance your dining experience.
Address: Seegadi Pure Coastal, 34/1, 36th Cross, 6th Main, 4th Block, Jayanagar, Bangalore
Timings: 12 pm to  3:30 pm and 7 pm to 11 pm ( Closed on Mondays)
Cost: ₹600 for two people approximately
Contact: +918296121180