Shillongites were thrilled as Vir Das, the renowned stand-up comedian, graced the city with his presence during the weekend. As part of the Wanted Tour, Vir Das performed in Kolkata, Guwahati and ended his memorable trip with Shillong. While in the city, Vir Das shared glimpses of his picture-perfect stay and even the Shillong cafes he visited in the city. Although he didn't mention the location of his stay, Vir Das shared an extended video story of the same & gave his fans a quick tour of the property.
Vir Das: Oh Shillong! I Am So Happy We Came Here For A Show
As Vir Das gave a quick tour of his extensive space during the stay, he sounded mesmerized by the property's majestic and luscious green ambience. He said, 'Oh Shillong! I Am So Happy We Came Here For A Show.' We are sure the city's views and beauty spellbound Vir Das. Following his property tour, Vir Das also shared a photograph from one of the famous cafes in Shilong, The Dylan's Cafe, which hosts most travellers from India and abroad.
Take a look –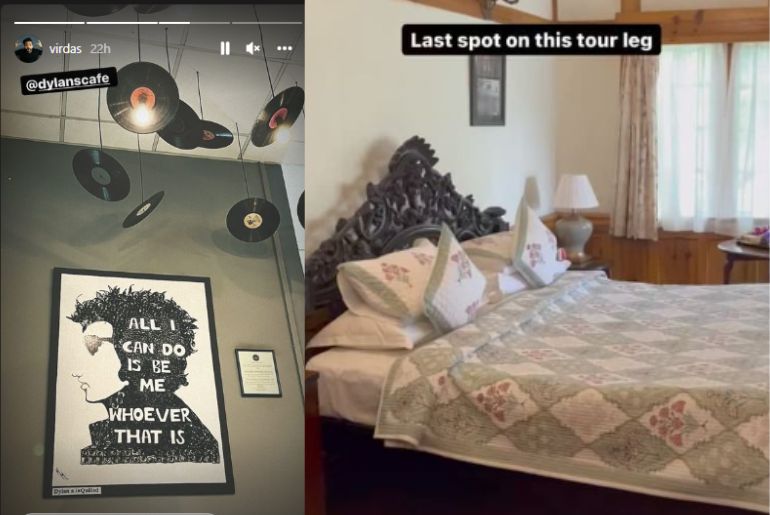 Shillong is known for its scenic landscapes, forests, waterfalls, natural bridges and the fascinating stories surrounding them. Well, not only does it offer the most heavenly visual experiences, but it is known for its hippie cafes and food joints. While visiting them, you are not only signing up for good food but a wholesome musical or poetic entertainment too. Well, take a look at Dylan's Cafe in Shilong that Vir Das recently visited and get ready to be dazzled.
View this post on Instagram
Also Read – 5 Instagram-Worthy Cafes In Shillong You Must Hit When In Town 
Performs At The Evening Club In Shillong
Vir Das's Wanted Tour performance venue in Shillong is an interesting one where audiences unite to watch shows and musical performances over great food and drinks. You will love fall in love with the ambience that the restaurant offers, and even on the most typical days, you will come across LIVE music performances in the restaurant.
Here's a snippet Vir Das shared from his Wanted Tour performance in Shillong:
View this post on Instagram
Also Read – Shillong In Northeast India Has Dreamy White Wedding Locations