Narrow lanes of Chandni Chowk are famous for its street food joints that allure visitors with their irresistible aroma and colourful appearance. Most of these iconic shops have been around for more than 25 years, some are even more than a 100 year old. People come from far off places to try the delicacies of Old Delhi on various occasions. We recently went to see if these shops that are known to sell the best food in the city, are really worth the hype or overhyped. Come on, let's show you the truth.
1. Pandit Ved Prakash Lemon Wale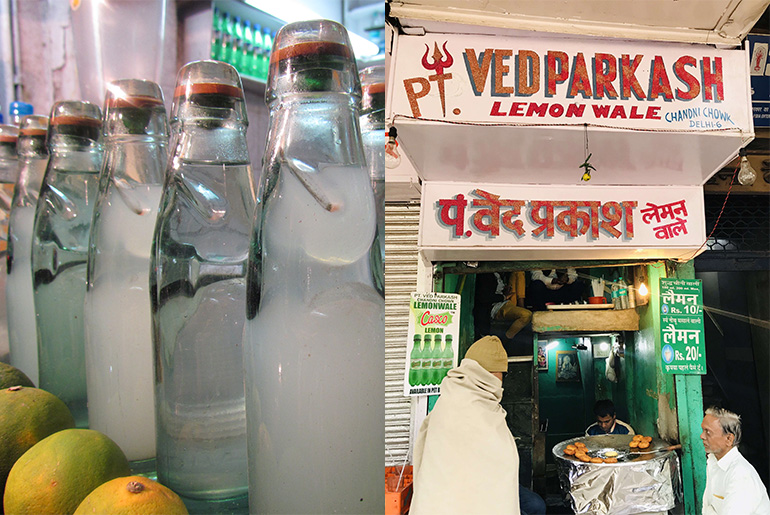 Also read: 5 Of Delhis Most Popular Street Foods
Located in the busy streets of Chandni Chowk, the Masala Shikanji of Pandit Ved Prakash Lemonwale comes to every shopper's rescue on a hot summer day. They are the oldest and most popular 'lemon wale' in Delhi. It's the 7th generation of the family that is running this shop now They claim that people from all over the world come to try their drink. They are also mentioned in tourist guides and food brochures. We knew for a fact that their shikanji is not overpriced, but we went to see if it's overhyped.
It's a small takeaway joint serving various types of lemonade like Lemon soda, Masala shikanji, Nimbu lemon and even lassi. They used to serve these in Kulhad earlier, but now they have started using the disposable glasses as most of the people come in hurry now. Everything from their lemon masala to the lemon water is produced by them, so we thought that their masala must have a different flavor. But it had an ordinary taste. The shikanji was definitely refreshing but there was nothing extraordinary in its taste.
Cost: ₹25/-
Verdict: Overhyped
2. Chaina Ram Sindhi Confectioners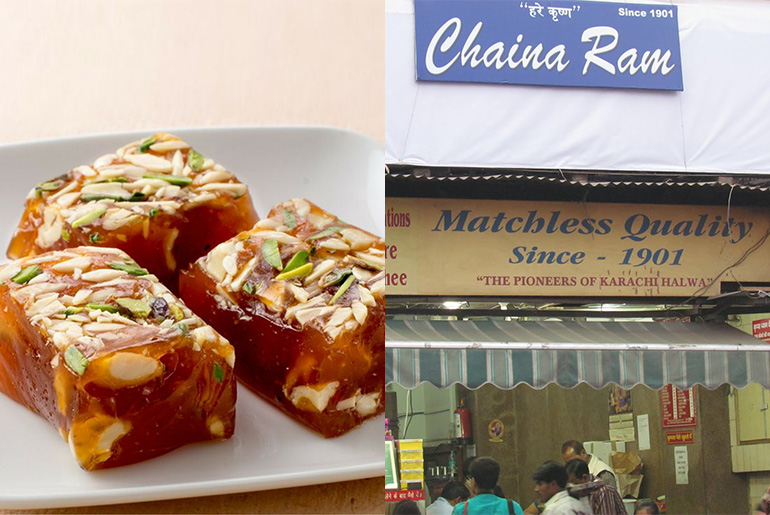 When talking about the oldest shops of Chandni Chowk, one can never miss this 118 year old shop selling the best of Delhi's sweets. Chaina Ram is a name that is known to every person in Delhi who has a sweet tooth. They are known for their varieties in traditional Indian sweets. But among all the sweets, they are best known for their tastiest 'Karachi Halwa'.
It's said that they are the ones who brought this rich dry fruit loaded sweet in Delhi. When we went on to try it, we were impressed by its taste. It's not any usual sweet. You have to chew it way too much like a bubblegum but the taste is truly admirable. Chaina Ram makes Karachi Halwa in three variants- Kaju (cashew), Badam (almond) and Pista (pistachio).
Cost: ₹950/Kg
Verdict: Worth the hype
3. Hot Chimney
Also read: Chandni Chowk Desi Breakfast Thali
Chandni Chowk has many small food joints serving some hot and tasty dishes. One of such stall is Hot Chimney that is located in Katra Lehswan, Chandni Chowk. This shop is known to sell Paneer Tikka and Soya Chaap. They also serve Rajma Rice, Kadhi Rice, Afghani Chaap and Mushroom Tikka. This place is not too old but it's become popular with time for its tangy food items. There's no seating available here. But it's always flooded with people.
We tried their famous Soya Chaap. It was not a huge disappointment but it didn't impress much either. The food is cooked in front of you. You can watch the grills on which the paneer tikka and chaap are placed. A plate of soya chaap has mint chutney with onion rings, the quantity is good according to its price. But the chaap was bit overcooked and hence, difficult to eat. Talking about the spices, it was perfectly spicy. We liked the masala used in it but we feel if it could be a bit more creamy, then it would've tasted a lot better.
Cost: ₹100/plate
Verdict: Overhyped
4. Old Famous Jalebi Wala
This jalebi shop in Old Delhi, aptly named, 'Old Famous Jalebi Wala', has been around since 1884; having been in operation for the past four generations of the family now. They are enormously famous for the piping hot, thick and juicy, freshly made jalebis that they offer. These jalebis are fried in desi ghee. Their USP is that they use desi khandsari sugar for making the syrup instead of regular sugar. The view of the jalebis being made is a visual delight as it is done live in front of your eyes.
Talking about the size, their jalebis are as big as your face. Their jalebis are not too sugary and that's the best thing about it. You can always see people swarming at this tiny corner shop in Dariba Kalan. They also sell jalebi with rabdi which is loved by people. You can have their garma-garam jalebi with or without rabdi.
Cost: ₹50/piece
₹75/piece (with rabdi)
Verdict: Worth the hype
5. Gupta Ji's Pav Bhaji
Also read: A Mother-Son Duo Is Selling Delish Chaat In Chandni Chowk
Just ten minutes away from Chandni Chowk, Gupta Ji's Pav Bhaji is one of the most popular places in Daryaganj. Having started as a tiny nook on Ansari Road, Darya Ganj years ago, Gupta Ji's pav bhaji has come a long way. They have been selling these pav bhaji for the last 25 years. As the name suggests, they just serve pav bhaji in Bombay style. Their famous one is Butter special pav bhaji in which they use a full sachet of amul butter. Like every Delhiite, we are a huge fan of this dish so how could we not try the pav bhaji at this iconic shop?
They serve pav bhaji with mint chutney and loads of onion. It's a small shop so you can literally see them preparing it. We went there excitedly but it came as a disappointment. We couldn't feel the spices in the bhaji as it was almost bland. So if you are someone who loves spicy food, you'd probably won't like it either. The pav too was over cooked that made it bit hard. We liked the mint chutney, it had a tangy taste. In all, this famous pav bhaji joint didn't live up to its expectations and hype.
Cost: ₹80/plate
Verdict: Overhyped
Some of the places in our list proved to be overhyped, but Chandni Chowk still has the best of food options in all over Delhi. Chandni Chowk has a feel that no other area in Delhi has. After all, it's DELHI-6 right? There maybe few shops that are not worth the hype, but there are many shops that deserve all the applause for its food quality and taste.
So when you're in Chandni Chowk and making a list of places to go eat at, you can simply refer to this guide.