It started with ghost planes, and then soon bustling airports turned into ghost towns. The entire travel industry, especially, aviation has been massively hit by the Covid-19 pandemic. Globally, it has left the airline industry cash-strapped which has not only resulted in debt-ridden companies but has also led to closures of some. As the fight for survival continues, what does the future have in store? We spoke to industry leaders from Vistara, Wadia Group, referred to aviation firms' analysis and information by credit rating agencies; and here's what they revealed.   
An Impact Worse Than 9/11 Attack
According to CAPA India, an aviation consulate firm, the global aviation activity has seen a decline of 66.8% in the last one month. They further go on to state that most of the Indian airline models do not have a strong structure to deal with regular disturbances, fuel hikes; so, this once in a lifetime scenario of COVID-19 would have definitely come across as a shock. "Before all of this, the aviation industry in India, even with 85% capacity wasn't in the pink of health, so there is going to be financial burden," said Mr. Vinod Kannan, CCO, Vistara.
Various researchers and industry experts have classified this period and its impact on the industry (and the complete travel sector) as worse than the 9/11 attacks. Many are jobless, aircraft fleets are grounded, there are exponential amounts of salary cuts and per day losses are amounting to crores.
Aviation Industry Losing Over ₹75 – ₹90crore Daily
Post the lockdown, the Indian aviation industry is losing almost ₹75 – ₹90crore on a daily basis. This assessment was presented by ICRA, a banking and credit rating agency.
There has been an overall loss of $3.3- 3.6 billion, that has been incurred by the Indian aviation sector, which includes, airports, airlines and ground handling agencies during the period of April – June 2020. According to the International Air Transport Association, airlines globally can lose in passenger revenues of up to $113 billion due to this crisis. 
The Battle Of Survival
Virgin Australia, Air Mauritius and four subsidiaries of Norwegian have already filed bankruptcy. Not just that; Virgin Atlantic owner Richard Branson is also currently trying to keep the airline afloat. Popular airlines like Air France, KLM and Lufthansa have also filed request to obtain multi-billion Euro loans from the government in order see this troublesome phase through.
Amid all this, another deal fell out which further highlighted the effect of the global pandemic on the aviation industry. The world's largest aerospace company, Boeing, recently terminated a $4.2 billion deal with the Brazilian aerospace manufacturer Embraer. Speculations persist that the instability that has hit the aviation industry could have possibly led one of the biggest manufacturers of commercial jetliners cash-strapped.
Also read: Hong Kong Airport Starts Trial With Cleaning Robots, Disinfection Booth To Deal With Coronavirus
With increase in the number of aircrafts in its fleet, acquisitions, new routes, it seemed like the aviation industry, not only in India, but globally was gearing up to announce a record year. But now, it seems like they are trying their best to stay afloat and fight for survival.
The Revival
Once the flights resume, it is expected that major part of the aviation industry will start with domestic sector; because with international other countries come into play. Operations will largely depend on rules and regulations with respect to every airport and every city. From operating at 50% capacity, to scaling back, the number of counters that will be allowed to remain open and most importantly, how the demand operates. "Taking into consideration the regulatory, commercial, operational and financial aspects of it, restarting will be a process. It's very unlikely that we will start all our operations on Day 1. This for the entire industry will be a phased increase and it will take months to reach 100% capacity," said Mr. Kannan. 
"The business post lockdown depends on two things: demand and the actual fare collected. Even if we price the fare at 30% more, that means from a financial perspective we are kind of compensated. But it's too early days and we can't say what route will it take," he emphasised. 
How the business resumes will depend on the pricing functions and how the market reacts. According to reports, it is suggested that there is a possibility that many airlines around Asia are expected to go the low-cost carrier way and charge for everything, from seat preferences to meals to baggage; despite having an 'all-inclusive fare trend'. "Pricing is a function of how the market reacts. We will not go down the road of splitting up everything like a low-cost carrier would. However, yes, there will be cases where we will have to take cue from the market as far as cost of tickets is concerned," Mr. Kannan added.
CAPA India estimates that Indian carriers will require a domestic fleet of around 300-325 aircraft from Oct-2020 onwards, and an international fleet of 100-125 aircraft. The total fleet size of 400-450 aircraft would still mean that the current fleet of 650 represents a surplus of 200-250 aircraft for a period of 6-12 months.
Social Distancing Shall Persist
According to analytics firm Cirium, airline companies are expected to slash their seating capacity almost by 70%. In order to maintain social distancing on planes, the concept of ghost seats will be introduced. This means that the middle seat in each row will not be booked. This is one way to assure physical distancing, even though it doesn't really adhere to the social distancing norms. "Operating at less than 60-67% capacity as opposed to 100% is definitely going to be challenging for all airlines. If due to these social distancing measure, if we are to block our seats, then we will take much longer time to recover, and the ramping up of capacity will take much longer," said  Mr. Kannan.
There are going to be numerous other ways to ensure that in-flight safety of crew and passengers. AirAsia Philippines, which is expected to resume operations in May has already come up with PPE inspired uniforms. Once the flights start operating again, the crew will sport PPE boiler suits along with matching medical masks, disposable gloves and protective visors.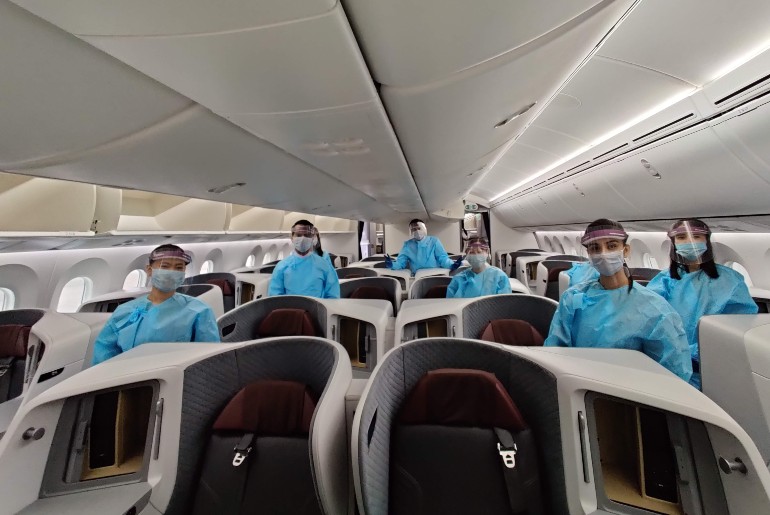 Pre-lockdown, the cabin crew and pilots of Indian airline companies had already started adhering to numerous measures to ensure in-flight safety. From using face mask and gloves, to putting sanitisers in the lavatory, numerous precautions were being taken. Given the current scenario, it is expected that there will now be a limitation in the in-flight services as well. This could range from meals and refreshments available on board to use of lavatory by passengers.
Also read: Vande Bharat Mission Begins: 64 Flights To Bring Back Nearly 15,000 Indians Stranded Abroad
After every sector, the cabins are often cleaned. In a post-Covid scenario, there is a high possibility that they would have to be sanitised. This process usually ends up affecting the turn-around time of a flight, and as to how many sectors can be done during the allotted operational hours. With minimum contact procedures and health guidelines to follow, it will require the airline companies to adhere to norms in order to be functional.
Ticket Refunds And Pre-Bookings
One of the first things that comes to the mind of travellers when a flight gets cancelled is refund. It was the same scenario when the nation-wide lockdown was announced. For flights that did not operate or were cancelled during this time, while some issued refunds, others converted the amount into credit coupons that are valid upto a year.
Despite the DGCA insisting that airline companies should suspend bookings, SpiceJet and GoAir is allowing people to book their flights from May 16, Vistara is taking bookings from June 1 onward. "At this point of time, we have taken this approach as to what we believe would be an expected start date. Yes, the fact remains that we are expecting some kind of clarity from the govt., which we, too, had requested from the Ministry of Civil Aviation. Even though we have opened the bookings, the take up from passengers is not that great because people are confused and not sure about how things are going to pan out," said Mr. Kannan. "We, however, will be guided by what the ministry tells us."
In fact, the airline companies are offering quite attractive fares to woo the customers to book tickets. One-way tickets to metro cities are being sold for ₹2,500 onward, which seems like a pretty good bargain at this point of time. However, the question remains that while the tickets might be available, would the flights start operating anytime soon. If not, these pre-bookings will get converted in credit shells.
Also read: You Might Now Have To Pay As High As ₹10,000 For Air Travel Between Delhi To Mumbai
The lockdown months, April – August are considered to be most crucial for international travel. People would book their tickets almost 6-12 months in advance because of great deals offered. Short trips over long weekends and pre-planned holidays would mostly come into effect during this time of the year. "GoAir's inflight magazine, the Go Getter had a cover story earlier this year, that highlighted all the long weekends this year. And now, it is of no use," said Mr. Bakul Gala, Vice President, Corporate Communications at Wadia Group (GoAir, Bombay Realty and Bombay Dyeing). "There is a possibility that we might not even operate flights to international sectors this year," he added.
Pattern Of Passengers
 The travel industry is going through probably, what is expected to be, one of the most difficult phases at this point of time. While its revival depends on the bans being lifted, it's survival depends on the consumers and the future pattern of travellers.
"From customer point of view, not many people are going to be adventurous. Given the pay cuts and the fact that many are on the verge of unemployment, they would want to save money. They will become frugal. So with steep prices, would they really want to book a ticket and take the first flight out?" said Mr. Gala.
"According to the data released by Ministry of Civil Aviation, the first of the passengers who would want to book their flights, will be those who are stuck at places  and just want to get home at any cost," he added. But that's not all that needs to be considered by the passenger.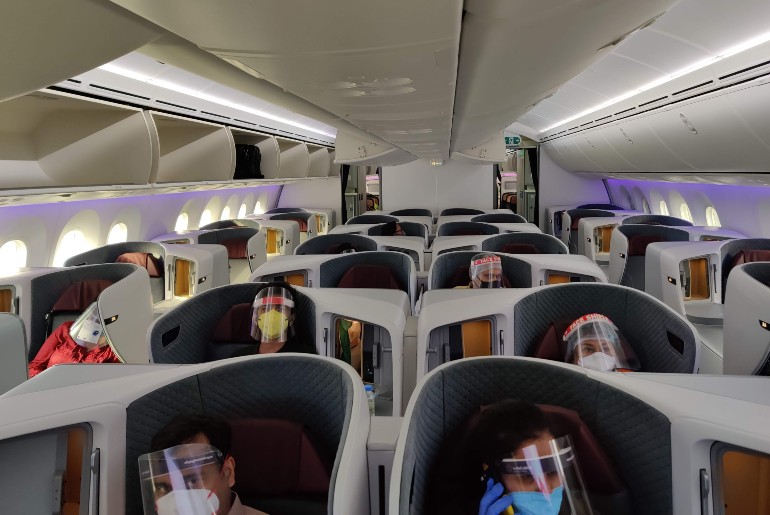 Social distancing at airports, sanitising booths and time-consuming check-ins, might make the whole process of flying out to another destination quite a hassle. With higher fares, fewer routes, less in-flight options, eerily quiet airports, numerous health check-ups; is the Indian flyer geared up to face this situation? 
Also read: Could SLO-MO Be The New Travel Trend To Explore The World?
Is there also a possibility, that taking a plane to another destination might just become the last resort, as opposed to it initially being the first choice. "If the trains start to operate, if the borders open, would people really want to opt for air travel unless absolutely necessary. It will be just like old times, when we would pack up our meals for a two-day train journey to our grandmother's house and spend a month at one place. They might prefer to take road trips. Yes, it might take more time, but will be less cumbersome than the ordeal of long queues at the airport," he further added.
According to research, international travel is not expected to resume for Indians for at least 6-8 months. While it might have to do a bit with choice, a lot of it will also have to do with travel bans in other countries; along with the measures being taken and the numerous health check-ups that will be done, before you actually get the opportunity to check-in to your hotel and step out for the beach. And what if by the time you land at your holiday destination, and you have slight temperature? Would you be sent back, or sent into quarantine? Is that the risk that the Indian passenger is willing to take at this point of time?
Ready To Soar 
Yes, these are tough times. But not just for the aviation industry, but for the entire world. Many have hit rock bottom, and some are still struggling to find their way back up. We will travel again. We will stare out of the window from 30,000ft and have that coffee at airport and spend some time at the Duty Free. Maybe, not in the next two months, or three months; but hopefully in the next six months. Until then, let's keep wearing our seat belts till the time the lockdown sign is on and brave through the turbulent weather, together.