The best part about festivals are the lavish food spreads. We all love it, don't we? And it's that time of the year again, where you don't have to find any excuses to try some of the most delicious dishes from South Indian cuisine. So, if you want to head out to try a piece of tradition (literally), fret not; these five places in Delhi NCR will make you feel right at home with delicious Onam meals and Sadya platters.
1. Mahabelly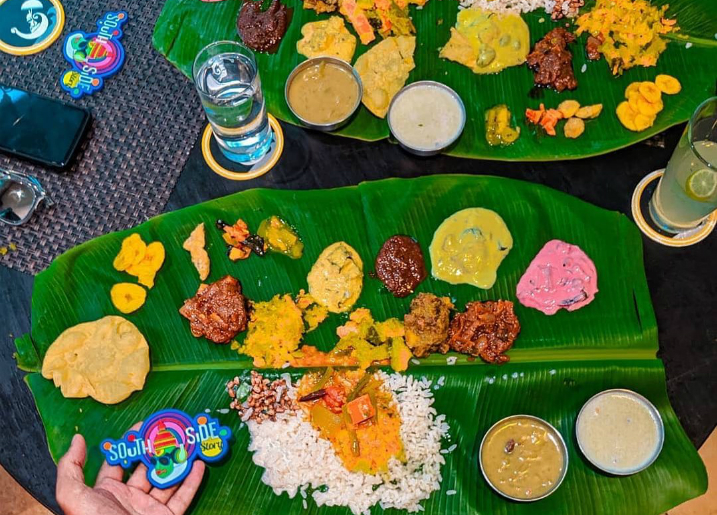 One of the most popular restaurant in the city, Mahabelly goes a step extra to make sure that you savour every bite of the Onam meal served. Specialising Malabari and South Indian cuisine, they are offering over 20 traditional dishes like shankara peratti, inji curry and beetroot pachadi on banana leaves. Even if you don't celebrate the festival, but are a foodie like we are, then you can visit the restaurant for lunch and dinner.
Location: Ground DLF Place Shop No. MA05, Mandir Marg, Saket, New Delhi
Cost: Rs 888 (onward)
Also read: 8 Best Places To Enjoy Onam Sadhya In Bangalore
2. Dakshin
If this Onam calls for an extra touch or special celebrations, then you can be assured that Dakshin in Sheraton is the place to be at. The chef has gone overboard to curate a celebratory thali with a spread that offers dishes like pazham parichatu, avial, pyre thoran, olan, thenga palsaadam, adai pradhaman and more. And keeping up with the tradition, the meal will be served on a banana leaf. 
Location: Saket District Centre, District Centre, Sector 6, Pushp Vihar, New Delhi
Cost: Rs 1650 (onward)
3. Hotel Malabar 
Located in New Friends Colony, Hotel Malabar has been a favourite for those who like coastal cuisine under the budget. This year, they are offering a scrumptious Onam meal platter that has over 20 savoury and sweet dishes like sambar, olan, payasam and much more, which will be served to you on a banana leaf.
Location: A-37A, Sarai Juliana, New friends Colony, Okhla, New Delhi
Cost: Rs 300 (onward)
Also read: 5 Reasons Why Onam Sadhya Is Served On A Banana Leaf
4. Zambar
Zambar has gone a step further to give its customers an experience of a wide and traditional spread. They are offering an array of 26 dishes as part of their Onam meal spread which includes pickles, chutneys, chips and dessert. Other accompaniments include avial, which is a mixed vegetable curry in coconut gravy, kootu curry, that is made from yam, chickpeas, raw banana and parippu, which is a moong dal preparation.
Location: 3rd Floor, Ambience Mall, DLF Phase 3, Sector 24, Gurugram
Cost: Rs 999 (onward)
5. Kerala Café 
This tiny restaurant in Mayur Vihar is quite famous for its traditional food and often has customers flocking for its Onam meals. This year, they will be serving an elaborate menu of over 22 dishes, which will include pulissery, manga curry and chips. If you are from East Delhi and don't feel like travelling an extra mile, don't worry; we found you something right next door!
Location: A-18,1st Floor,Shop No.4-5, Block B, Acharya Niketan, Mayur Vihar, New Delhi
Cost: Rs 350 (onward)