Delhi is the hub for different cuisines, be it the usual street style food or exquisite restaurant food, you will find everything here. Therefore, Delhi is your place to be if you are a foodie. So if we tell you about this Delhi Eatery, which offers India's biggest seekh kebab, you won't be surprised. This seekh kebab 40-inch long is a classic platter you'll find in a Persian restaurant, Nooshe Joon, at Lajpat Nagar.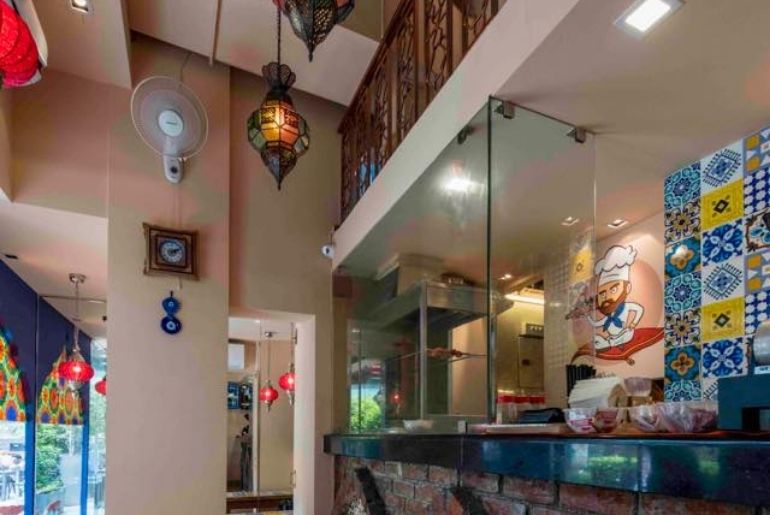 India's Biggest, 40-inch Seekh Kebab
Nooshe Joon offers three types of kebabs on their 40-inch kebab platter with rice, salads and different chutneys. Their portions are appropriate, and you'll love to go in a group there and relish their platters. The ambience is beautiful with a classic touch that says relax while eating. It has an apt aura to try the Biggest Seekh Kebab with your family and friends.
Also Read: Order Hara Bhara Kebab, Murgh Tangdi Kebab & More From These 6 Kebab Joints In Delhi NCR
Where To Find India's Biggest Seekh Kebab?
Located in Lajpat Nagar 2, New Delhi, Nooshe Joon is an Afghani/ Persian eatery which serves tasteful Iranian, Afghani and Uzbeki Kebabs – Kubedeh Kebab, Mutton Choppan Kebab, and Lamb Koobideh, Saffron rice, and different other platters. The restaurant is run by a Sikh gentleman who grew up in Iran. Lajpal Singh Anand, later with his son, Daanesh Singh Anand, share their skillfully cooked delicacies with their visitors. If you wish to experience a wholesome dining experience and love your food non-spicy yet flavourful, this place must be your place to visit!
Also Read: Sabalan Is Serving Longest Kebab In Mumbai And It's Worth Every Penny
Meanwhile, watch these incredible Iranian kebabs that you must try when in Dubai:
Also Read: Kake Da Hotel In Delhi Serves The Best Rogan Josh & Chicken Seekh Kebabs