The pandemic phase has indeed given way to a good number of engaging stories, which, if put together, can be compiled into an interesting book. And many of these stories are about the migrant workers, who've been stranded in various parts of the cities amid lockdown. We've come across some unusual stories about these workers that will touch your hearts for sure. From selling goats to boarding a flight for the first time, this is how some of these migrant workers are now reaching homes. Read on to know more!
Mushroom Farmer Books Flight Tickets Worth ₹68000 For His Migrant Workers
At first, let's begin with the story of Pappan Gehlot, a mushroom farmer in Delhi. Gehlot, who has been in the farming business since 1993, booked flight tickets worth ₹68000 to send 10 migrant workers home. These workers had been working under him for a period of about 20 years. Apart from that. he also gave each worker an extra ₹3,000 so that they do not face difficulties after reaching their hometowns. His workers were overwhelmed by his kind act. Boarding a flight was like a dream come true for many of them.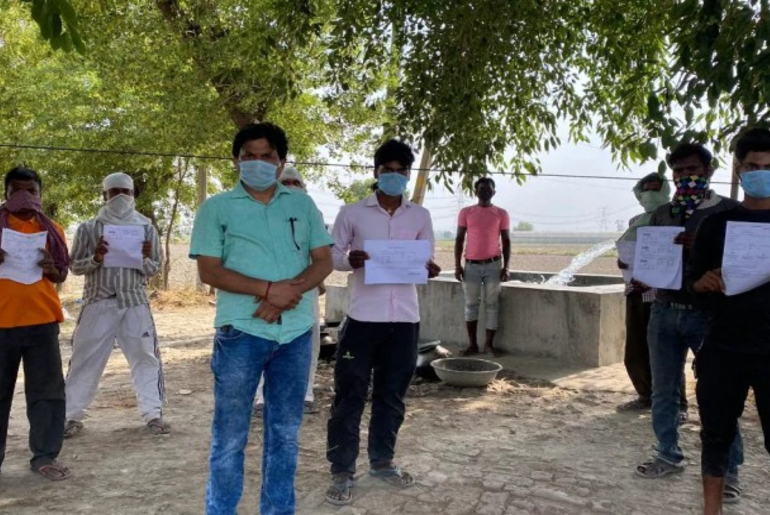 Also Read: Lucknow's Famous Wahid Biryani Makes Veg Food For The First Time In 65 Years To Feed Migrants
Three Labourers Sell Goats To Buy Flight Tickets
Three labourers, Sona Mullah, Raheema Khatun and Farid Mullah, had sold their goats and a gold ring to borrow money and buy air tickets. The three of them hail from West Bengal's Murshidabad district and they have been working in Mumbai for more than a decade. They had managed to book the flights though, but fortune wasn't much on their side initially. Sona, Raheema and Farid had paid a total of ₹2,000 to reach the airport on 25th May, only to realize that their flight had been cancelled. The issue was addressed on Twitter and coming to know about their plight, IndiGo had rearranged their flight on 28th May. However, since the workers insisted that they need to travel on 1st June, the airline has now made arrangements accordingly.
This has been resolved. Th e airline had to cancil because of the restrictions by the concerned state government. Now the passengers have been accommodated on the first available flight.

— Hardeep Singh Puri (@HardeepSPuri) May 26, 2020
Also Read: Agra Police Offers Shoes To Migrant Workers
Actor Sonu Sood Books A Chartered Flight For 150 Women Labourers
Actor Sonu Sood has already been in the headlines for helping out thousands of migrant workers reach home under the 'Ghar Bhejo' campaign. His breathtaking initiative to provide relief to these migrant workers during these trying times proved that he is a hero, not only on screen but in real life too. The actor has also provided food and shelter to nearly 45,000 workers. His team is also taking requests for assistance through toll-free number 18001213711. The Governor of Maharashtra praised his kind act and chef Vikas Khanna even named a dish 'Moga' after his birthplace. Recently, he had arranged a chartered flight too to send nearly 150 women labourers to Odisha from Kerala.
Also Read: Chef Vikas Khanna Names Dish 'Moga' After Sonu Sood's Hometown
The lockdown had been a very tough phase for the migrant workers. Initially, when the lockdown was announced after 22nd March 2020, many migrant labourers had to walk several kilometres on foot to reach their homes. Some airlines had also provided special flights for transporting these migrants home. Indian Railways also arranged more than 3500 Shramik special trains for them. The Agra police offered shoes to the workers who were walking barefoot in the scorching heat. Kudos to all the Good Samaritans who've given a helping hand to these migrants at the time of crisis!