For all science lovers and enthusiasts, Science City, Kolkata, can be a perfect day-out spot. If science is not your cup of tea and innovations do not excite you much, the park has a total area of 107 hectares—so just stroll around!
Science City Kolkata: Museums & Parks
National Council of Science Museums inaugurated Science City on 1st July 1997. The main ambition was to motivate kids and young learners in discovering the different prospects of science. Presently, it is one of the most notable tourist spots of Kolkata, frequented by locals, and national and international travellers.
Also Read: Top 8 Things To Do In Kolkata In 2020
Top 10 Attractions Of Science City Kolkata
1. Earth Exploration Hall
The earth-shaped building, the site of a permanent exhibition on earth, is itself an architectural wonder. The gates first opened for visitors on 6th December 2008. The two-storied hemispherical building of 25 diameters exhibits the southern hemisphere on the ground floor and the northern one on the second. For children learning the basics of geographical science, it can be a fun learning site outside the classroom.
2. Space Odyssey
There has been a brief period in all our lives when we wanted to become space scientists. In reality, only very few of us actually got to become one. But visiting this space-themed museum in science city can very well be a trip down memory lane. Be it a time machine, space theatre or 3D theatre, it has it all. Interestingly, it also has a special section dedicated to India's achievement in space.
3. Dynamotion Hall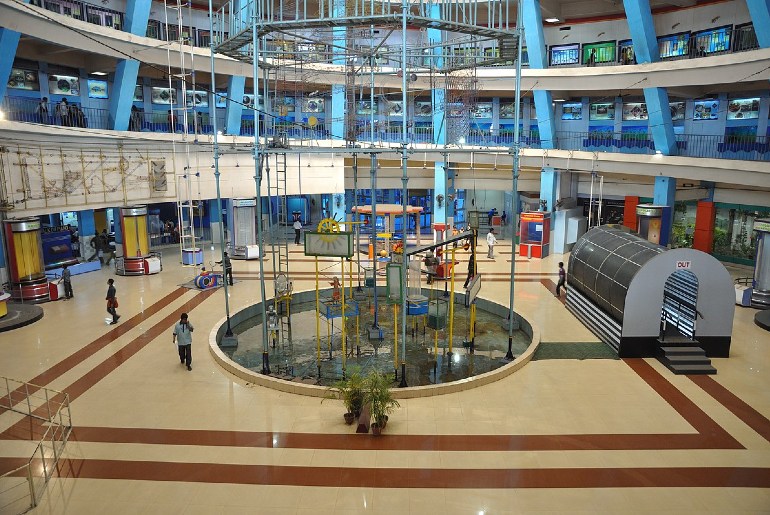 This hall is a magical building with a number of attractions.
Aquarium
Biodiversity Room
Butterfly Enclave
Physical Science Room
Nano Lab
Illusion
Power of 10
Science Show
With such a wide variety of exhibits on show, your kid is going to love it. And who knows? Maybe this time you're going to fall in love with science too if you haven't already!
Also Read: Adjacent To Kolkata, Salt Lake Has Taken Up Cafe Culture More Seriously. Try These 6 Best Cafes In Salt Lake!
4. Science Exploration Hall
For those interested in scientific exploration and in the history of scientific development, visiting this hall can be like reading a colourful encyclopaedia. The exhibits are divided into the following categories:
Interpretation Area
Evolution of life
Digital panorama on human evolution
Science & technological heritage of India
Emerging technologies
5. Maritime Centre
Do you want to know about sea creatures? Does the marine life and what goes on under the sea make you curious? The maritime centre has exhibits covering maritime history and activity. Take a stroll and brush up on your science textbook knowledge.
6. Musical Fountain
In the evening, the musical fountain becomes a light and sound show, thanks to the wonderful sync of musical symphonies, water movements and colourful lights.
7. Cable Cars
Getting to ride cable cars in the heart of the city? Yes, you read it right. To prevent the visitors from getting tired with all the walking around the park, the science city also has a cable car option as an inside transport. But we all know it's not just that. The aerial view of the city from the top and the fun of riding a cable car—it's not just boring science, Science City is ready to give you the feels of going up a merry-go-round in a fair.
8. Outdoor Science Park
This is where your kids get to run in the lush greenery and make the most of the rides. It has a children's play corner and a road train. This area is also strewn with wonderful artefacts of physical science.
9. Science on a Sphere
This allows you to take part in amazing visualization of the earth's movement and planetary data. One of the first in Eastern India, it can accommodate 70 visitors at a time. Enter and be mesmerized by the show of planetary space and beyond.
10. Corona Virus Exhibition
No, they have not forgotten the latest disaster of humankind, the great coronavirus pandemic. Now, that everything is over and we finally have the courage to look back, Science City is hosting an exhibition on Coronavirus and the greatest pandemic of our time.
Science City in Kolkata can be a great fun learning experience for both you and your kids. Situated right on the E.M. Bypass road, it is easily accessible and is awaiting your presence. So hurry up and make the most of this winter by paying it a day visit.
Cover Image Courtesy: Wikimedia Commons