Dubai's food scene might be blessed with spicy lentils, large-sized wraps and lip-smacking desserts, but nothing beats the joy of digging into a warm masala dosa- agree? The dish has moved in all directions within and finally when it landed abroad, the taste did not die either. On that note, here are five restaurants that serve the best masala dosas in dubai.
1. MTR
Dating back to 90 years, MTR has stood the test of time and serves one of the best masala dosas in Dubai. While the ambiance is nothing to boast about, the restaurant serves lip-smacking Indian tiffin like idly, dosa, upma and more. We sure cannot pick one dish that tops the list because each has a olden day flavour, treasured even today. However, frequenters rave about their masala dosas and we must agree its one of its kind. The dosas are garnsihed with a generous dollop of butter and served with sambar and coocnut chutney.
Brownie point- they serve it all in old-fashioned steel plates, keeping the legacy and tradition alive. Top your breakfast with a tumbler of strong, warm filter kapi and you'll leave happy!
Where: Mankhool, Karama
Timings: 7:30 am- 11:30 pm
Cost: AED 70 for two
Contact: 04 5260116
2.  Woodlands
With a 30-year history in the kitchen, these guys know their job and do it well too. Woodlands is a household name and when it comes to masala dosas in Dubai, the list would be incomplete without their mention. Their masala dosas are quite large, soft and filled with heaps of potato filling, tempered with turmeric and curry leaves. And it all ultimately boils to the sambar of course! Cooked with the perfect balance of spice and tanginess, the sambar lets you dig into the entire length of the dosa, without regretting it.
Where: Shop 203, S Block, Ground Floor, Karama Shopping Complex
When: 7am – 3pm, 5pm – 11pm
Cost: AED 45 for two
Contact: 04 3370253
3. Karandi's
Although the recipe to a perfect masala dosa is pretty simple, its always the balance that makes or breaks the dish. The potatoes, curry leaves, onions and turmeric powder all need to work in unison to bring out the best flavour and fortunately Karandi's gets it right all the time. The masala dosa is served with a spicy tomato chutney and that only makes your meal a one to remember. Finish with a coffee- all for just AED 11.
Where: Shop 15, Ground Floor, Mabrooka Building, Beside Reem Furnishings, Al Karama
When: 6am – 12midnight
Cost: AED 30 for two
Contact: 04 3575800
4. Mami's Illam
Karama is not the only place in town to dish out the best masala dosas in Dubai. Hop on to Discovery Gardens and you'll spot a petite eatery called Mami's Illam. True to the name, the restaurant screams all things traditional, including the authentic masala dosa. Mami special (AED 12) is an in-house speciality that's sure to remind you of your mother's crispy hot dosas.
The highlight is the spicy chutney made of tomato, onion, garlic and other things that elevate the dish to a whole new level. The chutney is smothered onto the fermented dosa, stuffed with potato filling and served with sambar. The dish is a tangy cross over of a sandwich and dosa- but totally worth it!
Where: Ground Floor, Building 6, Zen Cluster, Discovery Gardens
When:  7 am – 11:30 pm
Cost: AED 70 for two
Contact: 04 5269190
5. Veg World
If you're up for street style dosa, head to Meena Bazaar. Veg World at Bur Dubai is friendly on the pocket and whips over 22 varieties of dosas. From sada dosa to masala dosa, pav bhaji dosa, palak dosa, Schezwan spring dosa, and paneer dosa, the list is simply endless. The dosas served here are crispy golden on the outside and soft and stuffed with fillings on the inside. Whatever your pick be, we assure you this one's going to leave you craving for more.
Where: Near Dolphin Hotel, Al Hisn Street, Meena Bazaar
When: 9am – 12midnight
Cost: AED 50 for two
Contact: 04 5260630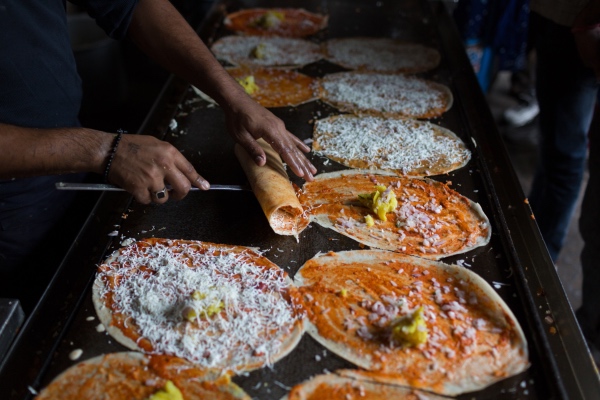 These aside, Saravana Bhavan, Bikanerwala, and Dosa Plaza are some of the other places that are famous for their masala dosas.