Have you been on a flight where a crying child ended up irritating you, perhaps, the whole flight?  Well, if you think a baby crying on a flight is the most irritating, then perhaps you haven't seen the viral video, featuring something much worse. It involves passengers on a US flight having to listen to bizarre sexual sounds. 
Sexual Sounds In US Flight
Content creator Emerson Collins shared a video on the internet which showed random moaning and groaning sounds on his flight. The sexual sound played on the flight sounded like a mix between vomiting and orgasm, as described by Emerson. He boarded a flight from Los Angeles to Dallas, and the sexual sounds continued throughout the flight.
It seemed like some prankster hacked the plane's intercom and then played out such noises. Emerson tried to capture it all in his video. And was also seen laughing over it as he explained what was happening. Not only the passengers but the staff of the airline were frustrated due to the same. 
The weirdest flight ever.
These sounds started over the intercom before takeoff and continued throughout the flight.
They couldn't stop it, and after landing still had no idea what it was. pic.twitter.com/F8lJlZHJ63

— Emerson Collins (@ActuallyEmerson) September 23, 2022
Also Read: Mumbai Airport To Suspend Flight Operations For 6 Hours On October 18
Flight Attendant Had To Make An Announcement
The weird sexual sound which was played through the plane's telecom went on throughout the journey. The flight attendant had to make an announcement on behalf of the staff asking all the passengers to be a little patient with them. She informed everyone about how they know the sound is irritating and that they are trying to fix it and turn it off.
Many people who were on the same flight shared their experience during the incident on their respective Twitter handles. The people on the internet at first could not understand whether it really happened or the intercom in the plane was hacked by some prankster. Others shared their experiences on similar incidents faced by them during their flight journey earlier.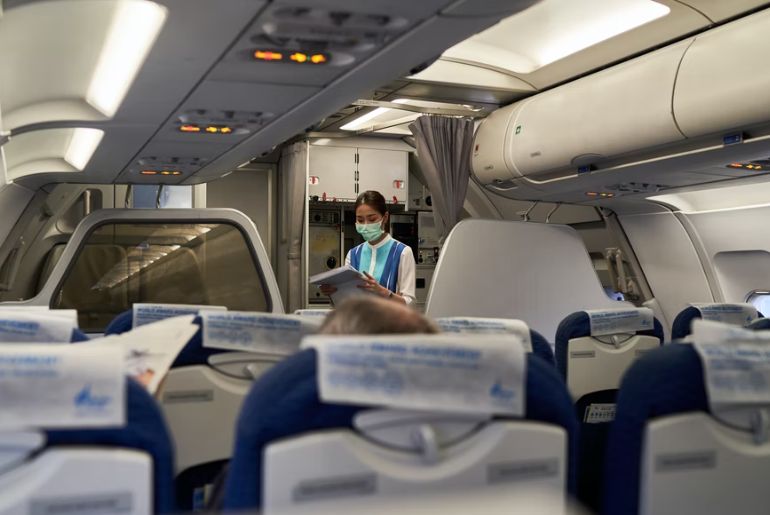 Also Read: Bizzare! Woman Climbs Armrest Mid-Flight, Hops Over To Reach Her Window Seat
What are your thoughts on this? Let us know in the comments below.
Cover Image Courtesy: Twitter/Emerson Collins