Your eyes, ears, and mind are every day bombarded with so much content. From cooking to funny videos to workout tips to vastu tips and so on. There are also some videos that fall under the viral category as they get shared multiple times. Similarly recently a video from an NGO run school went viral and we cannot get over the cuteness of the video. The video featured students of a school adding ingredients one after the other into the bowl and making bhel puri in the cutest way ever. 
Students Make Bhel Puri In School
A video from Lalji Trikamji MPS English Medium School went viral on the internet after it was uploaded on Instagram. The video featured students from second standard preparing tasty bhel puri by adding ingredients one after the other into the bowl. The teachers thought of teaching the kids the value of team building in the most innovative and cute manner. The students were holding one ingredient each and were standing in a line before a huge empty bowl. And, one after the other went on adding the ingredients like puffed rice, onion, tomato, roasted peanuts, roasted chana, coriander, lemon and salt. The student who added salt, added in the famous Salt Bae-style. He then announced that Bhel puri is ready. 
View this post on Instagram
Also Read: Lovely Professional University Offers Students A Dynamic Learning Experience
The Internet Is Melting Over This Video
The video which was posted on Instagram went viral in no time. The video has by far garnered over 10.5 million views. People cannot get enough of this cute way of preparing bhel puri and are constantly sharing it, liking it, and commenting on it. The video has received around 281K likes by far and more than 1000 comments. Apart from the students making bhel puri in a very different way, what caught people's attention is the last student who added salt. There were many comments that spoke about the boy adding salt into the dish in the Salt Bae-style. This video is surely an example of how learning can be made fun for students.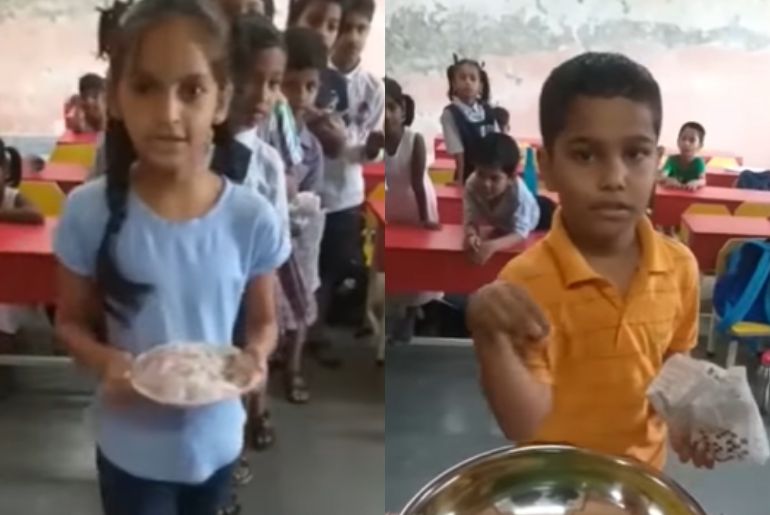 Also read: Viral Video: Not Baby Crying, Sexual Sounds In Flight Irritates Passengers
What do you think of this cute activity in school? Let us know
Cover Image Courtesy: Instagram/rjf.nagriksattamumbai