A true traveller isn't scared of taking chances. To him, huge challenges look trivial in the face of thrill offered by rarely taken paths. He can travel to the remotest corners of the earth to explore some hidden, surreal landscapes. His interests do not merely lie in the scenic vistas, but also span around the lives of the natives. Such is the story of Samojit, a professional photographer hailing from Kolkata.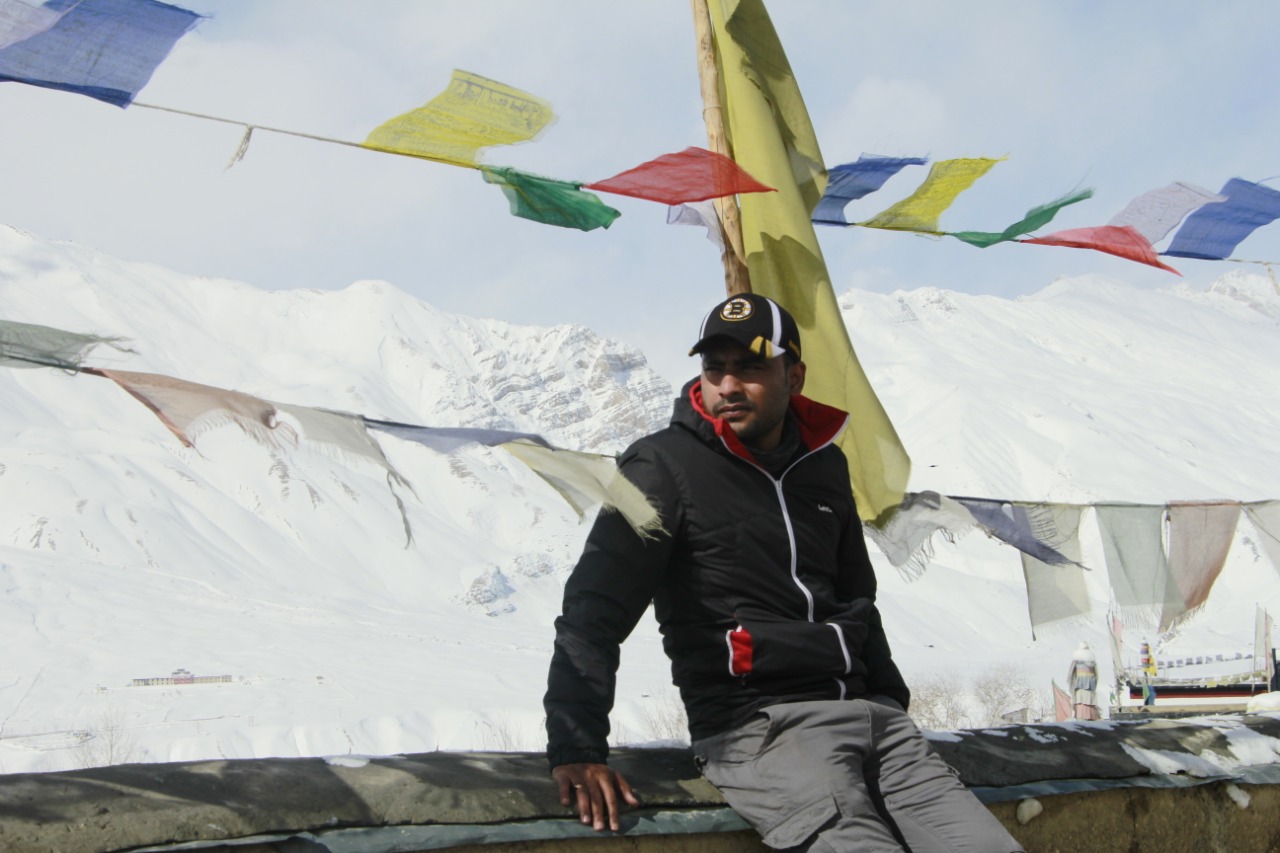 He loves to travel with no bounds and brings subtle moments to life with his snaps, which could otherwise be ignored in oblivion. His thirst for the obscure is so intense that he travelled from Kolkata to Himachal's Spiti Valley crossing two deadly landslides. What's more, the group had also jumpstarted the generator of the world's highest petrol pump at Kaza with their Bolero battery. The trip had given way to a bunch of heartwarming stories. Here's Samojit taking over to narrate his memorable experience.
Reaching Chandigarh From Kolkata Via Allahabad, Varanasi, Agra And Noida
Hi, I am Samojit Saha, a professional photographer and videographer from Kolkata. I, along with three of my peers, travelled to Kaza in Himachal's Spiti valley from Kolkata via road. The car was Isuzu D Max 4×4. We started from Kolkata on February 14, 2019, at around 5:20 in the morning. At around 8:30 PM, we reached Allahabad. We stopped at a highway eatery near Allahabad for dinner. Post dinner, we continued to drive and taking minimum halts, we crossed Varanasi. On the 15th, we stayed in a hotel for the night. After a short nap of 4 hours, we again hurried back to the car at 6 AM sharp and headed to Noida via Agra's Taj Expressway. We left Noida at around 8 PM for Chandigarh. It takes around three hours from Noida to reach Chandigarh.
A Massive Landslide And A Good Deed
On the 17th, we left for Himachal's Narkanda from Chandigarh via Shimla. Here came the first big challenge. From Narkanda, we had decided to visit Kufri and Kaza. But a massive landslide took place in Baba Nagar and we were stuck midway on the road for straight two days. Being stranded, we were observing the movements of the natives in the region. They were constantly scaling up the mountain and again climbing down.
View this post on Instagram
Amid the chaos, we suddenly noticed a pregnant woman with labour pain attempting to reach the hospital. She was accompanied by her husband and two women, who were descending the cragged slopes. We decided to lend them a helping hand. Since our car was parked, we offered to take them to the hospital. The ambulance had also started approaching from the other side and we transferred the family to the ambulance after driving a few kilometres. That evening, we managed to cross the landslide and started for Kufri.
View this post on Instagram
Also Read: 5 Mountain Lakes In Himachal More Scenic Than The Lakes In Switzerland
A Stopover At Kufri That Felt Like Home
We received the first snowfall of our trip at Kufri. We stayed in a homestay here, managed by a local couple who had a small baby. They were very hospitable and for us, it felt like we were in a home away from home. We clicked several pictures with the family.
View this post on Instagram
We got to know about the family from another local who stayed by us for three days since we confronted the landslide, simply to help us out.  He was a press reporter by profession.
Road To Kaza: A Second Landslide
The next day, we reached Tabo. The small town lies on the way from Rekong Peo and Kaza. From here, we finally began for Kaza. But here, we again got stuck in a landslide. At Kaza, the road remains closed for six months due to heavy snowfall. Luckily, we had a 4×4 car to successfully cut through the snowy paths. It isn't possible for any other small car to traverse that road.
Jumpstarting The Generator Of The World's Highest Petrol Pump
Kaza is home to the highest altitude petrol pump in the world. One problem was faced here too. The filling station had diesel but the temperatures were so low, that the generator was freezing. When we reached the petrol pump, there was no current and the guys were unable to start the generator to provide the diesel. So, we opened the Bolero battery from our car and jumpstarted the generator.
We finally managed to receive the diesel. But even the diesel freezes here during wintertime. The only solution to this is anti-freeze diesel. But unfortunately, we did not have the anti-freeze diesel. We had to keep restarting our cars every three hours and also apply mild heat to the diesel holder to prevent the liquid from freezing.
Also Read: Live In The Clouds At This Himachal Treehouse At 10,500Ft With Breathtaking Mountain Views
Diurnal Routine Of The Locals: The Tibetian Food And The Game Of Cholo
Kaza might look like a white wonderland during winter, but the life of the locals isn't easy in the cold months. The first task of people of all ages here, after waking up, is to shovel the snow from the house. The houses here have a kitchen-connected room with a special heater that keeps the entire room warm.
All the members of the family try to stay together in this particular room. These rooms also have attached bedding and dining. Even if they have extra rooms, they prefer to stay in this common room during winter. People at Kaza usually eat Tibetian food. They have a unique, thick Tibetian bread for their meals. Also, they play a special game, known as Cholo. The game involves an oval board and dices. It is similar to the game of Ludo.
Also Read: 10 Traditional Pahadi Dishes You Must Treat Yourself With In Himachal Pradesh
We stayed in Kaza for a total of three days. We also visited a few nearby places including a picturesque monastery.
Also Read: We Stayed At This Lush Green Village Near Dharamshala With A Gorgeous Waterfall And A Shrine
Black Ice On The Way Of Return
On our way of return, we first reached near Shimla from Kaza. When we were crossing Shimla, we experienced the 'black ice' phenomenon. Black ice is an extremely thin layer of ice that can hardly be seen with the naked eye. It actually resembles glass and is highly slippery. It makes driving surfaces dangerous. But thankfully we made through that hurdle too. Taking the same path via Chandigarh and Agra, we headed for Kolkata, and we reached home safely. We covered a total distance of around 5000 kilometres, including return.
View this post on Instagram
As told to Suchismita Pal.