The capital of the United Arab Emirates, Abu Dhabi, is a contemporary metropolis distinguished by its luxurious characteristics. It is an unexpected combination of dunes, historical monuments, famous landmarks, and fantastic golfing opportunities. Let's look at some mind-blowing facts about Abu Dhabi, including its history, culture, tourism attractions, and more! 
1. Abu Dhabi Is A Big Producer In The Dates Industry
There are many different types of dates produced in Abu Dhabi, as you'd know. There are 199 distinct varieties of dates, and the nation produces 76,000 tonnes of dates annually. Mats, baskets, and fans are a few objects made from palm leaves. On the other hand, sections of little fishing boats are made from branches. 
2. Abu Dhabi Mastered The Pearl Industry
Joining an Abu Dhabi sightseeing tour is a great way to learn more about the city's pearl business. You can travel to the Arabian Gulf to learn more about the long history of pearl diving and how it shaped Abu Dhabi and Dubai. Interestingly, divers discovered the oldest pearl in the world on Marawah Island in Abu Dhabi.  
Also Read: Valet Services Resume At Abu Dhabi Airport
3. The Great Chandeliers of Sheikh Zayed Grand Mosque
Sheikh Zayed Grand Mosque is among Abu Dhabi's top tourist attractions. The largest mosque in the nation is also known for its opulent chandeliers. On the day of opening, the mosque housed the biggest chandelier in the world. Today, it's not the largest, but one of the largest chandeliers in the world.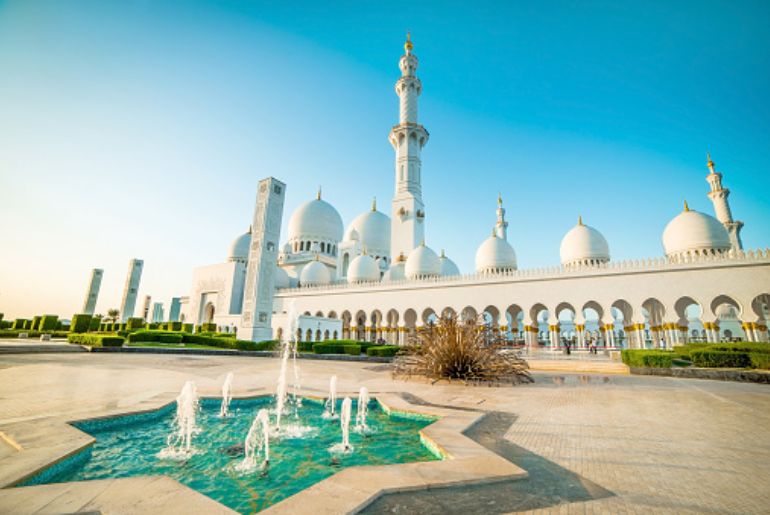 Photo Credits: Unsplash
4. You Can Find World's Largest Carpet In Abu Dhabi
Abu Dhabi's Sheikh Zayed Grand Mosque also holds a Guinness World Record for the world's biggest hand-woven carpet. It's one of the city's most intriguing facts. With the assistance of more than a thousand weavers, this well-known carpet's 60,546 square feet took more than a year to create. 
Also Read: Things To Do In Abu Dhabi This Winter
5. Abu Dhabi Houses A Record-Breaking Theme Park 
In Abu Dhabi, there is a theme park named Ferrari World. It is widely renowned all across the globe for indiscriminately setting records. It's one of the most daring theme parks in the world, with a total of 37 record-breaking rides and attractions.  Ferrari World houses the famous Formula Rossa roller coaster, the fastest in the whole world. 
6. Gold Dispensing ATMs
These facts about Abu Dhabi illustrate just how wealthy the Emirates are in reality. This gadget, which is unique to Abu Dhabi, displays the absolute affluence of its residents. After it was discovered that there was a significant inflow of businesses in several locations of Abu Dhabi, kiosk-style vending machines designed to give out gold bars were set up.
Also Read: Abu Dhabi Becomes World's Most Pandemic-Resilient City For Second Time In A Row
7. It Has A Building Leaning More Than The Tower of Pisa 
The Capital Gate Building is a 35-story skyscraper that stands more than 160 metres (520 feet) tall and is also known to as the "Leaning Tower of Abu Dhabi." It leans 18 degrees westward, 14 degrees more than the Leaning Tower of Pisa in Italy.
The facility costs over £231 million to build and was completed in 2011. It has 30 meeting rooms, a helipad, a food court, and conference space for 1,200 people. 
8. Abu Dhabi Has Air-Conditioned Bus Stops 
You'll be happy to learn that Abu Dhabi has air-conditioned bus stops to shelter you from the scorching heat. Moreover, you won't miss out on the vistas since most bus stations are fitted with air conditioning, chairs, and floor-to-ceiling windows. The facilities are already available at more than 100 bus stations, while there are plans to add more. So that's one method of avoiding the heat! 
Also Read: Sea World Abu Dhabi Is All Set To Open On Yas Island In 2023
9. A Japanese Architect Designed Abu Dhabi
Sheikh Zayad built the city in 1967 under the guidance of a Japanese architect named Dr Takahashi. He initially designed Abu Dhabi to house 40,000 people. But currently, it can house over 600,000. So, when you see the well-designed vistas, and bustling skyscrapers of Abu Dhabi, you know who to thank! 
10. The Police Force Has Luxury Cars
The Abu Dhabi government gives the police force access to high-end sports vehicles, so they can cruise around and engage in high-speed pursuits to catch criminals and repeat offenders. The vehicles include the extraordinary Lykan super sport, Lamborghini, Ferrari, Rolls-Royce, and Nissan GTR. These vehicles have the marron and white royal emblem of Abu Dhabi. 
Did you know these mind-blowing facts about Abu Dhabi? Have you fallen in love with the city after reading these facts? Let us know in the comments below. 
Also Read: Michelin Guide Is Coming To Abu Dhabi This November
Cover Image Courtesy: Unsplash