One of the well known Emirati and gulf region delicacies is a wafer-thin type of bread known as Rigag. Originally made by Bedouin women in the desert, this savoury meal was apt for the harsh climatical conditions in the past. The bread is cooked on a large circular pan and is topped with eggs, cheese, honey, and sometimes mhyawa, (a thick fish paste). The savoury dish is often accompanied by a warm cup of black tea, or more recently, Karak, (milk tea). Rigag is rather similar to crepes, just with an Emirati twist to it. So if you're interested in this ethnic local cuisine, we've rounded up a list of some of the best places to indulge!
1. Karak And Rigag
This restaurant was previously named 'The Tea Cup' and offers some of the best Karak in town. It is also probably the restaurant offering the widest selection of Rigag. The menu ranges from more conventional forms of Rigags such as cheese and zaatar to unique styles such as Oman chips, meshawi (barbecued), hot dog and vegetable Rigags. The variety in selection also extends to the tea, from plain Karak to an added flavour of ginger and Zaatar, and much more.
Location– Umm Suqeim
Timings– 7 AM to 3:30 PM
Cost– AED 7 to AED 15
|Contact– 04 328 8067
Also read: Chai Lovers, This Jumeirah Cafe Serves Delicious Karak Chai Ice Cream
2. Kabab & Rigag
This place is quite popular with Instagram and serves some of the most aesthetically pleasing Rigags. Kabab & Rigag is located in the Last Exit, which is a picturesque and rather romantic spot to eat. The area is saturated with food trucks, and Kabab and Rigag always attract a large queue. The mouth-watering aromas engulf the area around, making it impossible to ignore it. This hot spot for Rigags offers a wide range of flavours. Nutella, lotus, and honey are some of the sweet versions, while barbecue, mix, and eggs are some of the popular savoury ones. The food truck offers other meals such as kabab plates, pasta, and steak cut fries, to name a few. And of course, a fresh cup of Karak is served.
Credits: Last Exit/facebook
Location– Last Exit, Al Khawaneej
Timings– 11 AM to 12:30 AM
Cost– AED 8 to AED 17
Contact– 050 200 3003
Also Read: Meet Hafeez Al Rahman- The Kebab King Of Sharjah
3. Logma
This restaurant incorporates the traditional Emirati cuisine, along with some contemporary twists. The restaurant is most famous for the Emirati sweet, Logma. Logma, or Lugaimat, is a dish comprising of sweet brown dumplings. The dumplings are eaten with tasty date syrup and sesame seeds. While Logma is not specific to the UAE and is present in other gulf countries, the texture of it here is softer and crunchier. This eatery serves fresh crunchy Logma along with Rigag and other classic dishes such as Khameer bread and Chebab pancakes.
Location– Box Park
Timings– 8 AM to 1 AM
Cost– AED 22
Contact– 800 56462
Also Read: Luqaimat- The Arabic Delicacy Just Got An Indulgent Twist At Loqmato
4. Al Fanar
This was one of the first restaurants that dedicated their entire menu to local food. So if you're looking for classical authentic Emirati food, this is the place to go. The restaurant is located close to the old parts of the city, reinforcing the local vibe. The menu offers a plethora of Rigags, along with an array of Emirati desserts.
Location– Canal Walk, DFC
Timings– 8:30 AM to 11:30 PM
Cost– AED 20 to AED 27
Contact– 04 232 9966
5. Sikka Cafe
This cafe is popular for its beautiful wooden interiors, and Insta worthy ambiance. The simple atmosphere reflects the olden days and makes it the apt environment to enjoy bedouin delicacies. The cafe serves all types of Emirati foods, from desserts to Rigag, and the local hot beverages as well. The Karak is very popular at this cafe and is a must-try.
Credits: Al Sikka/facebook
Location– City Walk
Timings– 8 AM to 1 AM
Cost– AED 20 to AED 24
Contact– 04 284 9521
6. HumYum
This pocket-friendly cafe offers Rigag with prices starting at only AED 2. The more complex your Rigag, the higher the price. The Rigag's are quite uniquely flavoured such as the Dynamite Rigag, Shakshouka Rigag, Turkey Rigag, and much more. The restaurant also offers Arab salads, meat platters, and a selection of tasty desserts.
Credits: Humyum/Huntr
Location– Umm Suqeim
Timings– 6:30 AM to 3 AM
Cost– AED 2 to AED 22
Contact– 04 388 3332
Also Read: 5 Emirati Street Foods You Must Try In Dubai (Under AED 10)
7. Tent Jumeirah
This fancy restaurant is shaped like a boat and is located on Jumeirah Beach. This place has a steering wheel, anchor, fishnets and more. The sounds of seagulls and waves, the feel of the soft sand under your feet, and the calming view of the beach put together make for a very nice lunch out. Enjoy a variety of Rigag, smoky hot Karak, and a tasty meat platter at this ship-shape restaurant!
Location– Jumeirah Beach
Timings– 24 hours
Cost– AED 8
Contact– 055 275 6091
8. Al Jalboot
This breakfast place is located right on the beach. A prime spot to enjoy your morning cup of tea, enjoy a Rigag too. Choose from a range of breakfast Rigags at Al Jalboot, and warm yourself up with a selection from their teas. End your meal with a delicious Emirati style dessert while watching the waves. Head to this place with friends and family and make use of the pleasant weather before it gets too late!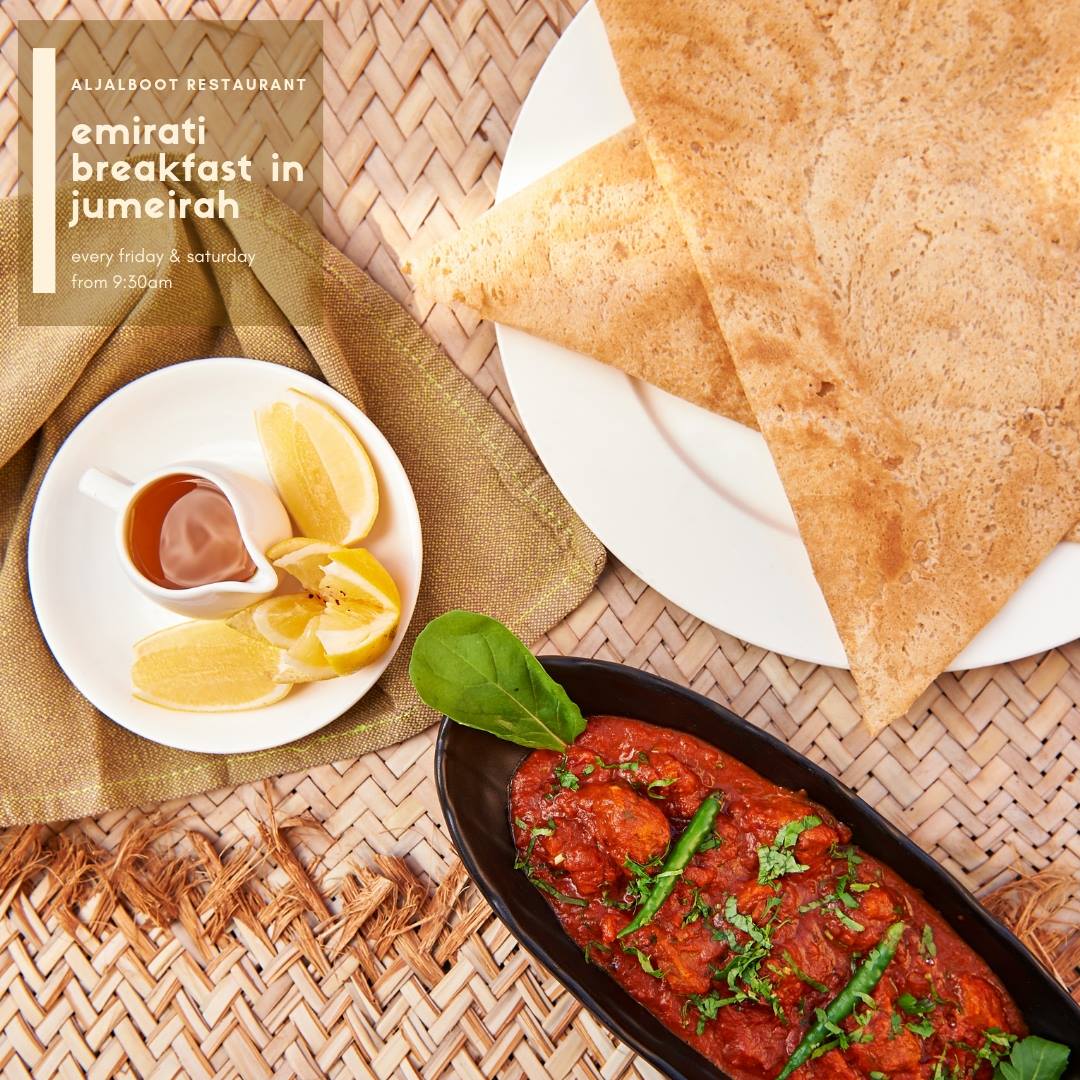 Credits: Al Jalboot/facebook