When you decide to allocate yourself one cheat day, what would be the first dish that you'd like to indulge? It's definitely Chole Bhature. Right? The fluffy deep-fried bhature paired with spicy chole is just a match made in heaven. And let us tell you, you're not alone. While in Delhi, the Indian cricketer, Virat Kohli revealed that he indulged in the dish during his cheat day with wife, Anushka Sharma. In an exclusive interview with our CTO, Kamiya Jani at his restaurant One8Commune, Virat Kohli said: "Anushka & I Hit The Gym Together After Eating Chole Bhature".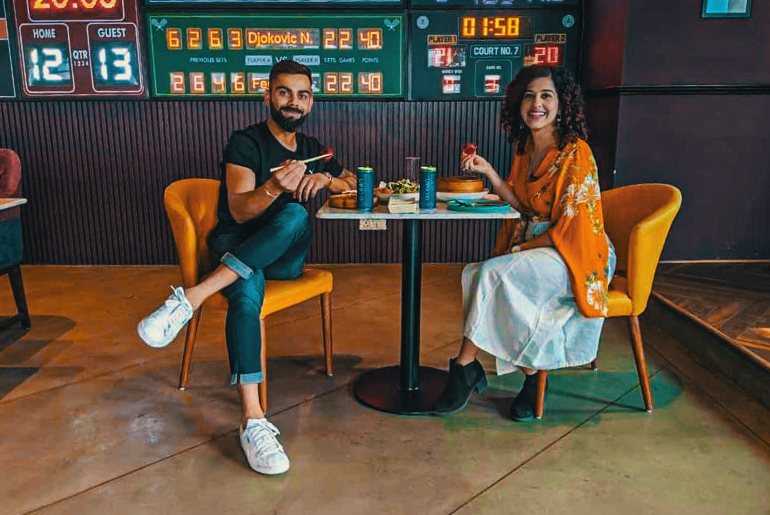 Virat Kohli Didn't Have Chole Bhature Since Years
During this Sunday Brunch, Dilli ka Munda, Virat Kohli admitted that he hadn't eaten Chole Bhature since 3 to 4 years. And just 3 days before this interview, he and his wife decided to finally indulge. In the ultimate food paradise, even Virat Kohli couldn't resist the whiff of Delhi ka khaana. But this fit sportsman and his talented wife decided to have it on one condition. They will eat to their heart's content, and after 2 hours smash the gym. So he frankly said that the duo worked doubly hard at the gym after indulging in the delicious oily-masaledar dish.
Also Read: Virat Kohli Went To Finland For His Honeymoon This Happened!
Virat Kohli's Ultimate Guilty Pleasure
On being asked if he feels guilty about eating greasy food, Virat Kohli replied he doesn't. In fact, he is much more at ease as he knows that even if he does indulge every now and then, he can always work hard at the gym to make up for it.
Virat Kohli initially decided to go to a place in Delhi's Rajouri Garden to have Chole Bhature. But the minute he saw pictures of the crowd frequenting this eatery, he knew that it will be impossible for the celebrity couple to eat or even leave this place in peace.
So he found out a place in Gurgaon's Sector 15 called Civil Lines Chole Bhature and ordered a plate from there. Feeling satisfied after dousing the craving, 2 hours later they burned it off in the gym together. Now that's what we call the ultimate guilty pleasure. If your mouth is watering for Chole Bhature then here's 12 Chole Bhature Places in Mumbai That'll Make You Go Balle Balle!