Australia Visa For Indians

Hello there, if you are planning your trip to Australia for tourism purposes, educational or business purposes, this article will help you with a step by step process for an Australia Visa for Indians. You may think that it gets difficult, but all the Indians who resort to travel agents for their visa, not anymore! Here is a guide for Indians for an Australia Visa which you can carry out all on your own.
Firstly, you will have to start with what visa type you require for your Australia Trip
Also Read: Thailand To Waiver Visa Fees For Indians Till April 2019
Types of Australian Visa – 
Visa For Visitors/ Tourists – If you want to travel to Australia for tourism or meeting your family, friends or relatives. this is the visa type you should be picking in your form. This visa will be only valid for a visit of 3 months and no more than that.
Student Visa – Students who wish to take admission in an Australian University must apply prior and once you have got a confirmed admission from the university, you can take a student visa. The duration for this will depend on the length of your course. You must choose a course that is at least 1 2- 52 weeks for the student visa to be approved
Medical Visa – Ones travelling for Medical reasons can take this visa type. This visa is applicable for a temporary visit to the country and will be valid only till the time the medical treatment is being carried out. Once the treatment is up, your visa will expire.
Business Visa – If you are travelling for a business meeting, conference or workshops you will have to sign up for a  business visa that will allow your entry into the country for a period of 3 months.
Transit Visa – This visa is for travellers who want to take a connecting flight from Australia to some other destination. The visa is allowed for a temporary stay which can be around 72 hours and no more than that.
Also Read: Malaysia To Waiver Visa Fees For Indians Till Dec 2019
Temporary Stay In Australia – Temporary Residence visa is applicable for people who want to work or stay here for a temporary basis. This visa is for a limited period and for the duration of three to four months and not more than that.
Family Visa – Individuals who want are already residing in Australia and want to get their partner or family to the country for a temporary or permanent visa must take this visa. This visa can be used by people who also want to get their friends for activities in Australia which will be sponsored by them. The duration varies on the basis of what type of visa you pick and also if it is permanent or not.
Australia Visa Application Form – Here is a link for your visa application https://immi.homeaffairs.gov.au/form-listing/forms/1419.pdf
Online Visa Information
You can also apply completely online for your Australian visa and it is the easiest and the most convenient way to get your visa without any hassle. You can apply for a tourist visa and business visa sitting home. The best part is someone else also can apply for your visa a family member or a third party. For that you will have to create an IMMI Account and here is the link for more details on it – https://online.immi.gov.au/lusc/login.You can track the status of your online application here, submit documents, pay the visa fees and fill in all the other required details.
Australia Visa Fees For Indians –
For a visitor visa (subclass 600) –  Approximately ₹ 7,000
Working Holiday Visa – ₹ 26,250
Medical treatment visa – ₹ 25,240
Student Visa – ₹ 91,875 (varies according to the type of student visa you take)
Temporary Activities Visa – ₹ 21,202 (varies according to the type of student visa you take)
Tourist Visa and Business Visa – ₹ 7,067   (varies according to the type of student visa you take)
The validity of a standard visa is a period of 12 months. Frequent travellers Australia allows travel within 3 years for the standard visa.
Visa Processing Time 
For tourist and business visitor the latest visa processing times, the majority of subclass 600 tourist visas are being finalised in 14 days. Whereas, the majority of subclass 600 business visitor visa are being finalised in less than eight days. Please Note: If all your documents are in place including the health and character information, then there is no reason for delay.
Also Read: Renew Your Emirates ID, Visa From Home
Documents Required For Australian Visa – 
-Valid Passport (active for 3 months)
-Visa application form (based on the type of visa)
-Visa fee receipt (Depending on the type of visa)
-Financial Statement (e.g. Bank statement that is not older than 3 months)
-Round Trip Flight Tickets
-2 passport photographs (Recently Clicked)
– Bookings for Hotel
-A letter of invitation from a friend or family member if they sponsor you.
– Income Tax Return (ITR) form
– Individuals below 18 years of age have to produce a NOC from their parents
– Medical Test Reports
– Insurance for the time period you will be in Australia
Please Note: If you are travelling on a  business trip or a Study visa, you will have to produce additional documents.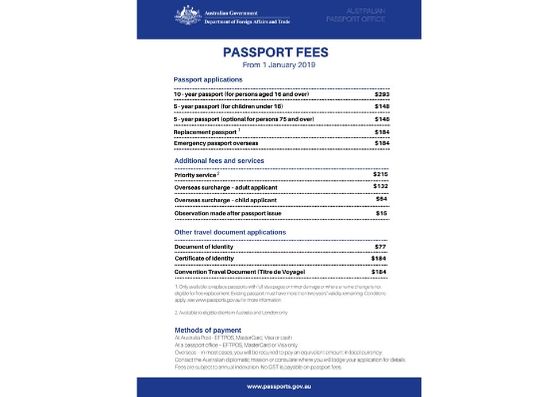 Also Read: FREE UAE Tourist Visas For Select Tourists This Summer
Also Read: Thailand Extends Free Visa On Arrival To Oct 31st
Visa Application Centre –
well, Indian citizens do not need to visit any visa application centres. That is correct! You do not need to visit any application centre for a personal interview process, this will be managed through your online Immi Account where you have filled in all your details over a telephonic conversation or over email.
Please Note: You are required to visit the visa application centre only if you miss out on any important document.