Nothing really is inaccessible in Chandni Chowk. You can find anything and everything in the heart of Old Delhi. The entire area has lanes dedicated to everything you are searching for. From daily wear dresses to wedding lehengas, from foods to home decor, from books to accessories, you name it and you get it. Bhagirath Palace in Chandni Chowk is the ultimate destination for every single thing related to lamps and lighting.
Asia's Biggest Market For Lamps And Lightings
Bhagirath Palace is the largest wholesale market in entire Asia for all sorts of lights and lamps decor. From inexpensive small bulbs to massive chandeliers, this place has an array of choices for the crowd. Begum Samru built this palace back in time. While building it, both the Indian elements and western styles have been fused together to create a stunning atmosphere.
Also read: The Ancient Chaurasi Ghanta Mandir In Delhi's Chandni Chowk Is A Hidden Gem With 84 Bells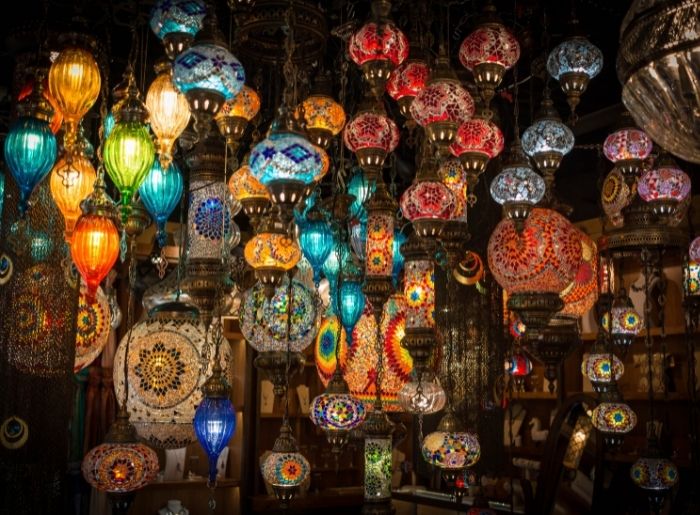 Every corner and shop of this market in Chandni Chowk is decorated with various lights like lamps, pendant lights, brass light fixtures, chandeliers, fairy lights, colourful plastic lights, etc. Hundreds of shops with thousands of lights at a stretch make the place look like a vibrant visionary. Also, the best part above all is that the shops here are quite affordable. So, you can grab as many lights as you can.
Also read: Delhi Turns Into A Pink Paradise With Bougainvillea Blooms And Here's Where To Experience It!
You can easily get confused about choosing a good shop among so many. Here are some of our recommendations that you can try out for good quality and unique pieces.
Vicky Enterprises
Orient Electric House
J.P. Lights
Crystal Lights
RK Electric Store
Samir Electricals
New Bhagwati Lights
How To Reach Bhagirath Palace In Chandni Chowk?
There are many ways and directions to reach the market. The easiest among all is to go through the Chandni Chowk road from the Red Fort.
This place is surely a must-visit in Chandni Chowk. So, the next time you are near here, take a stroll around the market and buy some lights to decorate your house or gift to your loved ones.
Apart from shopping lamps and light decors, you can even indulge in other things in the area. Chandni Chowk is indeed the home to everything.