How would you like to socially distance in a luxurious private island with dolphins? Far away from human civilisation, nestled just a 20-minute boat ride away from Karwar in Karnataka, lies an isolated Cintacor island. This turtle-shaped abode, surrounded by the blue Arabian sea houses a fabulous resort that promises you the best of luxury and nature. Welcome to Cintacor Island Resort, a paradise where you can get up close with dolphins, sip Sangria from the highest point of the island, feast on fresh seafood delicacies and relax in rooms designed like ship cabins.
Spot Dolphins Swimming At Cintacor Island Resort
There's plenty of dolphins in the Arabian Sea, and a dolphin tour at Cintacor Island will prove our point. Cutting the chase, the ultimate highlight of Cintacor Island Resort is the adventurous dolphin watch experience. This one hour cruise to a spot close to the island will give you the opportunity to spot a pod of dolphins. Have a gala time clicking pictures, and creating umpteen memories as you spot dolphins swimming under the water and also jumping out of the water to put out a show for you. With minimum interference, we guarantee this dolphin cruise will be one of the most memorable experiences of your life. Apart from this the island resort also organises sunset and sunrise cruises with snacks to keep you company.
Also Read: Shri Adhinatheshwara Temple In Karnataka Is Known To Cure Breathing Issues Like Asthma
Stay In Gorgeous Rooms Inspired By Ship Cabins
Cintacor Island Resort offers rooms that are designed with a unique ship cabin-like feel. The signature blue and white colour combination bathe the bedspread and drapes. The wooden pop art decor reminds you of boarding a luxurious ship. The resort has three kinds of cabins. Deluxe and luxury cabins overlook the gorgeous Arabian sea. The rooms are spacious, cosy and the balconies will give you more reasons to wake up early. Ample sunlight brightens the room and the soft breeze takes you a sojourn from the shore to the sea. The Cintacor Island Resort can accommodate around 45 guests at a time. The prices start from ₹15,000 upwards on weekdays and ₹17,500 upwards on weekends excluding taxes.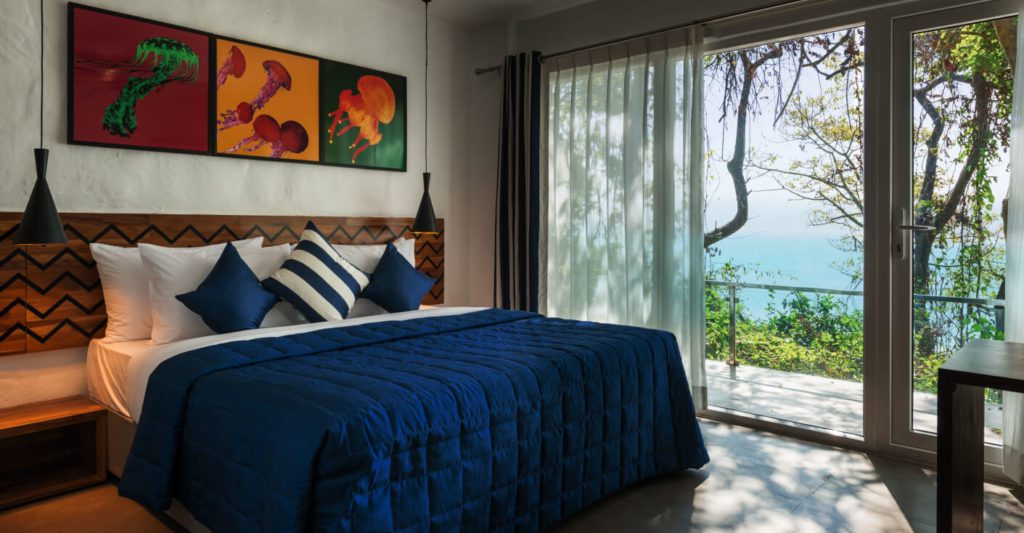 Also Read: Karnataka's Jog Falls To Get Global Makeover With Ropeway & Boating Facilities
Gorge On Fresh Seafood Preparations At Nemo's Deck
To feast on a delicious meal prepared with the freshest catch of the day, head to Nemo's Deck. Chef Sundar shall tantalise your tastebuds with exquisite Konkani, Indian and Continental dishes. The checkered floors and edgy interiors of this restaurant is perfect for laid back conversations and refreshing drinks. St in the highest point on the island and enjoy a panoramic view of the sea while you sip a Pina Colada. While it's tempting to go outdoors, Jolly Roger's Club will give you a jolly good reason to stay indoors. The lounge bar has an eclectic selection of drinks, music, a cutesy library and a pool table. The beach bar, On The Rocks, perched on high grounds has a rustic decor that's casual yet welcoming.
View this post on Instagram
Dabble In Adventure Sports, Fishing & Lighthouse Tours
In a secluded island, with just the waters, exotic flora and fauna to keep you company, adventure always follows. To unleash your inner adventurer, go on a lighthouse tour involving a leisure boat ride to the neighbouring island of Devgad. Explore a French lighthouse dating back to 1934. Drop the bait in the sea and go fishing with your loved ones. And if you crave for more adventure then dive into the world of water sports. Banana boats, kayaking, tubing, jet skiing, water scooter rides, speed boat rides and zorbing will keep you entertained and up for it.
Also Read: 10 Crazy Adventure Sports You Must Try By Kamiya Jani
Cintacor Island Resort is the perfect abode to socially distance with your loved ones. The calming sea breeze, gushing waters, swimming dolphins and relaxing rooms are amazing reasons to add this stunning island to your wishlist.