The best part about alcohol is the intoxicated feeling. The worst part is the taste. While there are people who've got quite accustomed to the tart flavour and even enjoy it, there are many of us, who prefer to chug it down without letting it touch our tastebuds. So if you're the sort, who desires to enjoy a glass of exquisite liquor, but the awful taste gives you second thoughts on it, then don't worry, you're not alone. Here are 7 spectacular alcoholic drinks that will give you the high you crave without the sharp taste of alcohol. This list will actually put your hesitations to ease. Cheers!
1. Pina Colada
If there's one cocktail that has the divine power to instantly transport you to a beach vacation, it's Pina Colada. This festive drink prepared with a strong base of coconut hides the harshness of the alcohol. Prepared with sour pineapple juice, sweet coconut cream or milk and white rum, Pina Colada is a drink cum dessert. Some bartenders also add a dollop of vanilla ice cream. So you get the point! The ingredients are simple and this dish is easy to make at home. Watch your favourite rom-com with bae with this tropical beverage to give you company.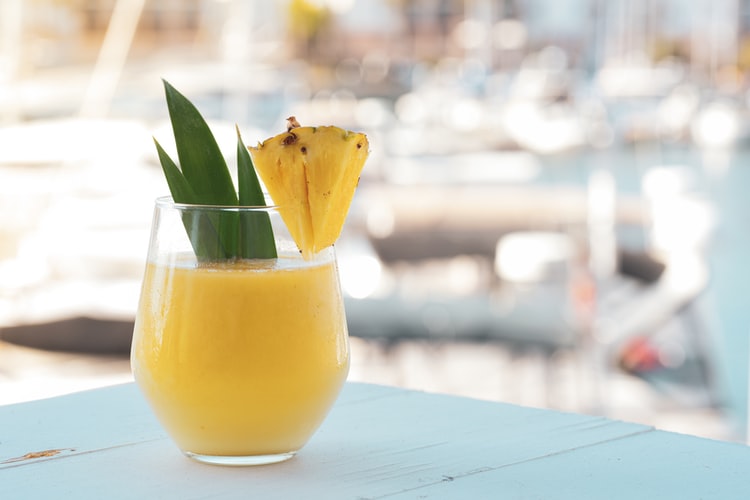 Also Read: 7 Local Wines In India You Probably Didn't Know About
2. Bay Breeze
The Bay Breeze uses the tropical, sweet Malibu Rum as the base. Fruit juices like pineapple juice, grape juice and cranberry juice mask the strong taste of liquor. This cocktail has a refreshing flavour that's great to beat the scorching summer heat. The Malibu Rum has pleasing notes of coconut that adds to the depth of this cocktail. To whip up this cocktail at home, all you need is Malibu Rum, Pineapple juice and Cranberry Juice.
Also Read: 6 Of Our Favorite Food & Drinks That Were Invented By Accident & We're Thankful For Them
3. Sangria
Sangria is one of the best alcoholic drinks that exuberates a divine flavour and also kicks in a boozy punch. A chilled concoction of wine, a strong spirit, fruit juice and spices, Sangria can be enjoyed on a  chilly winter night or a breezy summer day. Fresh fruits soaked in wine for long hours, breathe out freshness into the drink. If you don't enjoy the taste of liquor, Sangria with its rich robust and fruity flavours will definitely leave you asking for more. You can even prepare your own Sangria at home, here's how. 
4. Cosmopolitan
If vodka is your poison, then Cosmopolitan is the perfect cocktail for you. This refreshing vodka-based cocktail has the sweetish-sour flavours of cranberry juice, tartness of lime juice and the booziness of vodka. It's elegant, breezy and an absolute classic. Infact Sex And The City fans would know that it's Carrie Bradshaw's favourite, apart from the Magnolia cupcakes of course. Cosmopolitan's fruitiness perfectly hides the strong flavours of vodka, and that's why you must try this.
5. Mai Tai
If you enjoy your cocktails, then you'd surely have heard of Mai Tai. This is one of the most delicious alcoholic drinks for people who despise the taste of alcohol. This drink is made of two types of rum, coconut flavoured rum and spiced rum. The fruity pineapple juice, orange juice and grenadine syrup blanket the bitter taste of alcohol. If rum is your poison then you got two different types of rum in one drink!
Also Read: 7 Local Drinks From Goa You Must Try In Your Next Trip
6. Sex On The Beach
Just as the name goes, Sex on The Beach is a drink that grabs eyeballs. The best way to drink this is to feel at ease, let your hair down, plop up on a comfy chair and leisurely sip away. This spectacular potion is made with vodka as a base. Subtle fruity flavours from peach schnapps, orange or cranberry juice are infused to overpower the biting sharpness of the alcohol. It's light, fruity, breezy and you'd actually forget that it's an alcoholic drink. Nevertheless, this will give you the high you need.
Also Read: Delhi Lowers Legal Drinking Age To 21 From 25; Private Vendors To Run All Liquor Shops
7. Rum And Coke
The classic rum and coke is cheap, strong and tastes amazing. It's one of the most famous alcoholic drinks that's perfect for a party with college friends, a chilled outdoor dinner or a date with bae. You can get rid of the strong liquor flavour by diluting your rum with more coke. This fizzy drink tastes just like a great soda. Squeeze in some lemon and you're good to go. The best part is that you don't need a mixologist to prepare this. Just make this at home in just 2 minutes.
Lovely people! These are 6 alcoholic drinks that taste refreshing, fruity, sweet and anything but like alcohol. Fresh fruits, sweet syrup and coconut flavours mask the bitterness of strong liquor. Try these out during your next visit to the bar, and you can thank us later.