Staying home is making us miss all the good things in life that we used to go out for. Let's give a few moments of attention to something which makes life worth living and without which every meal is incomplete: it's a dessert. Delhi is known for its street food, it is also known for its delicious desserts. Here's a round up of the top 15 Delhi desserts that we are missing these days.
15. Stuffed Fruit Kulfi At Kuremal Kulfiwale, Chawri Bazaar 
Remember going to Old Delhi especially to have our favorite Stuffed Fruit Kulfi? A combination of fruit and kulfi, which looks unique and also extremely tasty and refreshing to the taste buds. Talking about the variety, we get many different fruit variants in it. And right now, we are missing Kuremal's Fruit Kulfi. Also, Get Your Hands On Authentic Turkish Desserts At Kunafa In Delhi's Lodhi Colony
14. Chocolate Tart At Wenger's, Connaught Place 
When we're talking about the top desserts that we are missing, how can we not include Wenger's famous Chocolate Tart in the list? After all, chocolates are our first love. This soft and delectable dessert can brighten up anyone's day. And there's something about going to Connaught Place just to have it. Also, here are 10 Things You Need To Explore In Connaught Place, Delhi
13. Shahi Tukda Near Jama Masjid, Chandni Chowk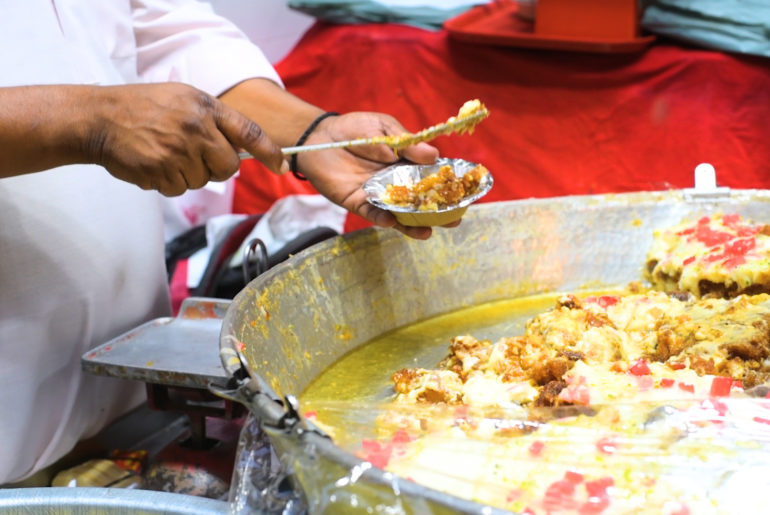 Shahi Tukda, a royal sweet dish which was gifted to Indians by Mughals. You can't find this unique dessert in every Indian city. Shahi Tukda is basically loaded with ghee, lots of cream, nuts and some rabri slathered on top. One can't stop licking fingers after having this royal dish. And to get our hands on it again, we can't wait to go to Jama Masjid. That area has so many shops serving this sweet dish.
12. Kulfi Falooda At Roshan Di Kulfi, Karol Bagh 
A chilled dessert combination that every Delhiite loves to have in scorching Delhi heat is Kulfi Falooda. Almost everyone craves for this dessert, irrespective of the age. Nothing can be more refreshing than having kulfi, falooda with rooh afza spread on it. Right now, we are missing Kulfi Falooda of Roshan Di Kulfi.
11. Paan At Price Paan, GK 1 
When it's about eating sweet dish, Delhiites like something which is not exactly a dessert. We are talking about the betel leaf, Paan. We can eat it before the meal, after the meal or anytime of the day. Delhi has many paan shops serving variety of it including Chocolate Brownie Paan, Fire Paan, Walnut Paan, Butterscotch Paan and many more. Even talking about it makes us crave for Prince Paan's Strawberry Paan.
Also read: Get Woke With Vietnamese Coffee From Woke Cold Brew And Healthy Desserts At This Collaborative Studio In Delhi's Champa Gali!
10. Malai Cham Cham At Gulab Sweets, Pitampura
Malai Cham Cham, which is also called Malai Chaap by people in Delhi. This rich traditional Indian sweet dish tastes like heaven. It's an oval-shaped dessert which is quite similar to rasgulla but it has khoya, coconut, dry fruits, and many more ingredients which make it very delicious. And our all-time favorite Malai Cham Cham are from Gulab Sweets in Pitampura. Also, Here Are 5 Places To Get Dessert Under INR 150 In Delhi
9. Sandesh At Kamla Sweets, CR Park
Sandesh which is pronounced as 'Sondesh' in Bengali is a Bengal originated dessert. It's not only famous in West Bengal but also loved by Delhiites. When it's about the best Sandesh serving place in Delhi, undoubtedly CR Park market tops the list. So whenever we are near CR Park, there's no way that we miss eating Sandesh at Kamla Sweets.
8. Ghewar At Kaleva, Gole Market
Crispy, filling, traditional sweet dish.. yes, you guessed it right. We are talking about the famous Rajasthani sweet dish 'Ghewar'. It's at the time of Rakshabandhan, when all sweet shops are filled with customers asking for this disc-shaped sweet cake in Delhi. Since the festival is just one month away now, we have already started craving for Kaleva's crispy Ghewar.
Also read: Best Sweet Shops In Delhi That Will Cure The Pain In Every Sweet Tooth
7. Rasgulla At Bhimsain's, Bengali Market
Rasgulla or Roshogolla, another Bengali sweet dish which Delhi people have on every occasion, every festival. These spongy white colored balls dipped in sugar syrup can be found at every single sweets shop in Delhi. In fact, rasgullas come in different sizes too. Currently, we are missing Bhimsain's famous and spongiest Rasgullas.
6. Kaju Katli At Manohar Bikkaneri, Malka Ganj
If there's one dessert that no Dilliwala can say no to, is Kaju Katli. It's also popularly known by the name 'Kaju Barfi'. Prepared with lots of cashews, this sweet dish tastes as good as it looks. And while talking about it, we are craving for Manohar Bikkaneri's Kaju Katli.
5. Laddu At Gopal Sweets House, Paharganj
Laddu is a favorite Indian dessert of every house without which, no good work or project can begin. Be it some pooja at home or any marriage function. Laddu always remains a preferred sweet. One can find a variety of laddu in many sweets shops in Delhi. Among which, our favorite is Motichoor Laddu of Gopal Sweets House.
4. Jalebi At Sardarji Jalebi Wale, Sadar Bazaar, Gurugram
Jalebi, an Indian sweet dish which looks tempting and is extremely mouth-watery. No matter what the weather is, a hot and crispy jalebi made with desi ghee and sugra syrup is something we always drool over. Many shops serve jalebi with rabri, a combination which one should definitely try in Delhi. And while sitting at home, we are craving to have Jalebi of Sardarji Jalebi Wale.
3. Rabri At Evergreen Sweets, Brahmaputra Market, Noida
When we talk about chilled and refreshing desserts in Delhi heat, the first name that comes to our mind is of 'Rabri'. In lockdown, many people are making this dessert at their homes. But there's something about having it from Evergreen Sweets in Brahmaputra Market. Prepared with condensed milk and nuts, this chilled and delicious dessert is definitely what we are missing right now.
2. Gulab Jamun At Jagannath Khoye Wale, Khari Baoli
Gulab Jamun needs no introduction at all. This sweet is not only a weakness for Delhiites, but every Indian. Definitely, no other sweet dish can beat the taste of hot gulab jamun along with loads of sugar syrup in it. According to us, Jagannath Khoye Wale in Khari Baoli makes the best Gulab Jamun in Delhi.
Also read: Gulab Jamun Is The Trending Desi Dish Grabbing Attention In The West
1. Rasmalai At Anil Mishthan Wala, Defence Colony
We know that you all will agree to it that Rasmalai is Delhi's most loved dessert of all times. It's one such dessert that everyone loves, whether they have a sweet tooth or not. This Indian dessert is prepared with white cream, sugar, milk, and cardamom-flavored paneer cheese known as chhana. Also, almonds, cashews, and saffron are often added to it. It's usually served chilled. Right now, we are missing the spongiest Rasmalai of Anil Mishthan wala in Delhi.
So Delhi folks, that was our list of desserts that we are missing terribly these days! Do tell us what are you missing the most?