A woman booked an entire business class cabin of an Air India flight to gift her dog a luxury travel experience. The flight Air India AI-671 was bound to Chennai from Mumbai on September 15. The woman spent a thumping ₹2.5 lakhs to book the entire cabin for her furry kid named Bella. For two hours, she, her pet and her servant had the entire cabin to themselves. It was the J-class cabin which had a total of 12 seats. The cost per seat is ₹20,000. The woman booked all the 12 seats for her dog. That's an adorable gesture, ain't so?
She Shelled Out A Whopping ₹2.5 Lakhs To Fly Her Dog
Air India is the only Indian flight to allow domestic pets in the passenger cabin. Passengers are permitted to carry a maximum of two pets under certain conditions. Usually, a pet is allotted a seat in the last row of the booked class. Some extra charges are to be paid for flying pets on Air India. In 2020, Air India has flown around 2000 pets on domestic flights. But this was probably the first time someone booked an entire cabin in an Air India flight for a pet. She booked the business class cabin for ₹2.5 lakhs. Speaking to ANI, an official has stated, "The average business class cost for Mumbai-Chennai is around Rs 20,000 and the said female passenger paid ₹2.5 lakh for the travel".
Also Read: This Boy Rented A Caravan To Drive His Dog From Gurgaon To The Beaches Of Karnataka
Travellers Went On Paragliding With Their Pets
Earlier, we came across other splendid pet-related stories, like a cat paragliding with its owner at 8000 feet. Travel enthusiast Harshil Gupta took his cat Peppy on a paragliding experience over the mountains of Bir Billing. Another traveller, Rohan Tyagi had taken his dog on a paragliding ride in Himachal Pradesh.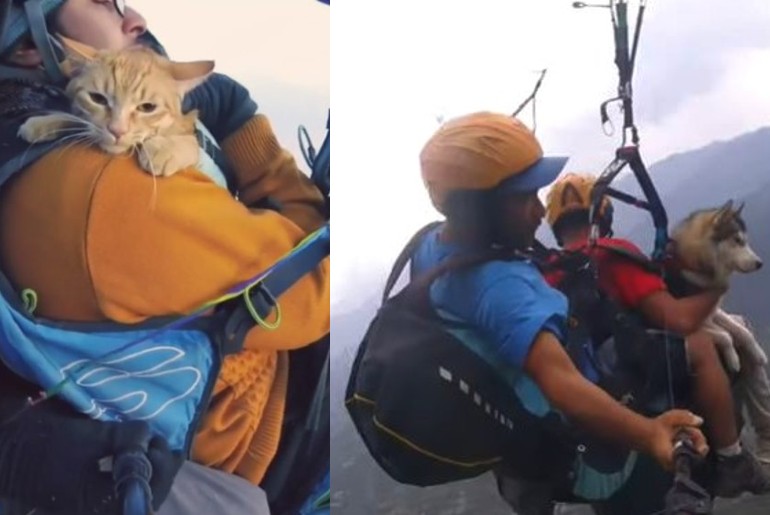 Also Read: This Dog's Reaction To The Hot Air Balloons In Turkey Is Going Viral
Also, Vrutika Doshi from Mumbai, who took her dogs to snow-capped Manali told Curly Tales about the things to keep in mind before travelling with a pet.