Germany Visa For Indians
Here is a guide for a step by step Germany Visa For Indians. Germany falls under the Schengen area and hence it is one of the borderless countries.  Schengen compromises of 26 European countries which are as follows- Austria, Belgium, CzechRepublic, Denmark, Estonia, Finland, France, Germany, Greece, Hungary, Iceland, Italy, Latvia, Liechtenstein, Lithuania, Luxembourg, Malta, Netherlands, Norway, Poland, Portugal, Slovakia, Slovenia, Spain, Sweden, and Switzerland.
The great thing about Schengen countries is that they function under the same jurisdiction for travel purposes, this makes the journey easier. Benefits for tourists is that they do not have to get a visa every time they cross a border of the Schengen area. Schengen countries have officially abolished passport and all other types of border control at their mutual borders.
Also Read: Germany Has Bagged The World's Most Powerful Passport
Please Note- Germany does not allow visa on arrival for Indian passport holders.
Here is a step by step process on how to apply for Germany visa for Indian citizens.
– Firstly, you will have to start with understanding the type of visa you require.
– The next step would be to apply for the visa type. You will be required to fill an online application for your visa.
– When you fill out the online application form, you will have to pay fees for your visa. And once you are done with the entire process take a print out of form.
– After this, you will have to make an appointment at the Visa Application Centre in your city.
– Carrying required documents to the visa application centre along with your passport.
– The visa application process will take at least 30 working days, so get started soon.
Also Read: Thailand Extends Free Visa On Arrival To Oct 31st
Types Of  Visa
Tourist Visa – Tourist visa for Germany is applicable for people who want to visit for tourism purposes or wants to visit friends or family that is staying in Germany. The duration for all Schengen tourist visa is for 3 months, however, the embassy in your particular country can grant the period for your visa.
Work Visa – Work Visa is usually allocated for someone who has already got an offer for a job from the company in Germany. The duration of this visa will depend on the employer. Your work visa will expire once you stop working for the company. You will have to provide additional documents like an offer letter from the company, a letter from the employer to support your visa claim.
Also Read: UAE Announces New Visa Policies For Expats
Study Visa – Study visa is for students who have already got admission in the school/college for a particular course. The educational institute is responsible to provide documents like an acceptance certificate and an admission certificate. There is an option of Student Applicant Visa which allows you to come to Germany and look for the right course. The duration of this will be less than the student visa.
Transit Visa –  Transit Visa is for people who want to take a connecting flight from Germany. This kind of visa will not allow you to roam the country. You will only be allowed for a period of 24 hours in Germany. For example, if you want to go to Frankfurt and your connecting flight is from Germany, then a transit visa can be taken.
Medical Visa – If you are visiting Germany for medical purposes then you may opt for this visa. The duration of this visa will be somewhere between 1- 2 months.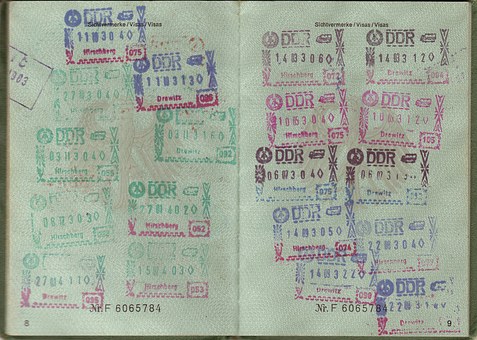 Also Read: Renew Your Emirates ID, Visa From Home
Application Form
Here is a link for Germany Visa Application Form – https://www.schengenvisainfo.com/download-schengen-visa-application-form/. Since Germany falls under a Schengen area, the Schengen visa application is the same for all the borderless countries.
Visa Fees For Indians
Short Term Visa fees for adults – ₹ 4,708.56
Short Term Visa for children in the age group 6-12 – ₹ 2,746.47
Transit Visa – ₹ 4,708.56
Children less than 6 years- Free
https://www.youtube.com/watch?v=R3gaHo6yMuM
Also Read: Malaysia To Waiver Visa Fees For Indians Till Dec 2019
Documents For Germany Visa For Indians
-Valid Passport ( Should be issued in the last 10 years, valid for 3 months)
-Visa application form (online application)
-Two passport photograph (Recently Clicked)
-Visa fee receipt
– Proof of finances (e.g. original bank statement that is not older than 3 months)
-Confirmation of accommodation and flight bookings
-A letter of invitation from a friend or family member if they sponsor you.
-Original marriage certificate if you are travelling with your spouse
-Birth certificates for your children if you are travelling together
– Income Tax Return (ITR) form
-Proof of Civil Status
(Please Note: Employed individuals must have a leave letter and approved leave letter)
Please make sure you carry all the required documents (original as well as a photocopy) during your Visa Application Centre.
Also Read: Thailand To Waiver Visa Fees For Indians Till April 2019
List Of Germany Visa Application Centres In India
New Delhi Address: Embassy Of The Federal Republic Of Germany, 6, 50G, Shantipath, Chanakyapuri, New Delhi, Delhi 11002
Mumbai Address: German Consulate General Mumbai, House, 9th Floor, Hoechst, 193, Backbay Reclamation, Nariman Point, Mumbai, Maharashtra 400021
Kolkata Address- Consulate of Germany, 1, Hastings Park Rd, Alipore, Kolkata, West Bengal 700027
Banglore Address- German Consulate General, 2nd & 3rd floor, Cash Pharmacy Building Corner St Marks &, Residency Rd, Bengaluru, Karnataka 560025
Chennai Address – Consulate General of Germany, 9, Boat Club Rd, RA Puram, Raja Annamalai Puram, Chennai, Tamil Nadu 600028