Lassi is our favourite summer day drink. Thirsty? Lassi! Craving a sweet drink? Lassi! A drink to go with your heavy Punjabi meal? Lassi it is! Lassis are indeed a delicious way to remain hydrated. Lassis are available at every nook and corner in Delhi, but we have sorted a few places which offer these creamy drinks to its visitors. But, why should you visit these particular places? Well, they are more than centuries old and serve the richest lassis at affordable prices!
So, when in the city and you're up for visiting some places that serve the creamiest, and best thirst-quenching drink, these are the places where you must exactly be!
1. Shyam Sweets
This place is renowned for its frothy lassis and delicious breakfast meals. Shyam Sweets has been an absolute favourite and other than their rich and creamy lassi drinks, they also serve Indian snacks like Kachoris and Pooris. Be here to relish on their servings this summer.
Location: 112 Chowk Barshahbulla, Chawri Bazar (8 am – 10 pm)
Also Read: Delhi Food Blogger Tries Roohafza Chai And We Don't Know What To Say
2. Giani Di Hatti
Can any city beat the kind of street food that Delhi serves? No! None can ever top Delhi and its eateries. This place, Giani Di Hatti is also a known place for its delicacies and you must try their lassis. Their special lassis are mainly the Malai Lassi and Jeera Lassi. A humble place of sort, we are sure you'll love their lassi drinks.
Location: Church Mission Rd, Bagh Deewar, Katra Ghel, Khari Baoli, Chandni Chowk (10 am – 11 pm)
Also Read: Beat The Heat At Shyam Lassi Wala In Karkardooma, Delhi
3. Babu Ram Paranthe Wale
As the name suggests, they serve paranthas and with lip smacking tastes. You will be in awe of their menu options and needless to say, when you relish heavy paranthas, lassis are a must! You must head to this place to try out the awesome pairing of paranthas and lassis in Delhi.
Location: Babu Ram Paranthe Wale – 1984 & 1985, Gali Parnthewali, Chandni Chowk (8:30 am – 10:30 pm)
4. Sudarshan
This place is a great hit amongst the youth of Delhi and renowned for selling great meals and beverages. Their menu has the most delightful milkshakes and frothiest lassis for food enthusiasts. The best thing about people who are on a diet and wish to cut down on sugar, Sudarshan also serves sugar-free options. A relief for a lot of us, right?
Location: 4097, Nai Sarak, Raghu Ganj, Chawri Bazar, Chandni Chowk (10 am – 10 pm)
5. Amritsari Lassi Wala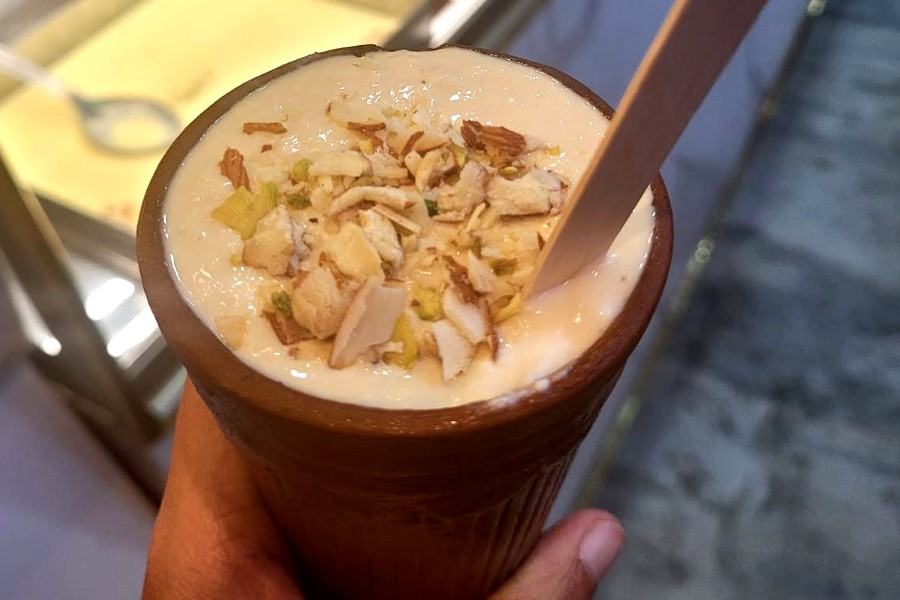 One of the most well known shops in Chandni Chowk, Amritsari Lassi Wala as the name suggests is famous for its servings of lassis. They serve different types of flavourful lassis and their drinks are undoubtedly a hit amongst their customers. If want to gulp a glass of lassi that soothes your soul, Amritsari Lassi Wala is where you must be.
Location: 295, Chowk Fatehpuri, Chandani Chowk (8 am – 10 pm)
The best thing about these places is that you get to savour delicious glasses of lassi for not more than ₹40. Pocket friendly option to beat the summer heat, isn't it?
Also Read: 5 Outrageous Ice Creams You Can Try Only In Delhi