Streetside beer right out of the tap! That definitely sounds like a one-of-a-kind experience. And we actually had that experience in Vietnam, at Old Quarter, Hanoi. Yes, you can get the CHEAPEST beer in the world here at just 10,000 VND or ₹35 ( Gosh! That's cheaper than an auto fare in Delhi). And for that price, we weren't disappointed with the taste at all. In fact, we loved it. The beer tasted as good as the ones served in microbreweries.
Hanoi Is A Paradise For Beer Lovers
Old Quarter, Hanoi, is dotted with a slew of eateries selling local food and drinks at inexpensive rates. As you walk through the bustling lanes, the eatery guys will summon you with irresistible offers, like free beers with food. And trust us on this, Hanoi has the best food in Vietnam. The narrow lanes here have a trippy vibe. While almost all these eateries have canned and bottled local beers, only a few food joints (mostly streetside ones) serve the freshly brewed and cheapest beer, pouring it out from a tank into a proper beer glass. We had ordered a plate of Calamari along with the beer. And guess what, the guys gave us a plate of prawn chips for free.
View this post on Instagram
Also Read: We Crossed The Sea To Reach This Island In Vietnam With A Giant Wheel, Zoo, Underwater Museum And Much More
What Else To Try In Hanoi?
Apart from local beers, another must-try beverage in Hanoi is egg coffee. Oh, did we just tell you that Vietnamese coffee is one of the best in the world? You can try a plethora of coffee varieties in Hanoi, and all of them are amazing, hands down. Other dishes to relish here include lemongrass chicken, hot pot, dumplings, pho noodles, taro buns, noodle rolls and much more. You would be spoilt for choices. You'll also get a local wine here served in hollow, semi-triangular bottles.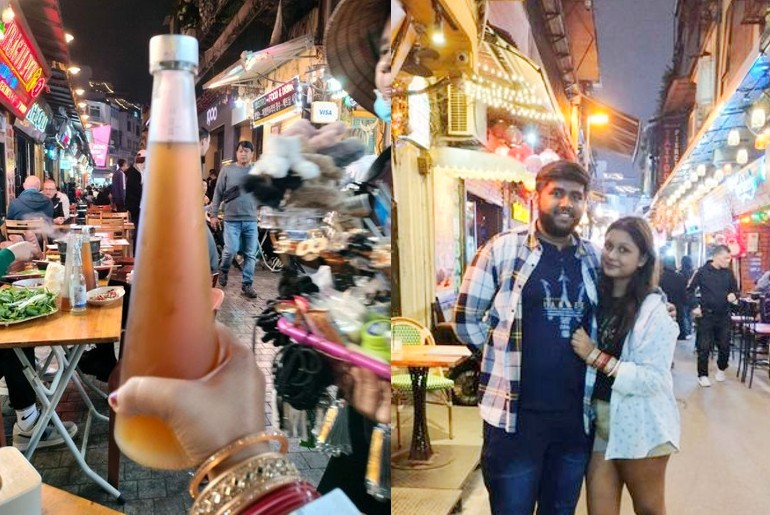 Besides food, Hanoi is also famous for Vietnamese spas. After a day's trip, you can have a relaxed time enjoying a foot massage at one of these spas. Also, don't forget to check out the weekend market here for pocket-friendly dresses, scarves, bags, home decor and much more.
Also Read: We Stayed Inside A Luxury Cruise In Vietnam's Halong Bay And Explored Magical Caves
If you're a foodie with high spirits and a love for shopping, Hanoi will steal your heart.
Cover Image Courtesy: Unsplash