Come weekends, and the ardent foodie in me craves to dine out at fancy restaurants or just devour exquisite restaurant food. While we've all donned aprons and become Masterchefs ourselves during this lockdown, yet there's nothing like piping hot restaurant food with fancy names and gorgeous presentations. After all, 'ghar ki murgi, dal barabar' right? Well, if you wish to indulge in a fancy weekend dinner in a safe and cosy manner, then I have an amazing recommendation for you. And let me assure you that this is a personal recommendation and not a sponsored article. You don't have to drive, take efforts to dress or even expose yourself to the risks of the virus. All you have to do is order food from a cloud kitchen and savour it in your pyjamas in front of the TV. Sounds good? Well, I'm Sanjana Shenoy, a Senior Content Writer at Curly Tales. And here's my personal experience ordering food from Niyu, a newly opened cloud kitchen in JP Nagar, Bangalore.
Where Did I Come Across Niyu?
Foodies from Bangalore here's a fun fact for you! The pandemic has given rise to a lot of cloud kitchens in the city. Since cloud kitchens don't have any dine-in facilities, they can save their costs on service, decor, rents and much more. So all the efforts and funds solely go into preparing high-quality food and great prices. I came across one such newly opened cloud kitchen called Niyu on Zomato. While most of you browse through Facebook or Twitter, the foodie in me can't stop browsing through food apps. Niyu specialises in Chinese, Japanese and Asian cuisine. For someone staying in JP Nagar, it can become quite a task to locate restaurants that serve top-quality authentic Asian food. Most of the time I have to travel all the way to Koramangala or Indiranagar to indulge in exotic cuisines. So imagine my excitement when I found a cloud kitchen in my very own area?
Also Read: I Have Been Eating At Restaurants In Bangalore During The Pandemic & Here's What I Recommend
A Slick Menu Offering A Variety Of Authentic Asian Dishes
As I browsed through the photos and reviews of Niyu, I was thoroughly impressed. The menu is slick. It offers a variety of baos, dumplings, non-veg appetizers, rice and noodles. In fact you can also get yourself an entire combo of rice or noodles, appetizer and Asian curry. The chilly weather and constant rains here immediately drew my attention to Niyu's Chicken Ramen. Slurping on piping hot ramen in this cold Bangalore weather can definitely be the perfect comfort food. So my family and I ordered the Chicken Ramen Bowl, Veg Thai Curry Combo, Mekong Fried Rice, Sweet & Sour Roasted Eggplant, Lemon-Garlic Fish and the Nilufer's Caramel Custard. Since this is a newly opened place, I got a discount and I even used a promo code. And my total bill came up to ₹1500.
Niyu Sent Me Neatly Packed Food Along With Chopsticks & Sanitiser Satchets
My expansive Asian platter reached my home in 45 minutes. And let me tell you it was packed to perfection. The combo came in a neatly separated plastic box, so you didn't even need to use your own plate. For the ramen, they served 2 bowls, one with the noodles, veggies and chicken, and the other for the broth. Niyu even sent pairs of chopsticks and small sanitiser sachets, which truly impressed me. It impressed me so much, that I didn't even have the patience to click any pictures.
Also Read: This Unique Park In Bangalore Will Give You Jail Feels
The Chicken Ramen, Mekong Rice & Caramel Custard Saga
The food smelled amazing, and it tasted even better. The whiff of lemongrass, and lime leaves filled my home. The quantities were great. The Chicken Ramen Bowl was huge and it's perfect for two people. The ramen had boiled eggs, bokchoy, grilled chicken and veggies. Thai food lovers can be assured that the Veg Thai Curry was creamy, fragrant and just heavenly. The Lemon-Garlic Fish could have been better, as the fish was first fried with thick batter and then dunked in the sauce. So we could taste more of the batter than the tender fish. But the ultimate winner for us was the Mekong Fried Rice. The stir-fried rice with mushrooms, shallots and kroeung paste was extraordinary. It's the best fried rice we'd ever had!
Also Read: This Fairy Tale Getaway Just Few Hours From Bangalore Will Remind You Of Colmar In France
We ended our weekend Asian dinner on a sweet note, and how. The caramel custard was perfect for three people. It had just the right amount of sweetness and gooeyness. The caramel sauce was so amazing, that it still makes me drool. All in all, the Shenoy family had a splendid fancy dinner at home in our pyjamas watching Dil Dhadakne Do for the nth time Right from the menu, packaging, food, pricing to the quantity this cloud kitchen definitely impressed us. Infact we even recommended this place to a family friend, who thoroughly loved the food and even thanked us for this.
Also Read: 6 Cute Garden Cafes In Bangalore For Your Next Date With Bae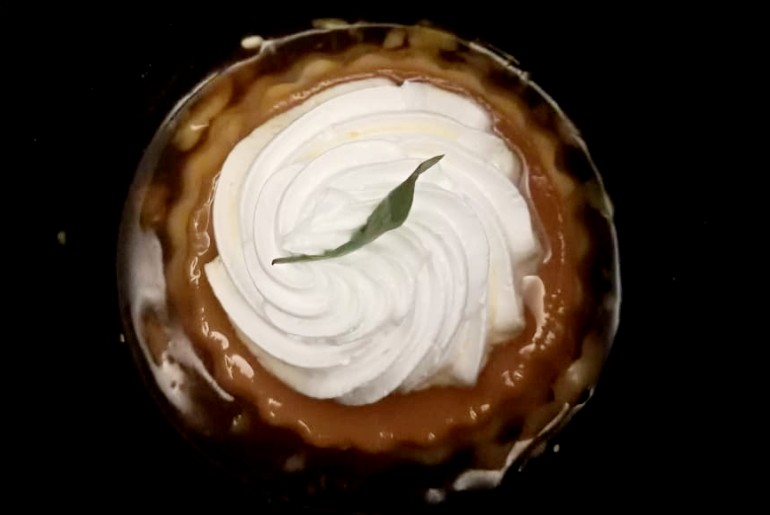 Enjoy Luxurious Meals At The Comfort Of Your Home Through Cloud Kitchens
So, Bangaloreans, if you're from South Bangalore, I'd definitely recommend you order an exquisite Asian meal from the newly opened cloud kitchen, Niyu. It's indeed a luxurious yet safe meal that you can surely enjoy with your loved ones. In fact even throw in some wine and pair it with food. That's another plus point of ordering from a cloud kitchen. Dining in with your family, in your comfy clothes, gorging on delicious cloud-kitchen meals is the new weekend. And if you treat me to that Caramel Custard again, I'll give you more such amazing recommendations!