I'm Sanjana Shenoy, a Senior Content Writer at Curly Tales and I'm not a fussy eater. In fact, I'm a hardcore foodie from Bangalore who lives to eat. My weekends are incomplete without a religious restaurant outing with my food partners in crime, my family. So when PM Modi first announced a nationwide lockdown in March, you can imagine a TV serial like mahol in my house. Bangles breaking, aarti thali falling, screaming "nahin" like a 100 times. Okay! I'm exaggerating! But we were quite gloomy on how to get through the lockdown sans lip-smacking restaurant food. The food Gods smiled on us and we found a way! And how! From Dalgona Coffee, Scones, Khao Suey, to even Sangria we whipped up restaurant-style drinks and dishes that would probably leave even restaurants behind.  But Come on! Restaurant-style mahol kaise create kare? So when restaurants first opened their doors for Bangaloreans on June 8, guess who stood right outside? Us! So, here is my personal list of 10 restaurants in Bangalore that I visited. And I can vouch for a fact that they follow strict social distancing rules and moreover, serve delicious food. So, let's get started!
1.Burma Burma In Indiranagar
We celebrated my mother's birthday with a homemade Glazed Lemon Cake and an exquisite dinner at Burma Burma in Indiranagar this August. The minute we entered this beautiful restaurant we were shocked to see most of the tables occupied. Is the food at this place so good that people flock here amid the pandemic without any fear? Well, we had to taste it to believe it. Foot-operated sanitiser machine and thermal checking at the entrance greeted us with surety.  The staff wore masks and the tables were placed at a proper distance from each other. When it comes to food, we relished their Samosa Soup and gorged on their Rice Dumplings which made for perfect starters.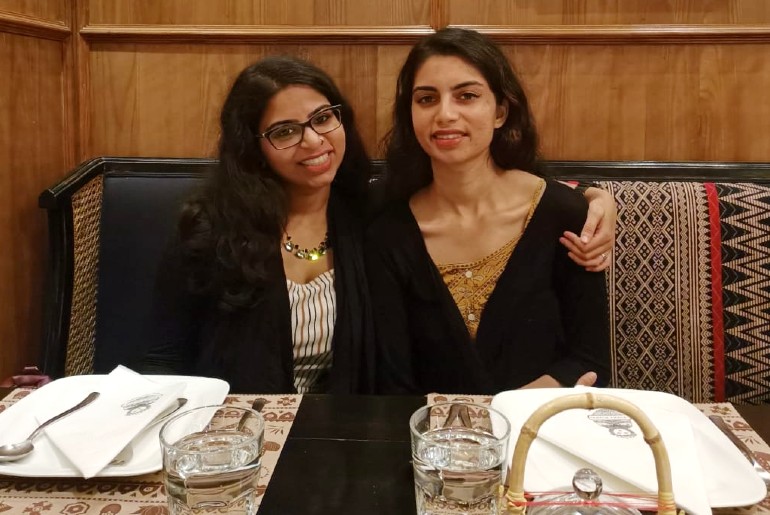 For mains, we ordered their signature Burma Burma Khao Suey and their mushroom loaded Malar Noodle. The ambience was so charming and the table full of hungry fearless foodies was definitely the silver lining. Even though Burma Burma is a pure vegetarian restaurant serving authentic Burmese food, we never really missed any non-veg food. The cherry on the cake was a little bowl served to us at the end of the meal, which had tiny sachets of sanitiser. So, delicious food with social distancing? Burma Burma it is!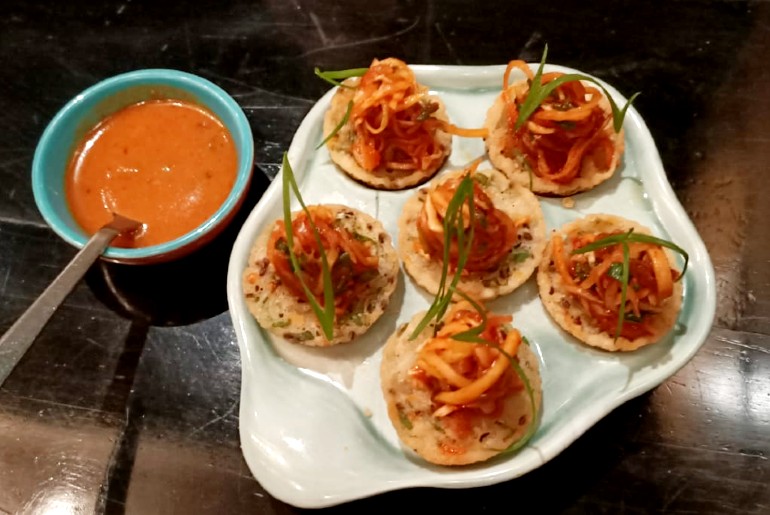 2. Bhatinda Junction In BTM Layout
During this lockdown, anytime the Shenoy family craved for North Indian food we'd blindly order from Bhatinda Junction. In fact, over the past few months, we would have ordered at least 5 times from this eatery. The food here is the wholesome delicious, great quantity at reasonable pricing. Whether it's rich creamy, buttery chicken to spicy Kadai Paneer, Bhatinda Junction is your abode. So after ordering here a countless number of times, we finally decided to dine in here one weekend. A blackboard with temperatures of the staff graced the entrance of this terrace dining restaurant. A waiter screened out temperatures, asked us to sanitise our hands and then walk in.
The humble restaurant with wooden seating and charpoys witnessed a small group of waiting staff. But that didn't come in between their quick service and delicious spicy food. We thoroughly enjoyed their Tandoori Mushroom, Saag Chicken, Kadai Paneer and Chicken Tikka. There were around 10 customers apart from the 4 of us who were enjoying their food as they hummed to the Punjab tunes. All in all, its a great place for people who wish to have lip-smacking North Indian food at a tighter budget without compromising on safety and social distancing.
3. Moti Mahal In HSR
For a travel-loving and food-loving family, our hands and legs start itching for both travel and food during the weekend. So during one long drive to HSR, we spontaneously decided to visit Moti Mahal. For those of you who don't know Moti Mahal, the inventors of Butter Chicken from Delhi have a charming little outlet in Namma Bengaluru. The humble restaurant with dark blue plush sofas and minimal decor looked quite deserted when it came to dining.
Nevertheless, they were packing food for deliveries like hotcakes. After the regular thermal screening and hand sanitising we were escorted to our seats. I was quite surprised to witness that we were the only 4 dine-in customers in the entire restaurant. But hold on, let me swear by the world's best Butter Chicken and tell you that the long drive here all the way from South Bangalore was totally worth it. Butter Chicken ki Kasam!
Also Read: Exquisite Temples Around Bangalore That You Need To Visit Atleast Once In Your Life
4. Andhra Ruchulu In Jayanagar
What do you do when you crave for a full-fledged banana leaf served South Indian meal? Well, you visit an Andhra cuisine restaurant. We first called Nagarjuna, only to know that they aren't yet open for dine-in but are only offering take away meals for now.  The fun of gorging on an authentic Andhra meal on the banana leaf is definitely not enjoyed at home. So after browsing through Zomato, I came across Andhra Ruchulu in Jayanagar. On a cloudy Saturday afternoon, Andhra Ruchulu was quite packed. Hungry foodies occupied many tables, and every one of them was either devouring the Andhra Meal or the biriyani.
After the regular thermal screening and sanitisation, the staff even took down my father's phone number for safety purposes. My family and I opted for Andhra Meals and Amaravathi Chicken Dry. With over 15 different sweet, spicy and sour dishes gracing our plantains, it was a meal truly fit for the kings. The staff wore masks, maintained social distancing and served our meals quickly and efficiently. Devouring food on a banana leaf is itself a need of the hour, as you can be assured your banana leaf is clean and easily disposable. Well, I'd totally recommend Andhra Ruchulu for anyone craving for a large lavish Andhra style lunch.
Also Read: Fly To 8 Destinations In Karnataka From Bangalore In A Private Helicopter Starting From ₹1.45 Lakhs
5.Simpli Namdhari's In Jayanagar
When it comes to healthy yet tasty vegetarian food with a twist, Simpli Namdhari's in Jayanagar must be on your bucket list. Every time I'm in the hood, I just have to drop by at Namdhari's for a lovely meal. A grocery boutique cum restaurant this places offers you an array of piping wood-fired pizzas, healthy desserts, fresh salads and whatnot. We visited here in June and were quite impressed with their strict social distancing measures.
With boxes drawn on the floor outside the restaurant to make sure people maintain a queue while entering to not permitting people if their temperatures exceed beyond specified, you can be assured of your safety. The staff at Simpli Namdhari's also rearranged their tables to only permit 2 people to sit per table. They also placed small sanitiser bottles on each of them. Even though we were a family 4 of the masked staff made sure we only sat in twos, without flouting the social distancing guidelines. But the freshly served Farm Fresh Pizza, Peri Peri Paneer Beetroot Burger and Mix Green Salad in disposable cutlery, was totally worth it.
6. Brahmin Tiffins In JP Nagar
A stone's throw away from my place, Brahmin Tiffins is just perfect for a heartwarming South Indian breakfast. This South Indian joint maintains social distancing through spaced out tables and foot-operated hand sanitisers. The staff don masks and take precautions while catering to your orders. It's my quick fix for a strong cup of filter coffee and a delicious plate of vada and chutney. Dosa lovers must try their Masala Dosa which is slathered with butter and stuffed with spicy bhaji. Brahmin Tiffins is great for a pocket-friendly meal wholesome meal where you can be assured of your safety and enjoy a quick service.
7. Magnolia Bakery In Indiranagar
Well, you'd wonder how a bakery can be part of this restaurant list. But loosen up! I have a huge sweet tusk, not even a tooth. And one of the best cakes I've ever had is undoubtedly from the New York-based Magnolia Bakery which has India's only branch in Bangalore's Indiranagar. Before the pandemic you couldn't even get a seat let alone even space to enter this famous bakery. But post the pandemic Magnolia Bakery receives more takeaways than dine-in.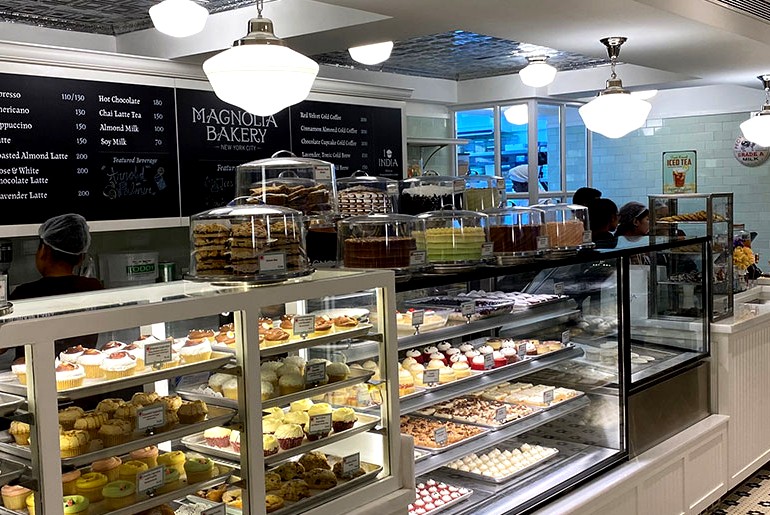 When we entered this bakery, the foot-operated sanitiser greeted us by the door and our temperatures were checked. A barricade was placed to avoid people leaning on the bakery showcase housing the delicious treats. We ordered their signature Banana Pudding and my favourite Chocolate Mocha cake served in disposable cutlery. We took a quiet spot by the door and devoured each and every crumb of their delicious treats. After dinner dessert with social distancing, check!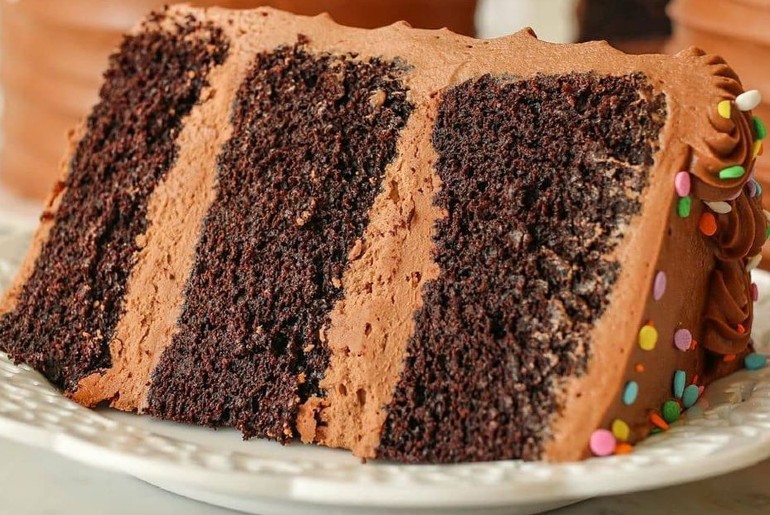 8. The Krishna Grand In Banashankari
Banashankari  The Krishna Grand offers mouthwatering vegetarian North Indian, and South Indian dishes for hungry foodies. The restaurant was squeaky clean and customers sat at tables spaced away from each other. Apart from the usual hand sanitiser and thermal screening, the restaurant even went one step ahead by installing a foot-operated tap near their washroom. That definitely impressed us. We ordered their special South Indian meal which came in a huge steel plate. From soup, rice, sambhar, vegetarian curry to gulab jamun, it was definitely a special meal. I'd definitely recommend this place for foodies who crave for authentic South Indian thali.
Also Read: These Awesome Places In Bangalore Are Perfect For A Post-Pandemic Day Out
9. Kamat Lokaruchi In Mysore Road
To head to Kamat Lokaruchi you need to go on a nice long drive. This South Indian restaurant has a lovely red stoned Mangalore bungalow kind of vibe. A small Chanapatna toy store also nests on the same premises. Visiting here for lunch or dinner itself is like a weekend plan, which encompasses long drives, cool breeze and delicious South Indian food. When we visited Kamat Lokaruchi recently, the restaurant operated at a limited capacity. Only a few tables were open for dine-in. The staff also served a limited menu probably due to the fall in demand. Nevertheless, with social distancing measures taken through foot-operated sanitisers, thermal checks and mask clad staff, our safety was in food hands. We devoured a North Karnataka meal of Jowar Roti and brinjal dish of Yennagai. The open-air ambience and simple, homely food keep bringing us all the way here.
10. Flax In Indiranagar
Sometime back, I visited a friend in Indiranagar who recommended this restaurant to me. Apparently it's a popular one for folks who crave for super healthy food or vegan food. This charming restaurant offers both dine in options inside the restaurant and outside in the open air. But before we could even enter the premises our temperatures were screened and we were given hand sanitisers. It also displayed the temperatures of the staff. We opted for a Mediterranean Bowl which came with cold Grilled Chicken, Felafel, Hummus and other delicious Arabic food. It was healthy and we could enjoy a guilt-free meal. Proteins, veggies and a healthy amount of carbs, what more do you need right?
So these are some of my personally recommended restaurants that I've tried and tested. I can vouch for the fact that they serve healthy, hygienic and delicious food while following social distancing measures to the T. At the same time, I would recommend you all to wear masks, use hand sanitisers and opt for online payments to make sure you have a safe dining experience. Bon Appetit!